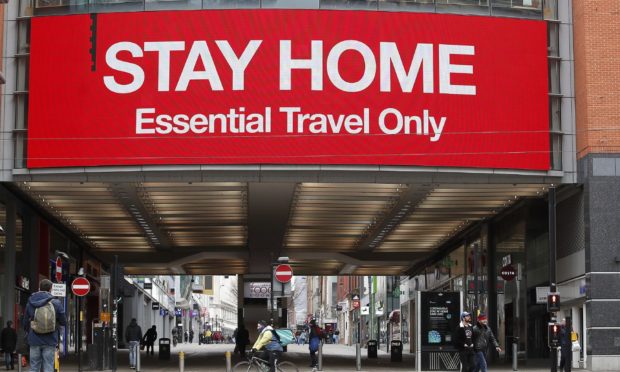 Sir, – Dr John Cameron (Scotland left in limbo with virus, Courier, May 18) complains the current Covid-19 pandemic has (so far) been less deadly than the H3N2 pandemic of 1968-70 (popularly referred to at the time as the Hong Kong flu), and concludes the lockdown policy has been one of "panic".
Did it occur to Dr Cameron that the relatively low mortality has been achieved precisely because of the lockdown?
The countries which are now seeing the lowest infection and death rates are those which have implemented the strictest lockdown policies, and are also those which are now able safely to begin easing them.
Those which have had insufficient restrictions, or introduced them too late, are the ones being worst hit, including the UK, USA, Russia and Brazil.
Similarly, I am puzzled that Dr Cameron complains that UK mortality is (so far) much lower than the worst-case predictions of the computer models.
The forecast of a possible 500,000 deaths was based on an 80% infection rate and 2-3% case fatality, which was the worst of a range of possibilities modelled.
If, as it appears, the lockdown policy has succeeded in avoiding this worst-case scenario, isn't that something to be welcomed?
He is also a little disingenuous in implying H3N2 "faded" during the second winter of the outbreak: in fact, it killed more people in Europe that winter than it had in the first – the dreaded "second wave".
Dr Richard A'Brook.
82 Thomas Street,
Carnoustie.
Testing times for everyone
Sir, – I write with regards to the headline "900,000 saved by lockdown – expert, Courier, May 19).
Although I agree with his views on infection control, Dr Lonergan's figures do not add up.
If, as he says, Covid-19 kills slightly fewer than 1% of those it infects, then even if every man, woman and child in the UK was infected we would still only be looking at around 600,000 deaths, a figure comparable to the UK annual death rate.
Although serious, Covid-19 was downgraded by the government from being a High Consequence Infectious Disease before lockdown started.
Lockdown may well have saved thousands from death by Covid-19 but the withdrawal of medical treatment and the damage to the economy has condemned many thousands to an early death or poor quality of life.
Winter flu kills around 30,000 annually (48,000 in a bad year) but we do not impose restrictions to stop that.
It is almost inevitable there will be another peak in Covid-19 deaths once lockdown is lifted but hopefully this will be small.
With hindsight we should have been doing more monitoring and testing, testing, testing.
Allan Grady.
Pitkerro Road,
Dundee.
Strange view of what success is
Sir, – A Scottish MSP has claimed the lockdown for Covid-19 has been a success.
The UK is 0.87% of the world population yet has to date recorded 11% of all worldwide deaths where Covid is mentioned on the death certificate.
Is that their idea of success?
Eric Gibbons.
Coldingham Place,
Dunfermline.
A lowering of standards
Sir, – Is it not hugely worrying that one of the main issues which is likely to lead to a 'no deal' Brexit from the EU is their requirement for the UK to maintain a level playing field of high standards, to avoid undercutting, in areas such as workers' rights, competition and state aid, taxation and social and environmental protection.
High standards, from which, I would assume, the people of the UK benefit. Meanwhile, our government are desperate for a deal with the US, which would require our standards being lowered in areas such as food quality and provenance, and environmental protection, as well as, ironically at this time, less protection for our NHS, and restrictions on our foreign policy.
Lower standards which, I would assume, would be detrimental to the people of the UK.
So for whose benefit are our government pursuing this course of action?
Les Mackay.
5 Carmichael Gardens,
Dundee.
Billions sent north each week
Sir, – Only a month ago the SNP announced Indyref2 had been "paused" to focus on the pandemic. Unfortunately, the withdrawal symptoms have proved to be too much for some.
So what's the plan this time?
They obviously can't use the "oil-will-make-us-free" line since revenues have been £40 billion less than they predicted they would be from 2014 to 2019.
Nor can they say we will be a "continuing member" of the EU or that we can use the pound sterling in a currency union.
Every week, billions of pounds have to be sent north to deal with the current crisis and its medium-term consequences.
The furlough and business support schemes are the most obvious examples but the SNP's funding model for universities has depended too heavily on foreign students who have disappeared, leaving a hole of more than £500 million which Holyrood can't fill.
Last week, leaders of the hospitality and tourist industries declared they are going to need staggering levels of financial support which only the UK Government can provide.
Denis Munro.
St John's Place,
Perth.
Brave men of the 51st Highland
Sir, – I was delighted to see a variety of charities call for pipers across the country to pay tribute to the thousands of Scottish soldiers and others killed or captured during the battle of Saint-Valéry-en-Caux, on June 12 1940, 80 years ago.
Just days after the successful mass evacuations at Dunkirk, thousands of troops remained on continental Europe.
Winston Churchill ordered the 20,000 men of the 51st Highland Division to stay in France and defend Britain's ally against advancing German troops at all costs. They fought almost continuously for 10 days against overwhelming odds until surrounded at St Valéry.
A combination of fog and the proximity of German artillery above the town prevented the awaiting flotilla of ships from reaching shore.
Those who were not killed in the fighting or fell to their deaths from the cliffs trying to escape, were captured and marched hundreds of miles to prisoner of war camps in eastern Europe, where they endured appalling conditions for five years.
However, at the time the event was covered up and little talked about since. While the heroism of the 51st may have gone unnoticed in Britain, they were thanked for their efforts in France.
Following the Allied victory, the French government presented surviving members of the division with the yellow and blue-striped Somme medal.
In addition to the proposed fitting tribute by pipers, the UK Government should similarly be awarding a special medal to herald these valiant fighters.
While events such as Dunkirk, D-Day and VE Day are rightly commemorated, it is highly appropriate that the memory of those who fought and fell at St Valéry are remembered.
Alex Orr.
2/3 Marchmont Road,
Edinburgh.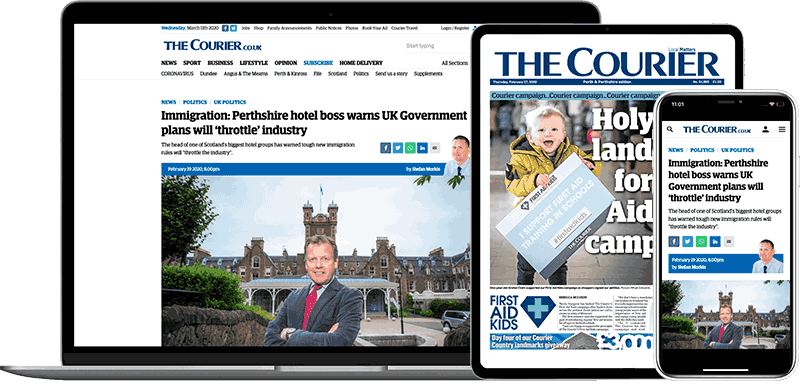 Support The Courier today.
The Courier is committed to delivering quality content to our communities and right now that's more important than ever — which is why our key content is free. However, you can support us and access premium content by subscribing to The Courier from just £5.99 a month. Because Local Matters.
Subscribe