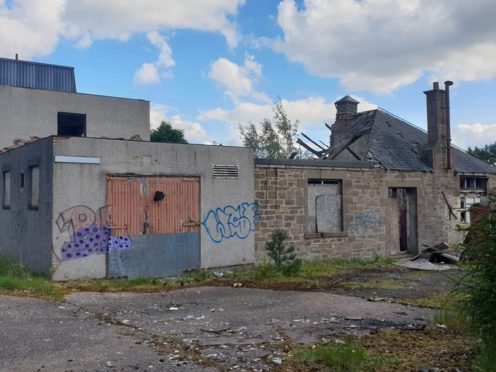 Sir, – The Courier was quite right to highlight the safety fears still present at the derelict Strathmartine Hospital (Safety fears spur calls to redevelop hospital site, Courier, May 29).
I am sure readers in every part of Courier Country can point to derelict and decaying buildings that have been left vacant and remain undeveloped or under used for some considerable time.
Schools, hospital buildings, swimming pools, factories and leisure centres are abandoned and planning rules and listed building status make them almost impossible to develop.
They remain as eyesores and a danger or security risk, often in the very heart of our communities.
I am not pointing the finger at local or Scottish Government, heritage organisations or developers.
But it surely must be time for all the agencies concerned to sit down and review and revise legislation and guidance so that these dangerous buildings can become assets to their communities. At present they are a danger and costly to secure.
There is clearly a need for a variety of new housing types and in a variety of locations, especially to limit the increased and unnecessary use of greenbelt land.
There are often conflicting views when heritage, history and future development is being considered.
The general public surely have a right to ask why it can take up to 20 years for a particular derelict site to be turned into a valuable and valued community resource and become a source of revenue for local councils.
Ron J Scrimgeour.
39 Gowan Rigg,
Forfar.
Theatre would be a hot ticket
Sir, – I completely agree with every word of Anya Lawrence's letter (Theatre refurb wouldn't cost King's ransom, Courier, June 1).
If Dundee wants to be taken seriously as a tourist destination, why are we failing to make the most of a much-neglected building in the city centre?
Having had many trips to Edinburgh or Glasgow to see performances that can't come to Dundee, due to lack of a suitable venue, I know very well that such trips involve spending money not only on theatre tickets, but also on meals and sometimes overnight accommodation.
Those who enjoy retail therapy no doubt also spend money in local shops.
Wouldn't it be good to have a share of this money coming to Dundee?
Some people will argue that the city can't afford it.
But I agree with Ms Lawrence that most of the cost of refurbishment could come from grants.
In the long term, the theatre would be a source of income to the council and to local businesses.
Is anyone at the council even thinking about this?
Moira Symons.
17 Woodlands Gardens,
Dundee.
Looking after elderly at home
Sir, – Why do we need to have so many in care homes.
Growing up in Birkhill in the 1940s most of us were in what would now be classed as slums.
Two rooms.
We were lucky to have an inside tap and a sink.
Our neighbours had a communal outside tap.
The landlord gave my parents permission to instal electricity provided they paid for it.
Neighbours had paraffin lamps.
When the grandmother of two of my friends died, the grandfather came to live with them.
My friends occupied a double bed and a single bed was introduced for grandfather, who stayed until he died.
Immediately one of the boys grabbed it.
It was the first time he'd had a bed of his own.
Another friend shared a bed with her grandmother until she left home to marry.
Fast forward to the 1980s.
Customers, who had lovely modern houses, would tell me that a parent had gone into a home .
They had considered having the parent live with them but it would mean the children sharing a room.
I used to think ungrateful little toads.
A young Ethiopian student and his two young sisters were customers.
He was very much in charge and, I discovered, very lonely.
So I started inviting them occasionally for tea on a Sunday and would take them for a run.
They were interested in everything and one day passing a care home in Blairgowrie they asked 'what is that building'.
I answered "an old folks' home".
He was horrified.
They did not have care homes in Ethiopia, it was the family's duty to look after the elderly.
On several occasions when visiting elderly customers they would say how disappointed and hurt they were to have been bundled into a home, with none of their children willing to take care of them
These were not disabled people.
I don't think children being unwilling to share a room is a good excuse for not giving a parent a home.
Gordon A Taylor.
Hawthorn Cottage,
Backmuir of Liff,
Angus.
Excuses given too much effort
Sir, – Listening to Mr Cummings' garden media conference last week and his repeated "I have done nothing wrong" stance, took me back to my primary school days.
At first I thought I had tuned into J K Rowling's new fairytale for five year olds but it was soon obvious that no self respecting five year old would believe Mr Cummings.
It reminded me of a classmate who was always late for school but who offered the teacher a convoluted story in excuse.
He never just missed the bus or slept-in like every one else.
He then got his "lines" from the teacher which were no problem for him as he had a team of scribes who wrote lines, a Penny Dainty was the going rate as I recall.
One day after the teacher listened patiently to his latest excuse she said " if you applied your imagination to your English essays the way you do for your excuses you would sail through your English exam". He didn't.
Alistair Martin.
3 Godfrey Street,
Dundee.
Stick with the programme
Sir, – I was awakened by Katie Grant, a journalist and writer, on the radio spouting about the government – I presume the Scottish one – not unlocking quickly enough and allowing people to take responsibility and do the correct sensible social distancing.
Her reasoning was that there are many other things that can kill and injure people and Covid-19 is just one of these.
We are all intelligent human beings and depriving us of access to children and grandchildren is not acceptable.
Later, I read in the Sunday Post the disturbing reports at Durdle Door in Dorset.
Not only did people flood the beaches, there were three individuals that tombstoned from the cliff.
The beach was cleared to get the air ambulance to land, further restricting the social distancing. Just this one event will cause a Covid spike. Someone's parent or grandparent may die prematurely because of this.
In contrast, however, a picture of Portobello beach displayed what Katie Grant expected the whole of the UK population to live up to, or possibly Durdle Door is how she expects us all to behave.
Lets stick this out and keep with the programme.
Alistair Ballantyne.
Birkhill, Angus.