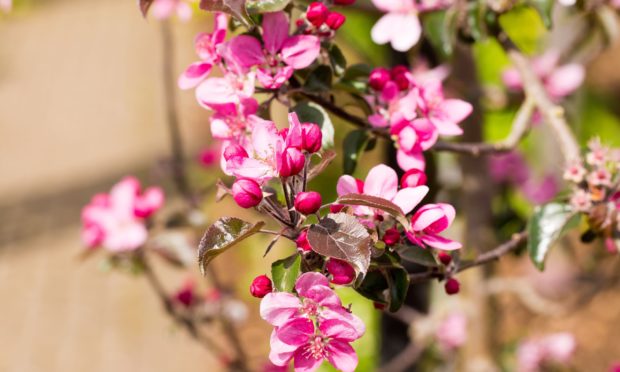 Sir, – One welcome winner from lockdown has been nature.
How refreshing it has been to see our normally scalped and barren roundabouts, road verges and other grassy spaces softened this spring, with grass being allowed to grow into its gloriously feathery seed-heads.
These, if allowed, will ripen into golden food for our birds, and our children may learn to enjoy the many different species instead of being subjected to the conventional "neat"-but-sterile dry, dusty desert of urban summer.
There is already a charming trend towards gentle and jewel-like wildflower meadows in place of gaudy, expensive conventional bedding-out schemes,
So perhaps our councils could consider a double benefit: to allow us the enjoyment of nature and to save the cost of unnecessary mowing.
Some areas of mown grass are needed for playing ball-games.
But we don't need the entire urban environment to be obsessively controlled.
Roderick Stewart.
Dronley House,
Dronley.
Justice must be done for all
Sir , – First, I wish to offer my condolences to the family of Sheku Bayoh. For a young man to die under such circumstances is terrible. They have also had to wait an awfully long time to find out what really happened and that is wrong.
My concern relates to the apparent linking of the Sheku Bayoh and the American George Floyd cases.
At this stage I am unaware of any evidence in the public arena to support that conclusion.
The planned public inquiry's remit into the demise of Sheku Bayoh is to establish whether or not racial prejudice on behalf of the officers who arrested Sheku led to his death.
In the case of George Floyd there is no doubt about the cruel and inhuman treatment the man received because it has been available for all to see.
I accept that as a society Scotland, like most European countries, suffers from racial prejudice. This has to be condemned. There is no place for racial hatred in any civilised society.
Nor should the outcome of public inquiries be assumed before they have taken place.
It is clear that it is presumed that the officers who arrested Sheku were guilty of racial prejudice. Until the inquiry reports, that has not been established.
The danger is that if the presumed outcome is not delivered there will be a public outcry for the decision to be reversed, whether or not the evidence supports such a reversal.
Justice is for everyone. It must be colour blind and must ignore social standing, gender, or any other impediment to its impartiality.
If the police officers are guilty of causing the death of Sheku then they must face the full force of the law.
If they are not guilty, then they should not have to face public condemnation.
Journalists, please remember Sheku Bayoh is not George Floyd. Do not whip up emotions on the case.
Let us see what the inquiry has to say and support justice for all.
Angus Shaw.
West Park Road,
Cupar.
Social distance rules matter too
Sir, – I have no doubt that the motives of those who demonstrated their support for the Black Lives Matter movement in London this week were admirable.
I am, however, concerned that by ignoring the social distancing rule and the ban on gatherings of large numbers, they are guilty of exactly the same sort of arrogance as that displayed by Dominic Cummings in his ill-judged trip to County Durham.
I am not impressed.
Alastair L Stewart.
Albany Road,
Broughty Ferry.
Voters will look to the record
Sir, – Allan Sutherland (Letters, June 4) states, regarding Scotland's care home system, that: "It has been clear for years that the objectives, management, regulation, oversight and funding have been lacking."
Quite right. This unsatisfactory state of affairs has been with us for decades, with private care homes in particular found wanting when caring for residents they have contractually accepted as their responsibility, in exchange for large fees.
As a prominent member of the Tory-backed Scotland in Union group, his desire to pay more tax to fund a better care system is commendable, but is at odds with his own party's aversion to such policies.
Our Scottish Government has very limited tax powers, in spite of his claim otherwise.
Any minor changes the SNP have introduced have been met with howls of derision by Tory MSPs and MPs.
Mr Sutherland, in looking forward to next year's Holyrood election, appeals to his own leader, Jackson Carlaw, to join with Richard Leonard and Willie Rennie in order to "get the SNP out of Holyrood". Repeating the unionists' unquestioning orthodoxy of the SNP's, "lamentable track record", he hopes this unholy alliance will prevent another SNP victory.
Mr Sutherland should heed the reality that the Scottish electorate will decide who governs Scotland, based not only on party manifestos but on previous experience of the various parties' records.
History is not on his side.
Ken Clark.
Thorter Way,
Dundee.
Brexit must take a back seat now
Sir, – I've just seen a new report (from Best for Britain and the Social Market Foundation) on the double impact of Brexit and coronavirus, and feel like I've spotted an iceberg on the horizon that everyone else is ignoring.
The report shows that any change to our trade relationship with Europe during the Covid-19 recession will hurt the UK economy. The North West and the Midlands regions of the UK would face a disproportionately severe impact should we leave the Brexit transition period without any kind of deal.
Brexit is done and we cannot stop it, but we can protect our jobs, our services and our local businesses. However, our communities are already stretched to breaking point by the coronavirus pandemic and we desperately need time to deal with that before we can turn our focus to our changing relationship with the EU.
Cherie Gilruth.
Morris Court,
Perth.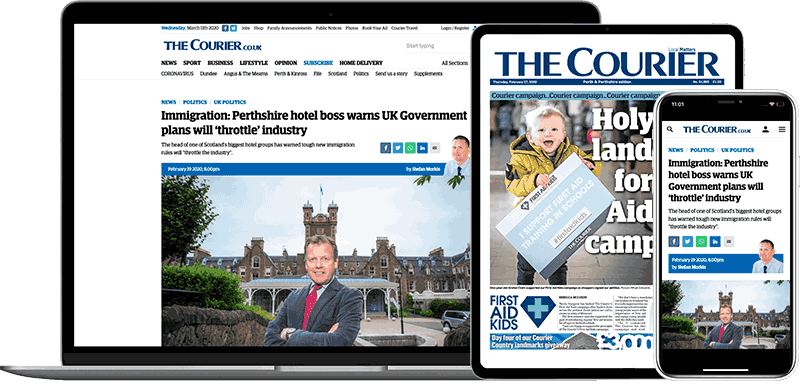 Support The Courier today.
The Courier is committed to delivering quality content to our communities and right now that's more important than ever — which is why our key content is free. However, you can support us and access premium content by subscribing to The Courier from just £5.99 a month. Because Local Matters.
Subscribe