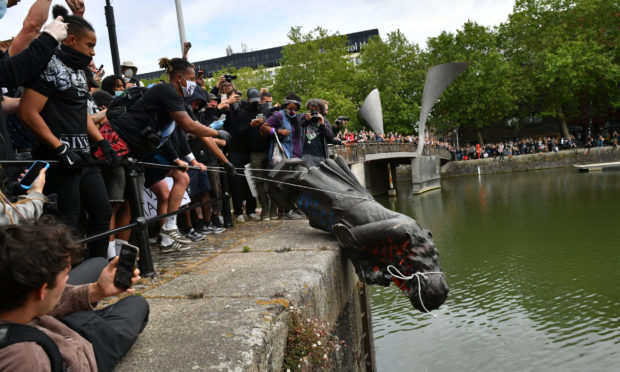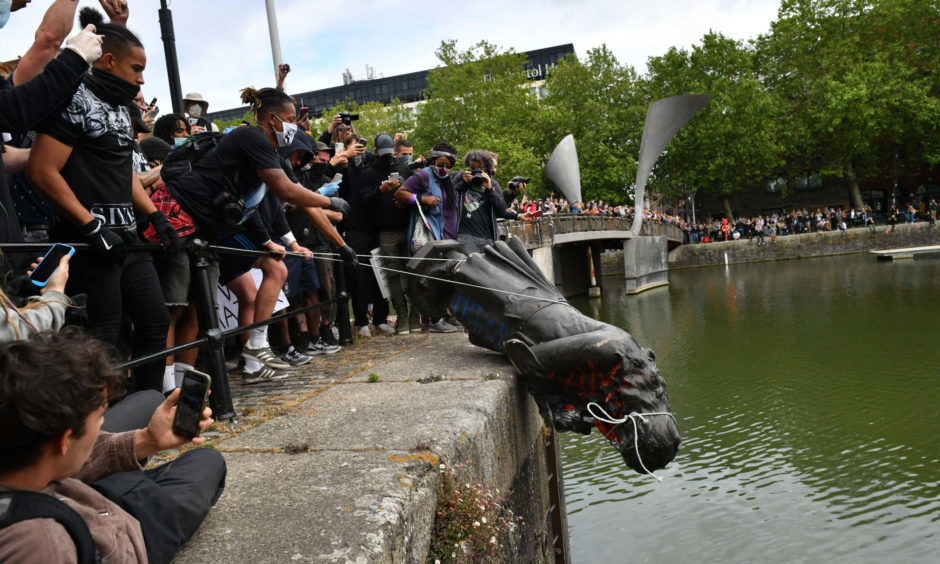 Sir, – There have been suggestions of replacing the statue of Edward Colston with that of George Floyd.
This raises interesting questions about who should be honoured with a statue.
If the criteria were to be of an unblemished past then very few, if any, would qualify.
In the case of Edward Colston, he was a generous philanthropist to the citizens of Bristol, but had made his money from slavery.
In the suggestion of George Floyd, who was sadistically treated and killed because of his colour, he was a career criminal.
In the case of Winston Churchill, he was an inspirational leader against Nazi fascism, but accused of atrocities against Indians.
Oliver Cromwell was the defender of parliament but responsible for atrocities against the Irish.
Even Keir Hardie, the champion of the working class, suggested that the employment of foreigners should be prohibited and indulged in crude racial stereotyping and castigated foreigners for taking Scottish jobs.
The list could go on and on.
Perhaps we should take all statues down or at best accept that they were people of their time and reflected that stage of society and erect information boards next to them with a "warts and all" biography.
Paul Lewis.
99 Guardwell Crescent,
Edinburgh.
Bend the knee for no man
Sir, – What reasonable person could disagree with the proposition that 'black lives matter'?
None of course, but behind that uncontroversial idea, the Black Lives Matter movement is pushing a different and very controversial one.
The clue is in the epidemic of mostly white policemen and politicians 'bending the knee' as demanded by BLM.
These acts of contrition are an expression of the outrageous notions that white people are oppressors and black people their victims, and that white people must collectively make amends for this and slavery in past centuries.
British people of whatever ethnicity are not responsible for police brutality or any other injustice in a country which has been independent for over 200 years.
Also, Britain has the proudest record of improving the lot of people of every race, starting with the industrial revolution.
This undermined the economic basis of slavery, which had until then been a nearly universal institution.
We also pioneered parliamentary democracy and individual rights.
We should bend the knee to no man.
Otto Inglis
Ansonhill,
Crossgates.
Do not be taken for fools
Sir, – We seem to be on the verge of entering a world of Orwellian newspeak.
Where "up" means "down" and the "truth" is anything that Big Brother says it is.
For instance, we have the Westminster health secretary being cited twice by the UK Statistics Authority for using misleading information.
In their latest sanction they said that: "The aim seems to be to show the largest number of tests, even at the expense of understanding."
They were referring to the fact that swab tests involve taking a sample from both the nose and the mouth of the subject. These were then counted as two tests.
Matt Hancock is part of a government led by a man that has a strained relationship with truth.
Despite Britain having the worst death rate from coronavirus in Europe and the third highest in the world per capita deaths, the prime minister is "proud" of the government's record.
Repetition of a fallacy does not make it true.
It almost appears that the government has reached a point where it thinks that it can feed us anything and that we will swallow it.
Unless we want to fall further into a fantasy la-la land where, for instance, a president of the US could advocate injecting disinfectant, we need to face up to the lies, half-truths and obscurations of government.
We have a duty to point out when the emperor is naked otherwise we are colluding in the erosion of trust in our society.
We should not let ourselves be taken for fools.
Brian Batson.
7 Lour Road,
Forfar.
Red card for idiots that spit
Sir, – There is a pandemic with over 40,000 dead in the UK yet people – mostly male – continue to spit in the street.
Not only a filthy habit, but spitting spreads diseases. Are these idiots copying their football heroes?
I do not see this vile practice in women's football and other sports.
Footballers who spit during a match should be given a yellow card and thus two spits and they are off. They should also be fined by the club.
Legislation needs to be put in place to stop this filthy and disease-spreading practice.
The Scottish Government likes to boast that "Scotland leads the way", so will it act on spitting?
Clark Cross.
138 Springfield Road,
Linlithgow.
Arduous testing procedures
Sir, – There are about 6,000 employees at DVLA where on average the receipt of application letters daily is 100,000.
If we assume every employee is not opening letters and there are 4,000 so doing, each would open 25 letters per day.
Some of these will be referred to the medical committee of around 30 doctors or such.
The committee would request two physicians to express an opinion of the applicant's ability to drive. A negative reply from either would no doubt fail the applicant.
Regrettably two positive replies do not satisfy the committee who require, for public safety, an examination to be carried out at a Smart Centre.
The process there requires around three hours of tests which cover memory and cognitive ability, reaction time ability and finally two driving tests, one within the hospital grounds and second on the open road, both carried out not in your own car but one supplied by the Smart Centre.
This in the opinion of the DVLA is less arduous than a first time driving test, not an opinion which I support.
There is perhaps an argument that devolution to Scotland would be beneficial to applicants.
A A Bullions,
6 Glencairn Crescent,
Leven.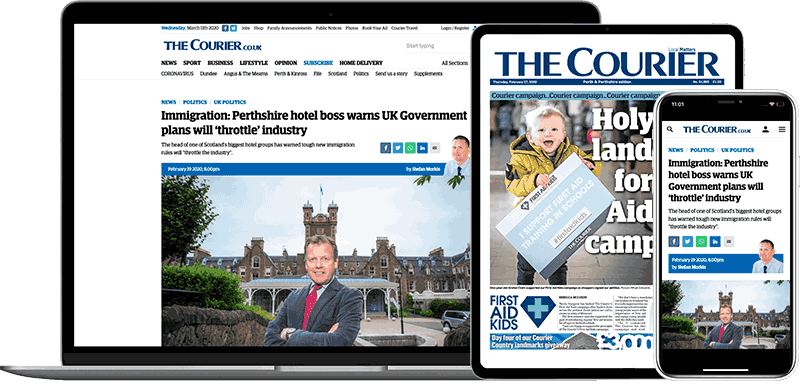 Help support quality local journalism … become a digital subscriber to The Courier
For as little as £5.99 a month you can access all of our content, including Premium articles.
Subscribe