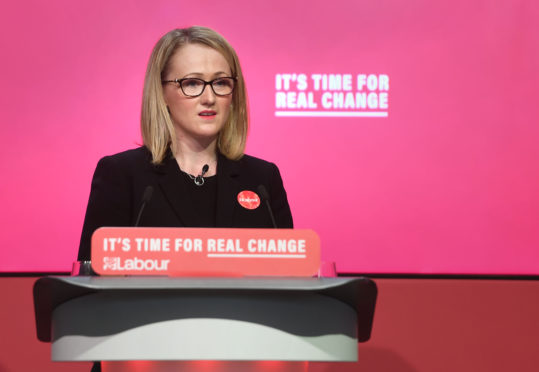 Sir, – Rebecca Long-Bailey's sacking for re-tweeting a link to an interview the actress Maxine Peake gave, which highlighted Israel's training of US police departments, does need context.
First, Maxine is wrong to attribute the training to Israeli Secret Services.
In fact the training has been going on for over 20 years between the two countries' respective police forces.
Second, a 'conspiracy' is something secret and furtive.
This has been going on entirely in the open and is well-known.
There may or may not have been a Secret Service angle.
I would draw readers' attention to two articles available freely online, complete with photographs of 'knee on the neck' arrests of Palestinians, on the Middle East Eye monitoring website:
"US police departments under pressure to end training programmes with Israel" (by Sheren Khalel, MEE, June 22 2020) and "Police Unity Tour: US officers in Israel for anniversary of 9/11 attacks.
Exchange programmes raise concerns about import of military-style police tactics in US" (by Azad Essa, MEE November 11 2019).
The articles list the US police departments that have taken part in the training.
It is interesting Keir Starmer chooses to make his 'Neil Kinnock' move against the most high-profile of left-supporting figures six days before Israel is about to start the process of annexation of 40% of the occupied West Bank, with the backing of the BBC it appears (Newsnight June 25 2020).
Chris Sutherland.
5 Kirkhill,
St Andrews.
Criticising Israel not anti-semitic
Sir, – I cannot understand what all the fuss is with regard to anti-semitism in the Labour party.
There seems to be confusion between criticising the government of Israel and anti-semitism.
The government of Israel should be criticised for its treatment of the people on the Gaza Strip and their building of settlements on Palestinian land, in defiance of UN resolutions.
But people think that criticising them is anti-semetic – it is not. Any government should be able to take criticism.
Labour's shadow education secretary Rebecca Long-Bailey should not have been sacked.
I will continue to criticise any government, which is my right, but I am not criticising their religion. That is a separate issue altogether.
Alister Rankin.
93 Whyterose Terrace,
Methil, Leven.
Vehicle-activated signs
Sir, – Vehicle-activated warning signs are starting to appear in a variety of places.
They are set up with the best of intentions, to reduce if not try to eliminate collisions at road junctions.
The problem is they do not conform with the advice in the Highway Code concerning joining traffic.
Collisions occur because a vehicle joining the major road has not seen oncoming traffic that has priority, have failed to give way, or not applied sufficient care.
Far from warning people on the major road there is something joining their traffic stream, the warning should also be on the minor road, advising the emerging driver of the traffic on the main road. And again in accordance with the Highway Code, if giving way on joining is dangerous then Stop signs should be installed instead of the Give Way.
Reducing speed limits merely has the potential to reduce the severity of a collision. It does not make people more likely to give way or take any more care. These initiatives are usually erected at significant cost as a knee-jerk reaction to a succession of problems, with little attempt to analyse the real effects and consequences so the investment and effort is only partially effective.
Nick Cole.
Balmacron Farmhouse.
Meigle, Perthshire.
Many things, but not democracy
Sir, – Derek Farmer's defence of the British Empire is somewhat disingenuous ("Different time, different views", Letters, June 25).
He has previously told of the wonderful legacy the British Empire left the conquered countries when forced to leave and claims Empire occurred at a different time, with different polictical thinking. Yet many of those who did the massacring then are "celebrated".
People such as Cromwell and Churchill are put on banknotes, and the Empire is glorified through the UK honours system.
Mr Farmer says it "risible" to say full fiscal powers are necessary to run an economy. This is both bizarre and nonsensical, as Mr Farmer does not want Holyrood to have these powers, yet he and the other Unionists want the SNP to use the powers they don't have to stimulate the economy.
He concludes that Britain is a "democracy". In Scotland there has been a decade of Tory misrule though austerity. Scotland did not vote for the Tory government and is being dragged out of the EU having voted to remain. The Scottish Government have a mandate from the people for an indpendence referendum, which the Tories refuse to recognise. That is many things but it's not democracy.
Alan Hinnrichs.
2 Gillespie Terrace,
Dundee.
'There is NEVER enough'
Sir, – "Too Much and Never Enough" is the title of the book by Donald Trump's niece, Mary Trump, the publication of which he and his family's lawyers have been trying to suppress.
Recent Oxfam research reporting that 26 billionaires own as many assets as the poorest half of the world's population revived memories of our lovely erstwhile neighbours, Robert and Mary, who met an American millionaire while holidaying in Florida. Charmed by their Scottish accents, he took a shine to them, inviting them to a party on his luxury yacht.
As guests voiced their frustration at a stock market dip jeopardising further acquisitions of yachts and properties, Mary wondered innocently, "But there must come a time, surely, when you feel you have enough?"
The shocked silence that ensued was finally broken by a whispered "There is NEVER enough!"
This phrase, now a byword in our household, is invoked at each new report of unbridled greed.
James Stevenson.
Drummond Avenue,
Auchterarder.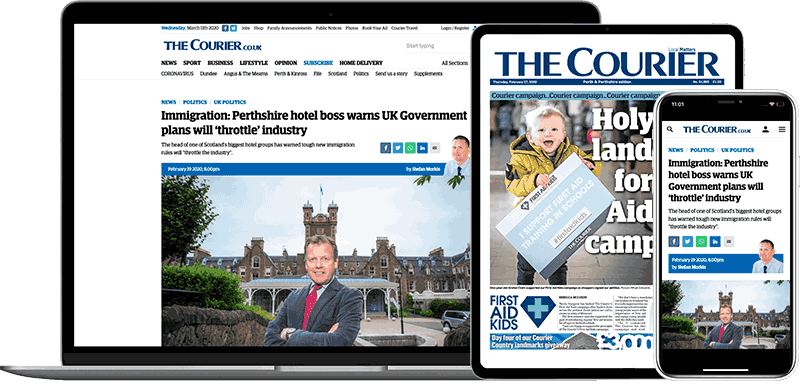 Help support quality local journalism … become a digital subscriber to The Courier
For as little as £5.99 a month you can access all of our content, including Premium articles.
Subscribe