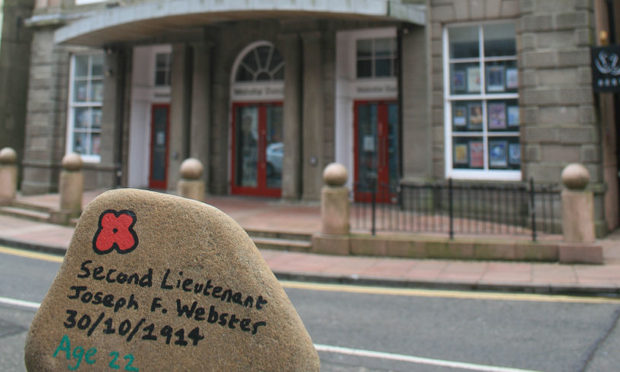 Sir, – It was so moving to see the photograph of the solitary stone with poppy motif and dedication to Arbroath's Second Lieutenant Joseph Webster in yesterday's Courier.
Is it possible that other pop-up stone memorials can follow as a tribute to our many local heroes between now and Armistice Day, 11th November? Every town and village in Courier Country has fallen heroes that we promised never to forget.
Is it also possible that the sporting authorities relax their rules regarding the wearing of poppies this year, 2020? From the Premier League football to Formula 1 Racing sporting authorities have established a precedent by allowing the Black Lives Matter movement to be acknowledged.
2020 is the 75th anniversary of both VE Day and VJ Day. It is the 100th anniversary of the burial of the Unknown Warrior in Westminster Abbey and the unveiling of the Cenotaph in Whitehall. It is also the year that saw the knighthood bestowed upon the resilient Captain Tom Moore and the death of Forces Sweetheart Dame Vera Lynn.
The poppy is not triumphalist. It is inclusive of all nations and creeds and it comes in red, white and even purple for the animal heroes. It does not have to be compulsory. For this particular year it would be a fitting conclusion to all the local Remembrance Day parades and services.
Ron J Scrimgeour.
3 Gowan Rigg,
Forfar.
New fish to bolster angling
Sir, – With declining stocks of wild salmon there is a need to introduce fish species offering excellent sport for Scottish anglers and those from overseas.
I urge the authorities concerned to look into the possibilities of introducing Barbus Tor (Masheer) from Indian Himalayan rivers into Scotland's rivers.
Masheer thrive in water temperatures between 10 and 20 degrees Celsius, can be taken by fly, spinning and bait and they are one of the hardest fighting freshwater fish species.
No doubt there will be replies stating the introduction of such a fish would be detrimental to salmon and trout.
While this would, to a degree, be expected, many river-fed lakes in India hold stocks of large predatory fish, carp and many other species.
In the highlands of Kenya there are many dams/reservoirs stocked with a variety of predatory fish including peacock-bass, carp, large-mouth bass, catfish and some with trout.
Having fished a number of these locations, I have never found one species to kill off another.
Kenneth Miln.
Union St, Monifieth.
World we live in has changed
Sir, – I agree with Allan Sutherland (Upskill Scottish workers for skills – Courier, July 15).
Six months ago the problem was there were not enough people to do the jobs that needed doing.
Brexit got the blame. Now, or very shortly, we are going to have any number of people looking for jobs, and it is still a problem.
Many of these people will be young and able and can adjust to new opportunities.
They may not have the skills for a particular occupation, live in the wrong area or have problems with travel or, indeed, in accommodating their personal circumstances.
But what is the purpose of government if it is not to try and help match supply with demand by providing appropriate support?
If there are now people there to do it without the need for as much immigration, then why can't government square the circle on this?
The time has come to look after our own, and we need a government in Scotland capable and interested in doing so.
The reality of the world we live in has changed.
Victor Clements.
Mamie's Cottage,
Aberfeldy.
Long hard road ahead for club
Sir, – Many thanks to Billy Williamson in his letter (He shoots but doesn't score, Courier, July 16) for correcting me on the fact that Dundee's most recent string of home attendances are nearer the 5,000 mark rather than 3,000.
My apologies.
However, sadly for Dundee, these figures were somewhat buoyed by a home game with Dundee United – and if all goes to plan for Dundee's neighbours then it will be some time before Dens Park hosts another cash-generating league derby match.
I also read with interest former Dundee goalkeeper Rab Douglas's column praising those Dens Park academy coaches who are prepared to try to save the youth structure of the club by working for nothing – and in particular, former Dundee defender Robbie Raeside.
This is a splendid gesture by all concerned. I hope the handsomely paid at the top of the Dens tree are grateful for the free efforts of those at grassroots level.
I would also reiterate my point that if significant savings were made at boardroom level then there would be no need to sacrifice the funding of the Youth Academy.
I'm sure Mr Williamson and Mr Douglas would agree that for a team like Dundee to rely on unpaid volunteers to staff its youth academy and coach the next generation of first team players says little about the club's professionalism, priorities and future ambitions.
I'm afraid I predict a long, hard road if Dundee are to survive as a full-time club but, of course, I'd love to be proved wrong.
Jamie Buchan.
Grove Road, Dundee.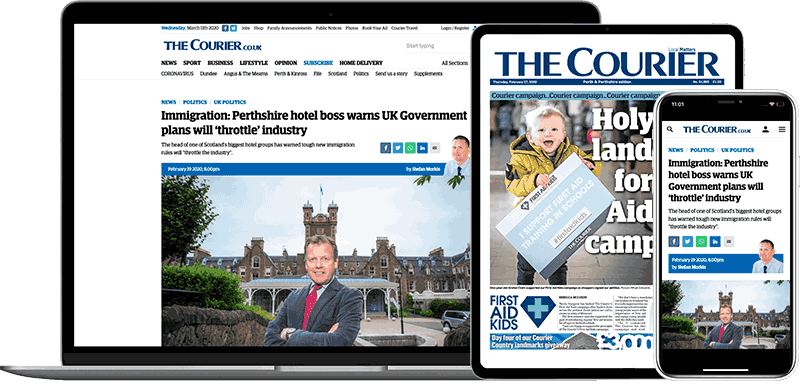 Help support quality local journalism … become a digital subscriber to The Courier
For as little as £5.99 a month you can access all of our content, including Premium articles.
Subscribe