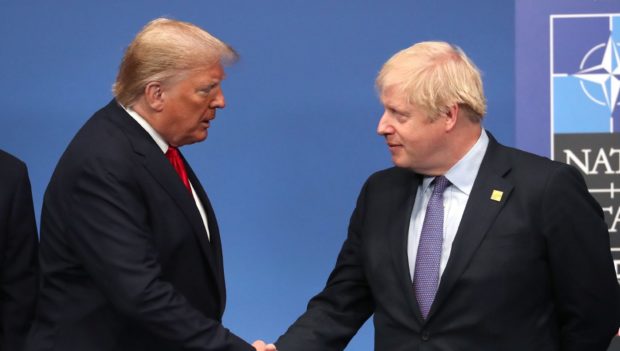 Sir, – This week the trade Bill had it's third and final reading in the Westminster Parliament.
This Bill will pave the way for the trade deal between the US and the UK.
Secret talks have been taking place between Prime Minister Johnson and President Trump to ensure that the deal is in place before December when the UK formally leaves the European Union.
We know that Trump has said that in any trade talks "everything" is on the table.
This would include, the further privatisation of the NHS; a lowering of food standards to enable the importation of US food stuffs produced at much lower health standards; the lowering of data protection rules to allow the transfer of our personal data to US companies and clauses that will allow US companies to sue the government for loss of earnings if they pass rules and regulations that impinge upon the corporations' ability to make a profit.
All the amendments to the trade Bill, designed to protect against these threats, have been rejected by the government.
So we can only assume that they are part of the deal.
What may give us clues on how the trade talks are progressing could be seen last week, when Trump claimed credit for the UK Government decision to ditch Huawei from our digital networks at considerable cost to the UK taxpayer.
The ease with which Johnson gave in to Trump's demands does not bode well for him protecting us from chlorinated chicken, protecting the NHS and eroding the safe guarding of our personal data.
It would appear that when Trump says jump, Johnson asks how high?
Brian Batson.
7 Lour Road,
Forfar.
Two tides to swim against
Sir, – With support for Scottish independence rising to levels panicking the predominantly Conservative supporting letter-writers to these pages, their growing desperation is clear.
Clark Cross (Independence on two year trial, Courier, July 20) endeavours to stem the tide with the ludicrous suggestion a two-year trial period should be a precondition for an outcome he appears to now accept as a reality.
Would our English neighbours, viewing Brexit as reclamation of their own independence, accept such a proposal from the EU?
I very much doubt it. Currently polls in England are moving towards ending the Union Mr Cross supports, with he and his fellow travellers now swimming against two tides.
Mr Cross portrays Scottish independence as simply the process of turning off money streams from both parties, leaving such questions as to where the bulk of economic levers, currently reserved to Westminster, will go?
What of defence, including Trident renewal? HS2, London's Cross Link rail network. Brexit itself, rejected by Scotland? What of foreign policy? Immigration?
Mr Cross mentions electricity, claiming English subsidies, yet omits to reveal the crippling costs Scottish power stations pay for connection to the National Grid, in contrast to English sources who either pay reduced charges or are subsidised.
I'm afraid the gentleman's hope that a two-year trial period will dull the flame of Scottish independence is a forlorn one, as once we are allowed access to our own accounts, devoid of Whitehall's shifty accountancy, the stable of "too wee, too poor, too stupid" dead horses repeatedly flogged by the London establishment will be buried forever.
Ken Clark.
C/o 15 Thorter Way,
Dundee.
SNP will be on the back foot
Sir, – Despite the nationalists riding high in the polls and their optimism about next May's Holyrood election, they seem to have forgotten something.
Remember Brexit?
With the need for security of food supply now recognised, and mass unemployment on the way, the Scottish fishing industry is entitled to hope that the current trade negotiations will result in a good deal, rather than the sell-out many had feared.
Then the SNP will be on the back foot, accused of wanting to give our fish back to the EU.
George Morton.
Hudson Road,
Rosyth.
Who has Union been good for?
Sir, – I literally howled with laughter when I read the letter from Les MacKay (Independence for England has my backing, Courier, July 21).
It was obviously tongue in cheek, but absolutely true regarding subsiding the Scots.
Lets not forget that it was an English government that squandered all the oil wealth on a useless war, oil that came from Scottish waters.
And let's be honest, it was also an English government who gave Europe rights to fish in Scottish waters, thus depriving Scottish fishermen of a livelihood.
Dare I also mention the revenue from Scotch Whisky?
So I say yes, let England have their independence, and we'll see who has had the best deal for all the years that we have been united?
June Reid.
Findhorn Street,
Fintry,
Dundee.
Corpsing in the aisles for Big Yin
Sir, – The historian Neil Oliver recently wrote that the "po-faced hand-wringing of the new normal" made him long for Billy Connolly.
I agree.
In the 1990s, few things were more po-faced than Blair-Brown's New Labour warbling about education and a "graduate" population.
Today such fatuous nonsense is only recalled because the Big Yin mocked its 'pretendy degrees in pretendy subjects at pretendy universities'.
I attended a Connolly concert where he had a trans-social Glasgow audience corpsing in the aisles as he described an independent Scotland.
It's not difficult to imagine what he would have made of Brexit.
Nor the spectacular shambles we have made of Covid-19, the first minister's televised "group-think for the day" and the tame medics and scientists agreeing with every timorous aspect of her precautionary principle, etc.
But experts can be hilarious when faced with scientific jabberwocky.
I remember a Cal Tech seminar when Nobel Laureate Richard Feynman ridiculed an AGW prediction that by 2020 the earth would have turned into Venus, drenched in acid with 1,000mph winds.
And I also recall that Zambian economist Dambisa Moyo traumatised church leaders by asking: "Is Fairtrade fair – or just African collectivisation?"
Dr John Cameron.
10 Howard Place,
St Andrews.
Survival of the human race
Sir, – Pictures of polar bears in broken ice, as promoted by the global warmers, are meant to imply that lack of ice is their enemy.
On the contrary, they can't feed if the ocean is iced over.
They come to open water to catch seals and fish, particularly when they have young to feed.
Anyway, the end of the century, when these creatures might allegedly become extinct, is 80 years away.
The survival of the human race by then is surely of more importance.
Malcolm Parkin.
Gamekeepers Road,
Kinnesswood,
Kinross.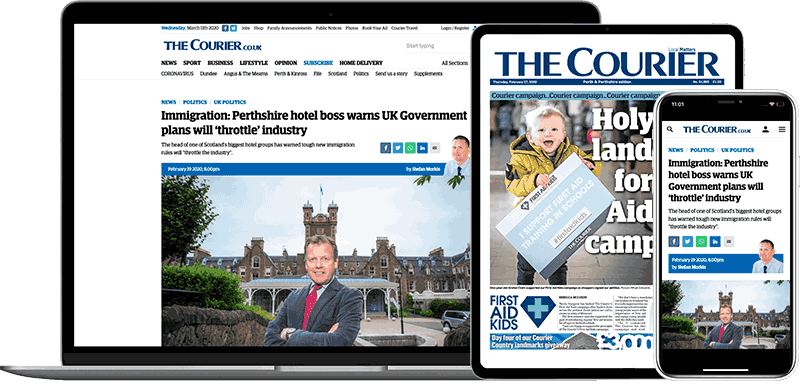 Help support quality local journalism … become a digital subscriber to The Courier
For as little as £5.99 a month you can access all of our content, including Premium articles.
Subscribe