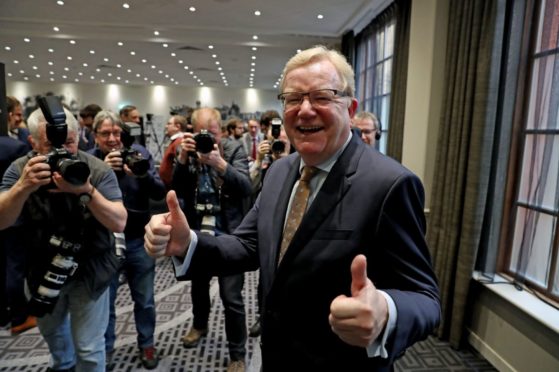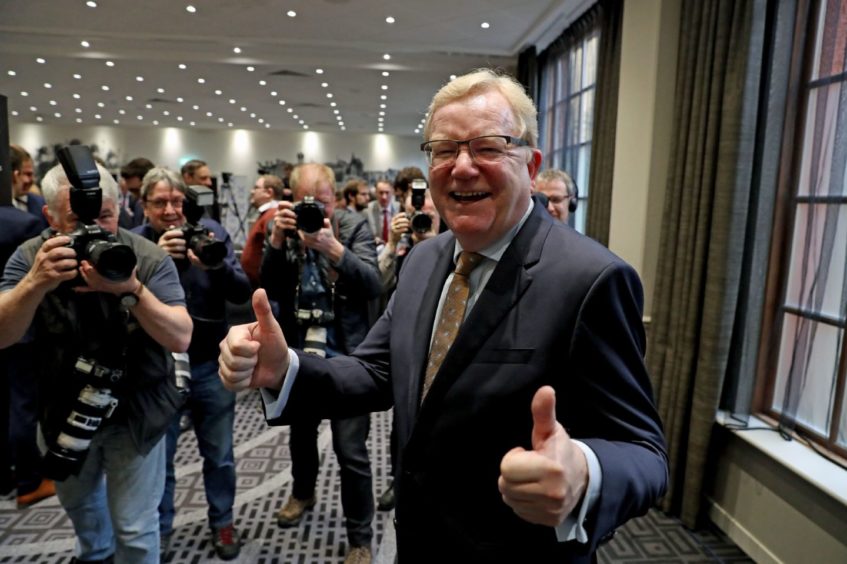 Sir, – I was surprised that Jackson Carlaw abandoned his somewhat combative style as Interim Leader of the Scottish Conservatives when he became leader in his own right.
Perhaps Covid wrong-footed him.
He has at least been sufficiently self-aware to recognise his shortcomings, which is more than can be said for the Scottish Labour leader, Richard Leonard.
Douglas Ross MP, has been mooted as the next Scottish Conservative leader.
No-one can doubt his fighting spirit and combative style in debate. He could well be the shot in the arm that Scottish Conservatives need.
Nothing, however, will make much impression at Holyrood unless the three pro-union parties stop competing with each other and agree a list of common candidates for the election next May.
For too long, the SNP has been in the ascendant because their opponents' votes are split three ways.
Making common cause in what is, for Scots, an existential crisis, would bring no shame to any of these parties, whatever their opponents might say.
It would bring them much-needed credit with the anti-nationalist sections of society.
Jill Stephenson.
Glenlockhart Valley,
Edinburgh.
Tories on a path to destruction
Sir, – Who will be the next British conservative in Scotland to be humiliated in Scotland?
Over the past 50 years, as the majority of Scots have rejected Conservatism, many have tried to revive their fortunes.
There was a glimmer of hope under Colonel Ruth but, spin as they might, she failed and now sets her sights on the Lords.
Jackson Carlaw was given a tongue-whipping almost daily and turned to the party south of the border for help.
They proved to be as hopeless as him.
Now it appears they are turning to a football linesman to save the union and revive their prospects.
Alas I think we are witnessing the end of unionism in Scotland as they just refuse to acknowledge the political field in Scotland and continue to stand against common sense.
All their bluster about no border, Scotland isn't a country and undermining Holyrood with power grabs is only fuelling the fires of the outcome they least desire.
If they don't sit down with the SNP and talk this through rather than trying to bash them over the head then there is little hope of them being relevant up here and may lead to their total destruction.
Bryan Auchterlonie.
Bluebell Cottage,
Perth.
Thank you for incredible care
Sir, – My mother recently died very peacefully in Scoonie House in Leven.
Despite your own balanced coverage, there is much negative comment about care homes, particularly in the current Covid crisis.
This must worrying to residents' relatives or to those considering care for a loved one.
My mum received highly professional, extremely skilled, compassionate care in Scoonie House since December 2016 when she left hospital.
I thought she wouldn't survive until Christmas but the care she was given brought her back.
I was extremely uncertain about mum entering a care home, although I was desperate to get her out of the NHS system.
It took me a wee while to trust and at the beginning I was very wary and watchful.
Quite quickly, I was able to leave mum after a visit without worrying, confident that she was in excellent hands.
On all my visits, during all the telephone calls with the manager and staff, I never had any cause to see that confidence as misplaced.
I saw staff who were consistently kind, compassionate and caring not just with my mum but also other residents, day in, day out.
I was enormously impressed and grateful for the steps they took and the personal sacrifices made by staff to prevent Covid in the home when, in the main, public support and gratitude were directed towards the NHS.
As our life expectancy increases, it's time to stop neglecting this much needed service and give it the support it deserves.
Frances J Nolan.
Ferguson House,
Inveraray,
Argyll.
What about the rules for home?
Sir, – In our eighties, we have carefully observed lockdown rules but, like many, we are finding them increasingly difficult to be certain about.
Rules for shops, factories,sports, transport etc. are relatively clear, but what about the home?
We are now allowed visits to our house by multiple families, but the only advice I can find is that social distancing should be observed indoors.
It is obvious that kissing and hugging are not acceptable but there seem to be no guidance on the intricacies of cleaning surfaces, furnishings and eating and drinking wares, for example.
Anthony Garrett.
Royal Terrace,
Falkland,
Fife.
Hard to see Scotland coping
Sir, – Further to Henry Malcolm's letter (Subsidy chat is hard to stomach Courier, July 30) I would direct his attention to an article in the same edition reporting the request by Scottish businesses and politicians to the Chancellor of the Exchequer that the current furlough scheme be extended to prevent business failure and mass unemployment.
Given that three-quarters of a million Scots are on furlough, it is hard to see how an independent Scotland could have coped.
There is insufficient national wealth and a newly independent country with no track record would have found it well nigh impossible to borrow the vast sums of money needed.
The UK government was not acting only out of the goodness of its heart, but discharging its duty to those parts of the country which, whether people like it or not, are constitutionally still part of the United Kingdom.
Incidentally, Norway and New Zealand have had many decades to build up their own wealth and the Irish Republic is receiving subsidies from the European Union during the pandemic.
As has already been said, let's leave the political and cross-border sniping aside until this terrible pandemic has been defeated.
Then it can be back to business as normal!
George Dobbie,.
51 Airlie Street,
Alyth.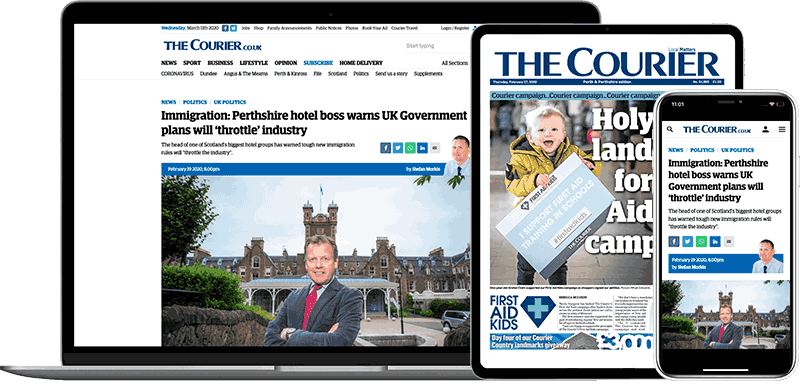 Support The Courier today.
The Courier is committed to delivering quality content to our communities and right now that's more important than ever — which is why our key content is free. However, you can support us and access premium content by subscribing to The Courier from just £5.99 a month. Because Local Matters.
Subscribe