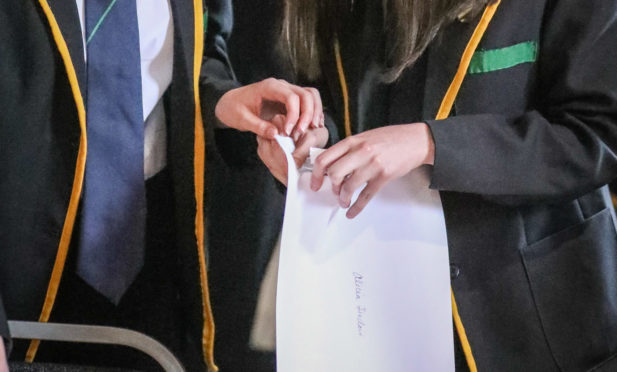 Sir, – The Scottish Qualification Authority's downgrading of pupil results is a national disgrace
At a stroke, this non elected and apparently unaccountable body has delivered a body blow to the hopes and aspirations of thousands of senior pupils across Scotland.
In the late 1970s I had been teaching for eight years and I read an article in an educational journal that haunted me for the rest of my teaching career.
The article was called, "The Matthew Effect in the Classroom.".
The writer posed an educational theory based on Matthew's Gospel, chapter 25 verse 29.
"For whoever has will be given more, and they will have an abundance.
"Whoever does not have, even what they have will be taken from them" (New International Version).
The writer argued that there were subtle and not so subtle forces at work in education that rewarded the already successful and disadvantaged the already disadvantaged.
In the 42 years since I read this enlightened article there have been many changes to the curriculum, the exam system and attempts to reduce the attainment gap.
At a stroke however, the SQA have demonstrated that the Matthew Effect is still alive in our classrooms.
The aspirations and ambitions of countless thousands have been degraded by a bureaucratic sleight of hand.
Sadly, even the pupils scoring straight A grades will be left to wonder if this was a reflection of their true ability or that they were just blessed to be on the side of the already abundant.
Ron J Scrimgeour.
39 Gowan Rigg,
Forfar,
Angus.
Keeping pupils safe at school
Sir, – My teenage granddaughter returns to high school next week and as yet has no specific instructions for safe travel on the country bus provided by Angus Council.
On July 16, The Courier reported that there would be no social distancing and no compulsory face coverings.
Has this changed?
As parents and older siblings are now gathering at pubs and cafes, several families will have acquired the virus.
As 50% of infections are without symptoms there will be apparently healthy 14 to 18 year olds spreading Covid-19 with the happy chatter of reuniting after lockdown.
They have to sit at 18 inches or closer, but they could at least protect others by wearing a face covering.
If it is not made mandatory, it is unlikely to happen.
Peer pressure will keep the masks in the pockets.
If the school insists – and is backed by parents – then most of the pupils will happily cover their mouth and nose on the bus, reducing the chance of taking the infection home.
Anne Tee.
33 Malcolm Crescent,
Monifieth.
No faith in FM over education
Sir, – Nicola Sturgeon rejects criticism from Professor Lindsay Paterson, one of Scotland's leading experts on education, that the basis for reducing grades had been "arbitrary".
So, all of a sudden, the First Minister is an expert of equal standing on education.
I know who I believe.
And so will thousands of schoolchildren in mostly deprived areas, who did well in their course work and prelims, but were strangely marked down.
It is also very strange why this year the appeals process is free which makes me think the SNP knew the results were skewed against our less well-off areas, and have very quickly granted free access to appeals.
Michael Miller.
Craigievar Avenue,
Carron.
New lockdown is overreaction
Sir, – If the government carry out more tests for Covid then statistically they are likely to find more cases.
This gives a misleading figure as it appears the virus is spreading.
The figure quoted should be the percentage of positive tests relative to numbers tested, so that it will reflect the true trend.
Likewise as we were told that lockdown was to stop the Health Service being overwhelmed the latest cases have not resulted in large numbers of new hospitalisations, so any further lockdowns would appear to be an overreaction.
Eric Gibbons.
Coldingham Place,
Dunfermline.
Swinney did not grade exams
Sir, – And now for some facts. Those exam results were assessments by the teachers.
You know. The folk that know the pupils.
They were not by the Scottish Government or by John Swinney.
They were presented to the SQA, the body that supervises exams in Scotland. It felt some of the assessments were a bit generous.
So they marked them down a little.
These amended results still show an improvement on previous years andthe results from the schools in disadvantaged areas show the biggest improvement.
Sadly not all pupils pass all exams, but all have the right to appeal.
Those who seek to make political capital by distorting this very delicate situation are a disgrace.
David McEwan Hill.
Sandbank,
Argyll.
Nuclear options not on the table
Sir, – I enjoyed reading the article "Why we must never again see the mushroom cloud of hell on Earth," (Courier, August 6).
Having witnessed five nuclear experiments, I agree with the sentiments of Setsuko Thurlow and Dr Judith McDonald for a world without any nuclear weapons. But I fear that this will never occur.
David Whyte.
Blackcraigs,
Kirkcaldy.
Support for our police officers
Sir, – Across the UK there are persons who have reservations upon the performance of the police.
Some may be justified but in the present febrile atmosphere of Covid-19 it is, I suggest, somewhat irresponsible of governments to enforce ever changing regulations.
We see an increasing range of fraudulent and ill disciplined actions which should attract the attention of those in blue uniform.
It is important the police be given every support if they are to be saddled with so many additional responsibilities.
Ken Cameron.
St Michaels Drive,
Cupar.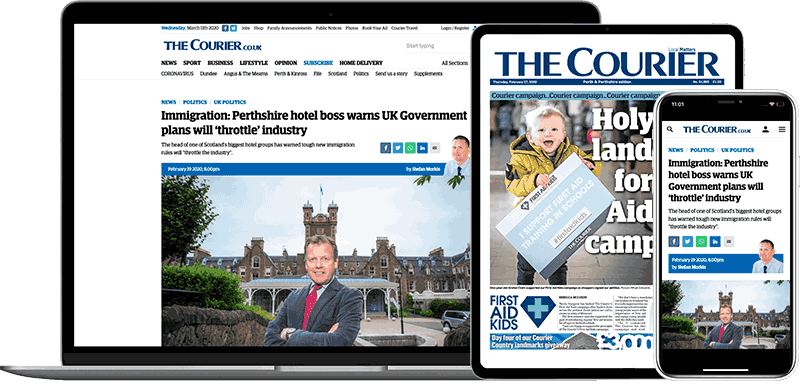 Help support quality local journalism … become a digital subscriber to The Courier
For as little as £5.99 a month you can access all of our content, including Premium articles.
Subscribe