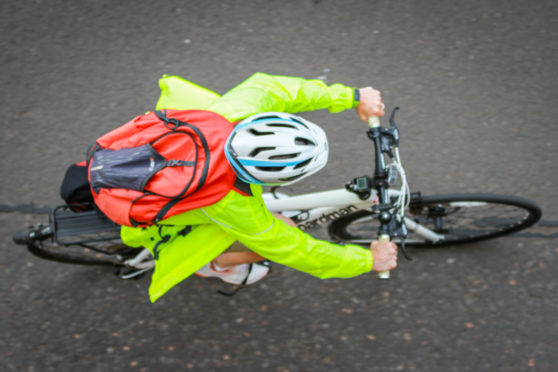 Sir, – During the recent lockdown we all got to witness the slim silver lining of improved quality of our air and safe passage on our streets.
More people walked and more people cycled, leaving the streets safer, quieter and less smelly than at any time since before the horse and cart were the regular mode of transport in this city.
Let's not revert to what we suffered before!
We need a green recovery to emerge from this health crisis, including massive investment in walking, cycling and public transport infrastructure.
The government's decision to spend £27 billion on new road building is now clearly out of date – social distancing measures mean that we need more space for people to walk, cycle and interact safely.
Cities across the world, including Athens, Paris and Bristol, have recently announced plans to cut traffic and pedestrianise areas of the city centre.
Let's do this here as well.
Dundee City Council has announced funding for new bike lanes, which is a great start, but we need more investment from central government to get these up and running to all parts of the city. People want to walk or cycle to school with their children, but the air pollution along our main corridors and the narrow pavements curb that desire.
By reducing the traffic, widening pavements and putting in more bike lanes, we could walk or cycle to school and work safely, which would have a positive impact on everyone's health and wellbeing.
This is especially important given the link between Covid-19 and obesity.
All efforts to encourage more exercise amongst us must be made.
That's why I, as a member of the Greenpeace Dundee Group, am calling on our local council to lobby government on the funding we need, and for the chancellor to set out investment in clean, green transport in his upcoming spending plans.
It's one of the easiest ways to tackle climate change, provide new jobs, keep residents fit and healthy and help rebuild our local community after lockdown.
Rhoda Neville.
Harecraig House,
West Ferry.
Dundee.
Conformity or freedom?
Sir, – It was heartening to read Jenny Hjul's article attacking the Scottish Government's Orwellian Hate Crime Bill (The right to speak my mind, Courier, August 5).
However, she fails to get to grips with how fundamentally at odds with the nature of our society it is.
The Bill effectively limits the scope of what it is acceptable to communicate and/or believe on social issues to the views of a 'woke' progressive political activist or politician.
On some issues, such as transgenderism, the views of the majority will be criminalised.
Currently dominant views on a wide range of issues will be set in stone.
Imagine if this had happened before the Second World War, when a belief in eugenics was widespread both on the left and right?
Or before section 80 of the Criminal Justice (Scotland) Act 1980 legalised homosexual activity?
The official orthodoxy will close down necessarily controversial disputes.
For example, the current judicial review against the Gender Identity Development Service questioning the usage of puberty blockers on trans-identifying children would be a hate crime.
A further fundamental flaw is that if it is enacted it will be differentially enforced.
The grooming gangs thrived in English towns and cities for decades because the authorities chose not to enforce the law equally on all sections of society.
Similarly, when the fringes of the nationalist movement behave in a blatantly racist fashion no action is taken.
Most people prefer a world of diversity of opinion, dispute and nuance to one of slavish conformity; it is called freedom.
Otto Inglis.
Ansonhill,
Crossgates.
Democracy lost to the winds
Sir, – Two letters caught my eye in The Courier letters column of August 6.
Jim Barrie succinctly presented the democratic process for the replacement of the hapless Jackson Carlaw.
In the Johnson/Cummings takeover of the Scottish Conservative Party democracy was simply thrown to the winds.
Former Scottish leader and Remain MSP Ruth Davidson charmingly announced on July 26 that her greatest regret was 'not putting the boot in' to the SNP and the wider independence movement.
On July 30 the now Leave supporter is presented with the leadership role until her elevation to the peerage after the next Holyrood election.
In May former Remain MSP for Moray and now Leave supporting MP Douglas Ross resigned from a junior post at the Scottish Office as a result of the infamous lockdown breach by Cummings.
On July 23 Boris Johnson makes a much ridiculed trip to Scotland as a panic reaction to polls showing a leap in favour of Scottish independence.
One of his stops is in a heckle free zone at RAF Lossiemouth in Moray. Any rift between Johnson and Ross has obviously healed.
On July 30 Carlaw is dumped.
The media are given strong hints about new roles for Davidson and Ross which have now been confirmed.
Significantly nobody in the Scottish Conservative Party has raised opposition to the haste with which this has been rushed through.
William Ballantyne's letter rightly pays tribute to the part played by the late John Hume who brokered the deal which virtually brought an end to sectarian violence in Northern Ireland and accurately quotes him as saying "Ireland is not a romantic dream".
However, he mistakenly assumes that this remark was an attack on Irish nationalism.
John Hume was a leader of the SDLP, an Irish nationalist party with social democratic ideals, the exact Irish equivalent of the SNP.
The Ireland which his quote referred to was a united Ireland free from Westminster interference.
It is not a romantic dream and neither is Scotland.
Ken Guild.
Brown Street,
Broughty Ferry.
Pragmatism over spin
Sir, – May I say how pleased I and many others are with the appointment of Douglas Ross as the new head of the Conservative and Unionist Party in Scotland.
The fact he comes from a practical agricultural training background, and is not a "big city" guy, promises pragmatism in place of SNP spin.
The fact also that Ruth Davidson will be working alongside him for the betterment of Scotland is very encouraging.
Jackson Carlaw always came across as being too polite and too gentle to counter all of the contradictions in SNP strategy and policy and, worst of all, failed to take on our broadcast media and ask them directly why they unquestionably provided propaganda platforms for the SNP.
Hopefully Douglas Ross will prove to be a more bullish individual in all respects but particularly focused upon our economy and the support provided by the UK Government.
We have hardly heard from Kate Forbes on her brief since her appointment as replacement for the disgraced Derek Mackay.
Derek Farmer.
Knightsward Farm,
Anstruther.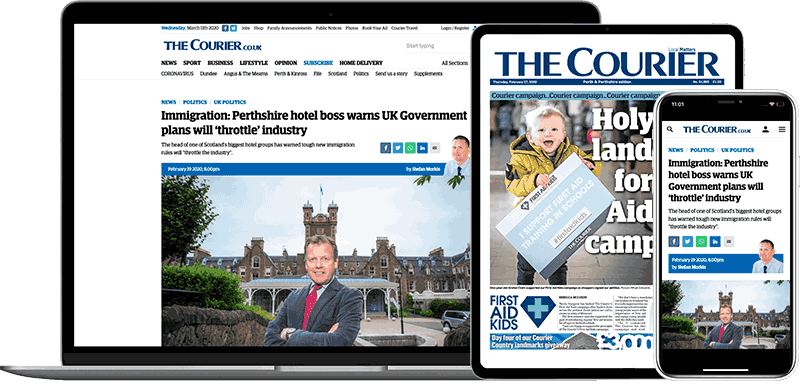 Help support quality local journalism … become a digital subscriber to The Courier
For as little as £5.99 a month you can access all of our content, including Premium articles.
Subscribe