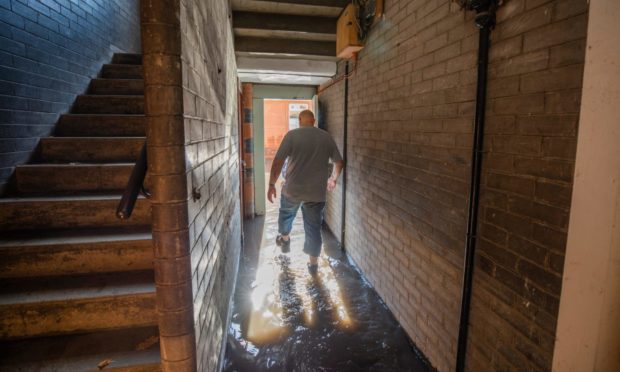 Sir, – In the light of recent flooding in Perth I hope the local authorities and associated quangos are finally waking up to the fact that these are no longer "once in a lifetime", "unprecedented" or "should never happen for 600 years" events.
We need to prepare, plan and deal with the consequences of not only global warming but ill thought out town planning and new housing developments putting a strain on ancient city centre drainage systems, not to mention decades of neglect in failing to maintain essential services like pipes, drains, rivers and buildings.
Instead of being obsessed with light shows, winter festivals and fancy murals, I am afraid the powers that be need to wake up to the fact that their main responsibilities are providing a safe and clean environment, a priority that needs to be met before they go wheeling and dealing with luxury hotel owners.
I find it incredulous that so many different organisations are able to pass the buck for these difficult situations.
Sepa seems to make a big deal of "protecting your property from flooding is your responsibility" but water does not respect boundaries, postcodes or sides of the street.
People could spend thousands protecting their property but if the authorities in the wider area are hell bent on increasing out of town housing, getting rid of fields and green spaces, not to mention the maintenance of rivers (I wonder what the wildlife in the lade thinks of the policy of not dredging?) then we are fighting a losing battle.
Instead of working on fancy leaflets, websites and associated meaningless literature (and that goes for a lot of areas) how about the local council actually starting working with Scottish Water – another quango that takes our council tax rates so the local council can shift responsibility and evade any blame – and Sepa and take these essential services seriously.
While they are at it they can start looking at other decisions and their conscience.
E Dalrymple.
Barossa Street,
Perth.
Customers pay the wages
Sir, – In the ferocious thunder and rain storm last week, a total disaster struck when the staff car park at Victoria Hospital, Kirkcaldy, got totally flooded, leaving cars floating around and workers without transport.
Local companies had a heart, rallied and helped them. But what do some insurance companies do?
State it was an "act of God", refuse to pay and leave the desperate owners without transport.
Those same insurers were happy enough taking the money from their customers though.
What would happen if we all collectively refused to pay our premiums, claiming an "act of God" prevented us?
It is high time these companies start to realise that they only exist because of their customers.
It is mandatory, by law, to have insurance when we own a car. When will the government make it mandatory that insurers are not allowed to abuse faith or invent reasons not to pay?
Maaike Cook.
Cash Feus,
Strathmiglo.
Independence is not a game
Sir, – If, as polls indicate, Scotland is moving towards independence, the SNP need to be totally honest with the electorate.
Issues such as currency, pensions, EU membership, the economy, taxation and our relationship with England must be clearly set out and explained.
Six years previously Alex Salmond had us believe North Sea oil would make Scotland one of the wealthiest small countries on the planet; how things have changed.
Renewables now appear to be the future and we are also told Scotland is rich in natural resources.
But will these bring the prosperity and jobs to drive the economy, which is necessary to provide the level of public services we currently expect and benefit?
It's all very well blaming the Tories for everything, but in a newly formed independent Scotland, the new administration would require to show strong leadership, integrity and skilful political craft to govern the country.
Sadly, to date there is little evidence of these qualities.
Independence is not a game and politicians owe it to the people of Scotland to be sincere about their futures, because once the decision is made there is no turning back.
When and if a "road map" to independence is drawn up it must have clear achievable objectives and not just an aspirational wish list.
Bruce Mireylees.
Bayfield Gardens,
Broughty Ferry.
End chaos for holidaymakers
Sir, – Yet again the government has caused chaos in the holiday industry by announcing late on a Thursday that tourists in certain foreign countries face quarantine if they don't return before 4am on the Saturday.
The main changeover days for holidays are Saturdays and Sundays, therefore thousands will be trying to crowd into airports and planes on the intervening Friday.
To solve this problem, the government could make its criteria for removing countries from air bridges a little more strict, and by this method they could have announced on Thursday, August 13 that anyone arriving in the UK after 4am on Monday, August 17 would need to quarantine.
Thus people booked to fly back during the intervening weekend would simply fly back as scheduled.
Geoff Moore.
Alness,
Highland.
Debt of gratitude to our sailors
Sir, – Ships still carry the bulk of the UK's requirements of food, fuel and raw materials and transport our vital exports.
Containerships, bulk carriers, tankers, reefers, fishing trawlers plus a large number of humble coasters and short sea traders have a part to play in the smooth working of the complicated international supply chain.
Britain no longer owns a large part of the world's merchant tonnage and even part of what is still owned is flagged out for tax and other reasons.
This does not however diminish the work and responsibilities of UK seafarers which the current situation has tended to highlight, with crews stranded in foreign ports working far beyond their current contract terms.
With the uncertainty created by Brexit looming, plus the substantial reduction in passenger numbers due to coronavirus, an even greater reliance will be placed on Channel and North Sea ferries with their freight-carrying capacity.
Coronavirus has delivered a much-needed wake-up call to politicians about the importance and fragility of supply chains, especially in a globalised just-in-time delivery infrastructure.
Is it too much to ask for a lasting recognition of the crucial and essential role of shipping and seafarers?
Let us remember the debt we owe to the personnel of the Merchant Navy who often work unseen and against the elements of nature to put food on our table.
I am sure many people will appreciate the flying of the Red Ensign from hundreds of local and national buildings throughout the UK on September 3, as we pause to remember their valiant efforts both past and present.
John Aitken.
Graham Crescent,
Montrose,
Angus.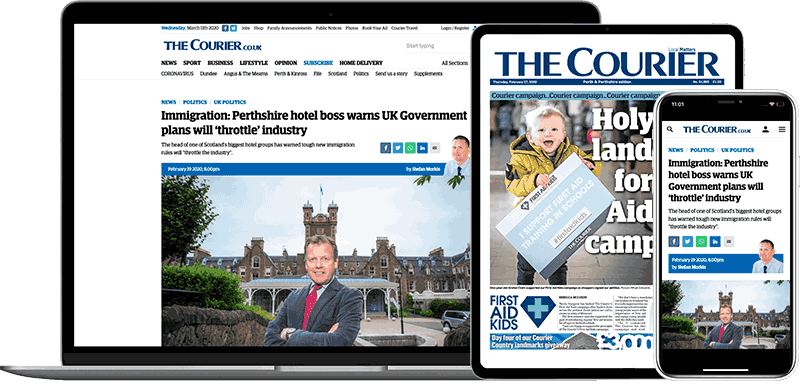 Help support quality local journalism … become a digital subscriber to The Courier
For as little as £5.99 a month you can access all of our content, including Premium articles.
Subscribe