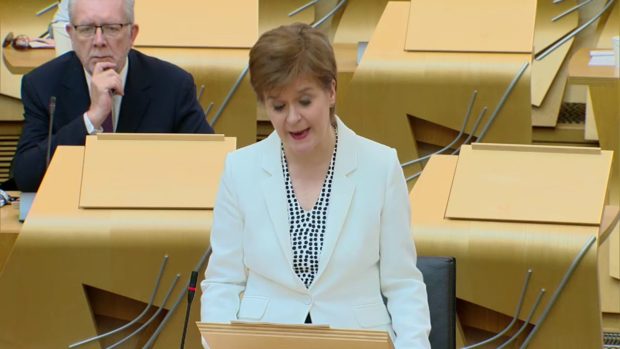 Sir, – During the Thatcher regime much propaganda was extolled about "democracy".
Such was the Tories' commitment to democracy they abolished the Greater London Council, all because it was run by Ken Livingstone.
Now with the publication of Boris Johnson's heinous UK Internal Market Bill the same fate will befall the Scottish parliament.
Johnson and his cronies have been embarrassed and exposed by Holyrood. Against Johnson's risible, incompetent response to Covid-19, Nicola Sturgeon's handling of the pandemic has made him more of a laughing stock than ever.
The UK Government is giving itself the power to interfere in devolved areas.
Food standards will be lowered, all so corrupt American agribusinessess who donate heavily to Donald Trump can sell us their substandard rubbish like chlorinated chicken and growth hormone beef, all currently banned.
In addition, Trump wants country of origin labels removed so you don't have a choice in what to buy.
Public school educated Tories will now decide the spending priorities of Scotland, not the elected Scottish Government.
In 2015 hedge fund manager Martin Shkreli obtained manufacturing rights to an anti-malaria drug, and raised the price from $13.50 to $750 per pill. Now donors want Trump to cut a similar deal with the NHS.
The Tories are negotiating such a deal, we know this as Jeremy Corbyn exposed them. Further, the Internal Market Bill allows the Tories to impose any such deal on Scotland.
So anyone relying on medication better get ready to have it rationed, all so greedy Tory/Trump-supporting billionaires can have more money.
This is arrogant Anglo-Saxon colonialism. Now the Tories are ripping up the devolution settlement and will break the law with impunity.
The SNP leadership need to step up.
Nicola Sturgeon can no longer hide behind constitutional niceties – those have been binned by the Tories.
There can be no more delays. Sturgeon must publish a timetable for Scotland's exit from the UK.
If she won't, then she should step aside for someone who will.
Alan Hinnrichs.
2 Gillespie Terrace,
Dundee.
Bad quality food after Brexit
Sir, – It will be a very sad day on December 31 when Scotland is dragged out of the EU against our will.
With Brexit, the Westminster Government expects us to accept a lower standard of food imported from America.
We have long appreciated the good quality food and high food hygiene standards of the EU.
We all require good quality food.
We had a good relationship with the EU and had no reason to leave.
Scotland needs independence and to return to the EU as soon as possible.
Susan Swain.
Tyme Cottage,
Innerwick, Dunbar.
Change other agreements too
Sir, – I view the news the British Government might 'break international law' by unilaterally changing provisions of the EU withdrawal agreement as a welcome but all too modest start.
There are many international agreements that are fundamentally at odds with common sense, our values and our national interest.
Foremost among these is the European Convention on Human Rights and its court, the European Court of Human Rights. Whilst human rights make sound moral principles, their incorporation into our law was a fundamental mistake.
The net effect has been to transfer power from our elected representatives, who we can vote out, to progressive judges, about whom we can do nothing.
We should also withdraw from the Refugee Convention.It was originally created to deal with the genuine European refugees at the end of the Second World War. It was never envisaged that it would be used as a justification for economic immigration on a vast scale from non-Western countries.
Thirdly, we should withdraw from the jurisdiction of the International Criminal Court. This ill-considered instrument allows our enemies to demoralise, undermine and emasculate our armed forces, and thus compromise our security.
Otto Inglis.
Ansonhill,
Crossgates, Fife.
EV technology still has issues
Sir, – I note Gordon Pay continues to extol the virtues of the electric car ('EV vehicles are our clean future', Letters, September 7).
He is quite right, of course, for use in towns and cities where much pollution is found.
Unfortunately, he does not tell the full story.
This EV technology is relatively new and there are issues yet to be resolved.
Firstly is range. A current TV advert shows a popular electric car only capable of a range of 250+ miles. Not quite a Sunday run. My mid-sized diesel has a range of 600 miles and takes less than 15 minutes to refuel.
How long to charge an electric car after 250 miles ? What about people who visit remote parts or indeed live there? Will there be enough charging points in these remote areas?
I am in the towing fraternity, and as yet the electric technology can't cope with this, although hybrids perhaps can.
At present, one has to be quite well-heeled to buy an electric car, but what about residual value?
The second and subsequent owners probably won't be well off and not able to pay substantial repair costs, since such vehicles will have to go to specialist repairers. These guys know how to charge.
Bob Thomson.
Kinloch Street,
Ladybank, Fife.
Which country got it right?
Sir, – With the further restrictions being placed on the public to fight Covid-19 we do need to ask if what our scientists and politicians are doing is the best course of action.
In Scotland we have lockdowns, compulsory face coverings and rapidly rising numbers of new Covid cases.
Our hospitals still have well over 200 people being treated for the virus.
In Sweden, with twice the size of population, they have no lockdowns, no compulsory face coverings and a rapidly falling rate of new infections.
They have under 20 people being treated in hospital for the virus.
Death rates from the virus per head of population are similar for both countries.
Which country got it right?
Eric Gibbons.
112 Coldingham Place,
Dunfermline.
Pupils who don't wear masks
Sir, – Recently I boarded a bus in Fintry just after 8.30am and I noticed that all the adults were wearing face coverings, but a group of school pupils also on the bus did not.
I couldn't help asking myself why they were ignoring the fact we are dealing with a pandemic at the moment, and because they were ignoring instructions to use face coverings, they were in danger of passing the illness to older people if they, the pupils, were to test positive.
Or is it the case that they feel that they won't get the infection, and if they do it won't kill them, so why worry?
Mrs June Reid.
12 Findhorn Street,
Fintry, Dundee.