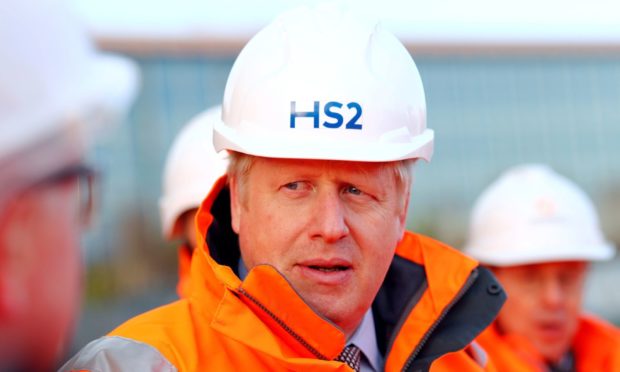 Sir,– Network Rail has announced it cannot afford to strengthen all the trackside slopes or railway cuttings in the UK, similar to conditions at the site of the fatal accident at Stonehaven.
This is according to a report requested by the Department of Transport. ('Network Rail can't afford to fix faults', The Courier, September 11.)
I have also read that Network Rail is a major contributor to the interruptions to the ScotRail 'On Time' and cancellation metrics, for which Abellio have received heavy criticism.
It seems Network Rail are doing what they can to try to mitigate the effects of erratic and unseasonal weather, using helicopters, surveys and meteorological early warnings. However I fear all this will do is lead to more cancellations across the network due to potential landslips, although it is right to err on the side of caution.
It would seem sensible to put a halt on HS2 and divert these funds into restoring the existing Victorian infrastructure, that by all accounts is ready to collapse.
It has long been a desire to upgrade the Aberdeen to Inverness line, and I can recall the dualling of the track from Inverness to Wick/Thurso.
The HS2 Project is gobbling UK Government finance at a tremendous rate, which we Scots contribute towards.
HS2 may be a good project for England eventually but, despite statements from DoT ministers, the benefit further north will be minimal.
Those monies would be better spent sorting the rail infrastructure north of the border.
Alistair Ballantyne.
Birkhill,
Angus.
Railing against independence
Sir, – The Letters page recently featured a response from contributor Nick Cole, taking William Loneskie to task for his scaremongering riposte regarding the prosperity outlook for an independent Scotland ('Knowing our place in future', September 5).
Mr Loneskie is the same resident of the country's border area who once campaigned to have train services, which were lost to privatisation under the grand Beeching scheme, to save public funds by putting a blue pencil line through all the branch lines in the area south of Edinburgh, which he saw as surplus to requirements.
To be fair he deserves credit for his efforts at the time, as a properly funded public service like British Rail was sacrificed on the altar of private greed.
From his recent correspondence it would seem he has fallen down the rabbit hole to stay with his friend Alice, which has prompted him to pen his latest views in the face of a turning tide towards Scotland's preference to run its own affairs.
These are at best risible, and sadly show a proper misunderstanding of the real world of international financial services.
There are dozens of smaller countries who have successfully attached themselves to favourable financial systems without being dependent on either the pound or the dollar.
One certain alliance which would be both effective and profitable would be joining the euro.
After all the Brexit play acting is over, the strength of the pound sterling may not be as desirable to have access to as he thinks, and the silly Scots, who historically have regularly punched above their weight to contribute more than most to the world's health and welfare, are ready and waiting.
It is all very well sniping from the safety of the rabbit hole only to be hit by the shock of reality when you venture out to face it.
Allan A MacDougall.
37 Forth Park,
Bridge of Allan.
How's this for a brass neck?
Sir, – A striking contrast on The Courier Letters page of September 10: on the right, new to The Courier, Stan Hogarth from Strathaven, having run out of outlets for his havers in the West, comes with a tirade against First Minister Nicola Sturgeon.
A first minister who is unusually popular for a politician, who has been in post for six years, having taken support for her party from 45% in the 2014 referendum, to at least 55% today, who is looking at a landslide in the Scottish elections next year, and admired in the UK and around the world for her conduct during the Covid crisis.
Ms Sturgeon was even hailed, just the other day, by no less than Piers Morgan, not noted for his support for Scottish independence, as one of the top three politicians in the world.
Yet Mr Hogarth considers her to be a 'brass-necked imposter'.
On the left, in stark contrast, a Courier editorial the like of which I have never seen, castigating the UK prime minister for 'breaking international law', supporting the leader of the SNP at Westminster in his assertion that the prime minister is a 'liar', and accusing those Tory MPs and MSPs who have not spoken out about this 'abhorrent' behaviour of 'a lamentable lack of moral courage'.
Courier editorials these days are generally pretty measured, not obviously favouring one side or the other in the constitutional debate, so it is uplifting to see that, when the prime minister and his accomplices stray too far over the line of decent, indeed law-abiding, behaviour, our local paper is prepared to tell it like it is.
And it is reassuring to know that the editor is able to recognise a brass-necked imposter when he sees one.
Les Mackay.
5 Carmichael Gardens,
Dundee.
PM does not speak for me
Sir, – As a Remainer and Europhile, I am deeply concerned by the UK Government's plan to break promises made in the Withdrawal Agreement, an international treaty signed less than a year ago.
The Northern Ireland secretary admitted this would break international law. The Internal Markets Bill would renege on commitments to avoid a hard border on the island of Ireland and would set negotiations with Europe back to square one.
The Conservatives pride themselves on being the party of law and order, of economic stability and of the union. Now the government is openly breaking international law and paving the way to a no-deal economic disaster. How can the Conservative and Unionist party jeopardise the hard-won peace in Northern Ireland?
The prime minister does not speak for ordinary Conservatives.
He was elected to deliver a comprehensive, 'oven-ready' deal with Europe, which would help communities and businesses like mine. Yet his actions threaten not only the reputation of the Conservative Party, but the global reputation of the UK as a trustworthy nation.
David Roemmele.
5 Simpson Square,
Perth.
Trump for Nobel Peace Prize
Sir, – Donald Trump has broken a long streak of American presidents either starting a war or bringing the US into an international conflict, and helped broker a peace deal between Israel and the United Arab Emirates.
As a result he has been nominated for the Nobel Peace Prize by Japan's Premier Shinzo Abe and the Nato Assembly chairman in the Norwegian Parliament.
Mr Trump has also created new dynamics in protracted conflicts such as the Kashmir border dispute and North and South Korea.
Dr John Cameron.
10 Howard Place,
St Andrews.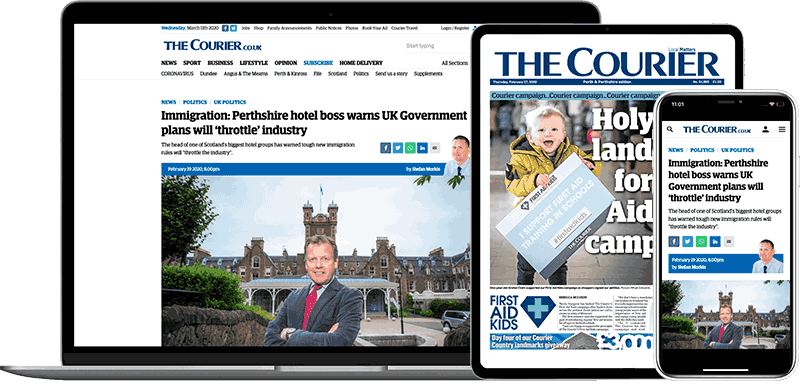 Help support quality local journalism … become a digital subscriber to The Courier
For as little as £5.99 a month you can access all of our content, including Premium articles.
Subscribe