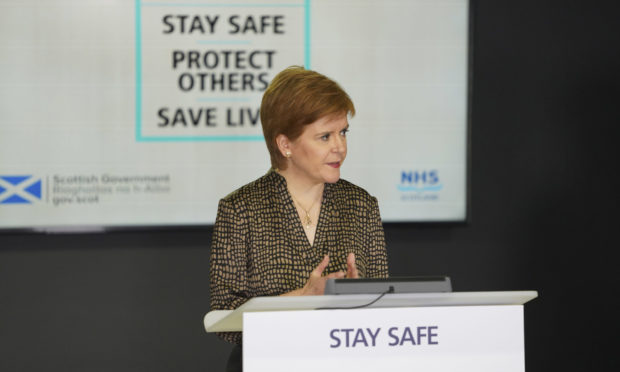 Sir, – Through the long months since March, living under the threat of virus infection, a welcome constant for my family and myself, as for many others, has been the daily BBC health broadcasts by the Scottish Government and their excellent health advisers.
These newscasts have been articulate and informative, whilst eschewing controversial politics.
They have been especially valuable to older citizens and others such as the deaf and those without access to the internet.
The management of the epidemic to minimise infections and deaths has been about influencing human behaviour through communication, and the standard bearer for this has been the daily broadcast.
They have been a key tool used by the Government in the ongoing health campaign.
We are now at a difficult stage in the campaign as easing of the lockdown rules has led to a new rapid growth in the infection rate.
It is essential on a day-to-day basis that the population has direct access to changing rules, and to a comprehension of the underlying factors, and hence the daily broadcasts are, if anything, more important now than for some time.
These are perilous times and we are astonished at the decision to remove the broadcasts.
No adequate reason for this has been provided, and their action could quickly become a PR disaster for the BBC.
It has been alleged that the BBC have given in to political pressure, but I am sure that this cannot be true.
Our public broadcaster cannot have decided that politics is more important than public health.
However this egregious decision must be reversed.
And the BBC should understand that admitting to a mistake is a sign of strength, not weakness.
Professor Alan Murdoch.
Carrick House,
St Mary's Drive,
Perth.
Independence is the only way
Since June, there have been seven successive polls showing majority support for Scottish independence. I'm fascinated by the reaction of the Union's most fervent supporters.
Without a hint of irony, they decry the evils of nationalism, whilst waving a Union Jack and applauding Brexit.
Some argue that independence is merely an emotional argument.
That Scotland would be an economic basket case. Look at the deficit, the largest in the universe, they say. Failing to mention that the economy is 'reserved' to Westminster.
The UK's broad shoulders have delivered an economy that, according to the UK government, is underperforming. Similar sized peers like Norway and Denmark are faring much better. Why is this?
Perhaps, it's because the UK government does not always act in our interests. There are many examples of this.
Rockstar Games started its life in Dundee, as DMA Design in 1984. The company famously created the Grand Theft Auto franchise. With other successes, such as Lemmings, Scotland was on track to be a global leader in digital creative industries.
Canada and France nurtured the industry with tax incentives. Meanwhile, the Scottish Government pleaded with London to act.
They didn't.
Realtime Worlds, a gaming studio based in Dundee, collapsed shortly thereafter; taking 170 jobs with it.
When Dundee desperately needed jobs; politicians in London didn't care. It's a familiar tale because it happens time and time again.
We have enormous renewable energy potential in Scotland. High quality, high paying jobs ripe for the taking.
David Cameron's government decided to kneecap the sector by cutting renewable energy subsidies.
Challenges exacerbated by the privatisation of the UK's Green Investment Bank. These decisions disproportionately hurt Scotland.
Where the UK government has control, there is a track record of failure.
The starkest example of undermining our economy is one we are all living through with the Brexit debacle.
We must therefore ask ourselves what would an independent Scotland do differently?
Would an independent Scotland cut subsidies for a vital and growing sector, knowing that doing so would undermine future tax revenue?
The answer is blindingly obvious; of course not.
If there is an emotional case for independence, it's based on our lived experience. Decades of disappointment, leading to a simple conclusion.
Westminster cannot always be trusted to act within our interests.
Scotland can only ever achieve its potential by managing her own affairs. It's time we got on with it.
Colin Storrier.
Chartered Fellow, London Institute of Banking & Finance,
Edinburgh.
Emotion won't pay the bills
Sir, – Struan Stevenson had an excellent piece in the press on September 12 which concisely provided ample reasoning why Scotland should remain part of the Union which has served us so well for centuries.
This should be mandatory reading for separatists but, sadly, no matter what the economic reality is of breaking up the United Kingdom, they refuse to believe, depending rather on fiction and emotion as the basis of a separate country.
Fiction and emotion will not pay the bills.
As Mr Stevenson states, Scotland could be like Ireland or Denmark as oft' trumpeted by nationalists, "but at what cost?".
These countries have massive debt with income tax rates in Denmark at 41% and 55%. To establish an independent Scotland will cost hundreds of billions, result in substantial tax increases with unacceptable unemployment and a reduction in public services- to achieve what, some sort of misguided freedom?
At least Alex Neil is man enough to question Nicola Sturgeon's motives for an independent Scotland to try to join the EU – a weird concept of independence.
Those who would put the future of an independent Scotland at economic risk care nothing for their fellow country folk so long as they have the satisfaction of showing two fingers to Westminster, Britain, United Kingdom and the Union Flag
Douglas Cowe.
Alexander Avenue,
Newmachar.
Electric vehicles are the future
Sir, – Bob Thomson ('EV technology still has issues', Letters, September 11) may care to note my main concern is our illegal levels of toxic air pollution, and our own law that we must eliminate our contribution of greenhouse gases, and not electric vehicles.
We have a lot of issues to resolve dealing with the climate, and EVs can help now. Over the coming decade the technology is expected to improve even further and come down in price.
They may not meet everybody's needs yet, but in Norway most already choose an EV.
Gordon Pay.
Eden Park,
Cupar.
Lighten the cost of e-motoring
Sir, – Would it be possible to link up various charging points to each street lamp in the country without the need to dig up all the roads at a massive cost?
Robert Crozier.
Main Street,
Coaltown of Balgonie.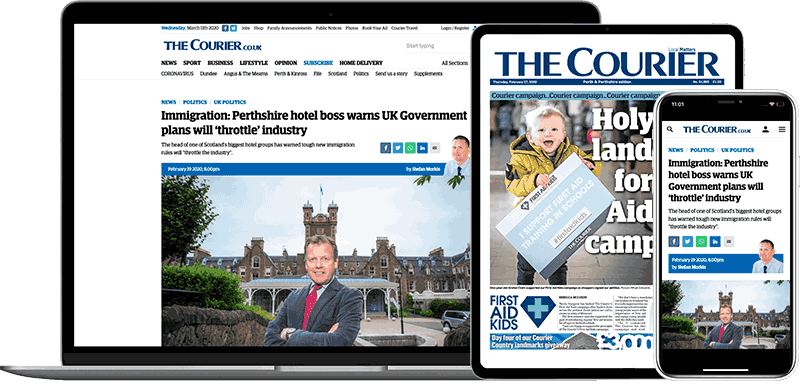 Help support quality local journalism … become a digital subscriber to The Courier
For as little as £5.99 a month you can access all of our content, including Premium articles.
Subscribe