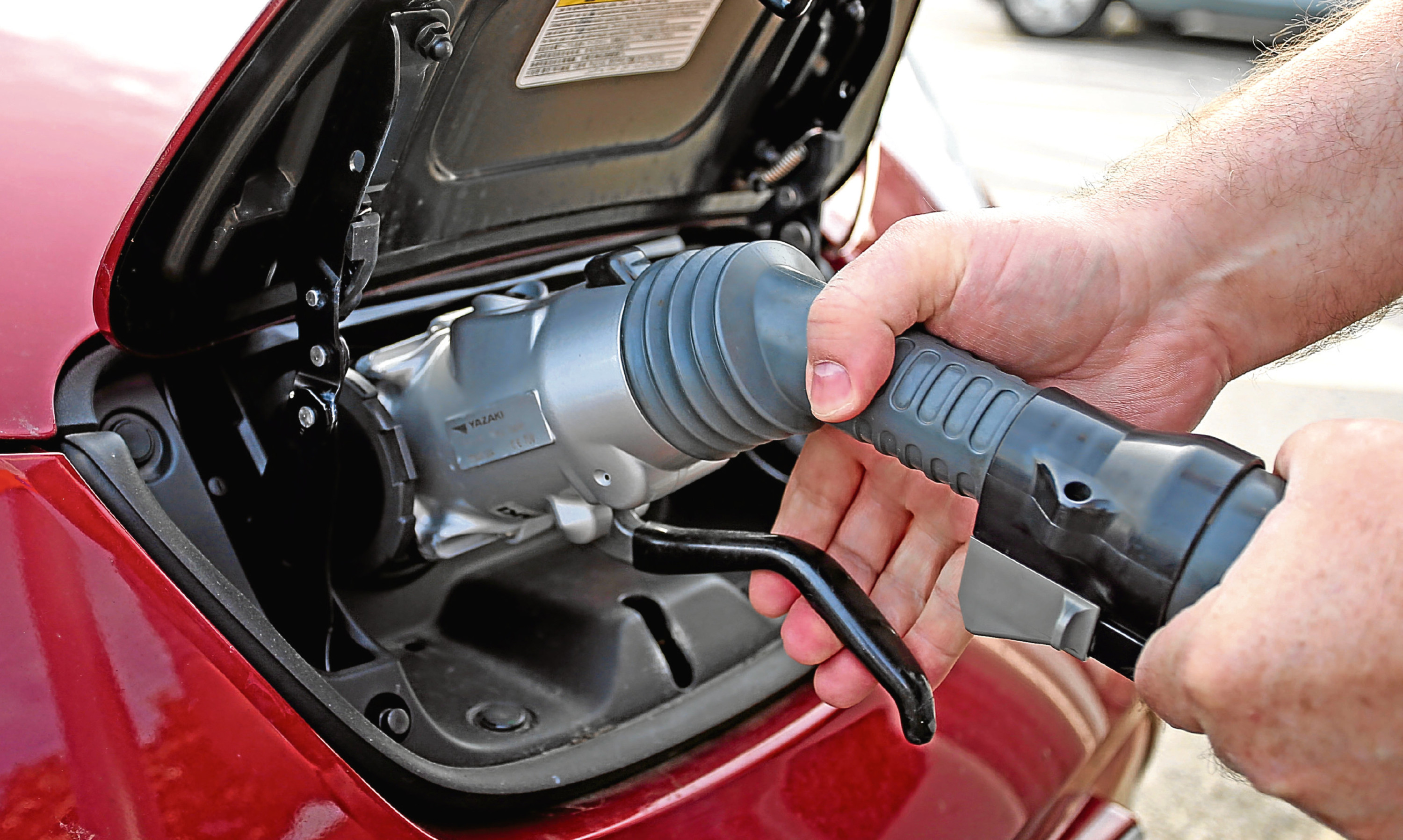 Sir, – Electric vehicles are indeed the future of transport.
They will be powered either by battery or some liquid non-polluting fuel such as hydrogen with associated fuel cells.
As we know they offer many advantages over fossil powered internal combustion also by having much simplified mechanical components. These vehicles are available now, albeit at very high cost and associated rapid depreciation due to the need to replace batteries and fuel cells periodically.
That said there is an urgent need to reduce pollution and CO2. The problem that few people take any notice of, and is the biggest fundamental reason why there is so little take up is the complete lack of practical refuelling/recharging stations.
Therefore battery driven vehicles meet little more than a niche local market for round trips to and from home.
While this is probably what most people do most of the time especially those who live in city centres, they are incapable of reliably undertaking journeys reaching more than 100 miles away from home and that during summer.
The risk of stranding is significant and if it occurred on a frozen and hence closed motorway the consequences don't bear thinking about. How would anyone cope with several hundred vehicles with flat batteries in one location?
Instead of berating the fact that people are not buying electric cars we should all be arguing for investment in the infrastructure to allow and facilitate their use, especially considering that at best they take an hour to only partially recharge.
A significant investment in this would be far more worthwhile than building a limited-service niche high speed railway to service London.
Nick Cole.
Balmacron Farmhouse,
Meigle,
Perthshire.
Worse with each passing day
Sir, – In defence of his Internal Market Bill (IMB), Prime Minister Boris Johnson said the European Union had threatened to stop food exports from Great Britain to Northern Ireland and the IMB was needed to prevent this.
However, when asked by Ed Miliband to name the clause in the Bill "which prevents the threat he says he is worried about" the prime minister was unable to, instead remaining strangely mute.
A few months ago Mr Johnson was boasting about a world class test, track and trace system being almost ready.
But reports today suggest the system (the UK Government is responsible for processing the majority of Covid-19 tests from Scotland) appears to have suffered some form of crash and will take several weeks to fix.
It seems that the Johnson administration becomes increasingly dysfunctional with every passing day.
We should be really alarmed at the prospect of what awaits when real Brexit hits us on January 1 2021.
If the way they have handled the coronavirus crisis is any kind of precursor we can anticipate a total shambles.
Alan Woodcock.
Osborne Place,
Dundee.
Playing the FM at her own game
Sir, – Now that the infection rate is higher in Scotland than in England I wonder if Boris Johnson will play Nicola Sturgeon at her own game and threaten to close the border on health grounds.
And even if he doesn't, are there any activists in England to match the SNP goons who waved placards and shouted profanities at northbound traffic? I don't think so.
In order to play to the at-least-we-are-doing-better-than-England crowd, Sturgeon used bogus statistics and was rebuked for doing so by the Office for Statistics Regulations.
In terms of comparability on population size, distribution, settlement density and other characteristics, it would have made more sense to choose two of her favourite "models" for an independent Scotland – Denmark and Norway.
She did not do so for very obvious reasons: as at September 4, Scotland had 4,228 deaths, Denmark 627 and Norway 264.
Not so quotable.
Denis Munro.
Saint John's Place,
Perth.
A better off and happier country
Sir, – Douglas Cowe ('Emotion won't pay the bills' Courier, September 15) tells us that the case for Scottish independence resting on "fiction and emotion will not pay the bills", right next to a very considered letter from financier Colin Storrier explaining the financial case for why "Scotland can only ever achieve her potential by managing her own affairs".
Mr Cowe goes on to suggest, as a negative factor, that Scotland "could be like Denmark…but at what cost?"
Well I note that, in the annual World Happiness Index, since the first one in 2012, the UK has never appeared higher than 15th.
I would imagine that as a result of the current shambles, the country will be a lot less happy next time.
Whereas Denmark has been consistently in the top 10, as indeed have the other medium-sized, independent Scandinavian countries.
So taking into consideration Mr Storrier's economic case, and the Happiness Index, I would suggest that Scotland would be both better off, and happier, if it was free from the shackles of Westminster, as the polls clearly now show to be the settled will of the Scottish people.
Les Mackay.
Carmichael Gardens,
Dundee.
Complicit in law-breaking
Sir, – Conservative MPs who supported the Internal Market Bill are complicit with the government in breaking international law and by doing so demonstrate once again their arrogance and naivety.
Naive in thinking an international treaty, which has already been agreed, can be altered because Prime Minister Boris Johnson has decided he didn't do such a good job of negotiating the treaty in the first place.
Naive and reckless by not giving due consideration to the damage this Bill is doing to our reputation as a trustworthy trading nation.
Let's face it, this Bill has all the hallmarks of one designed to frustrate and scupper the current Brexit negotiations.
It will allow the UK to leave without a deal while blaming the perceived intransigence of the European Union.
However, this action will leave us with EU tariffs, where none were before, no guarantee of a trade deal with the USA and difficulty with the WTO (World Trade Organisation).
It also shows a callous streak within the higher echelons of the government who apparently give no real consideration – lip service only – for the hard-fought-for peace process in Ireland.
Ian Auchterlonie.
Denoon Terrace,
Dundee.
Impressive and believable
Sir, – How dare Robert Anderson (Duty is to inform, not get embroiled in politics, Courier, August 16) presume to speak for me.
I am quite happy that the partiality of the daily broadcast is being questioned.
Those of us old enough to remember the Falklands War will recall the daily information imparted by the sober-suited civil servant Ian McDonald .
Just the facts, just the numbers.
Far more impressive and far more believable.
Percy Johnstone.
Crieff Road,
Perth.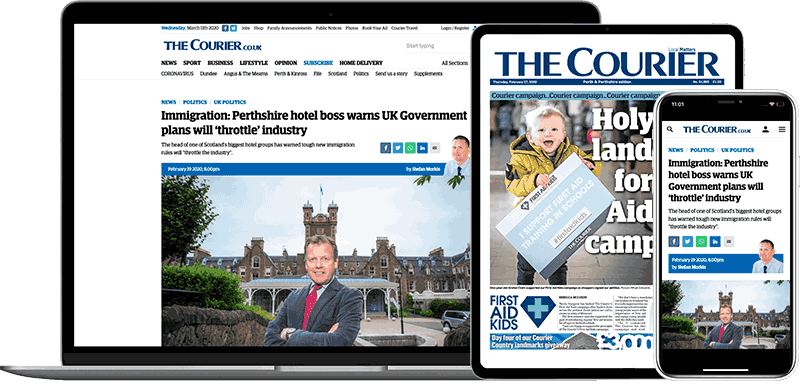 Help support quality local journalism … become a digital subscriber to The Courier
For as little as £5.99 a month you can access all of our content, including Premium articles.
Subscribe