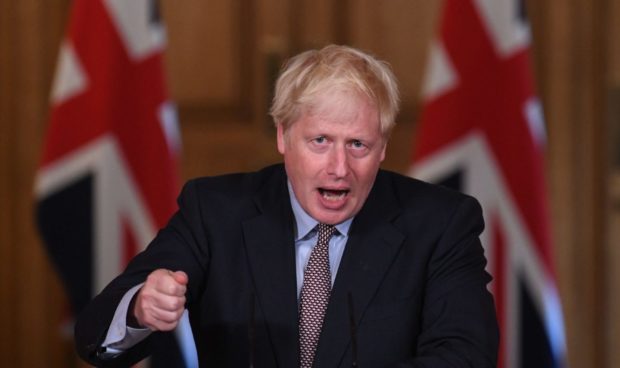 Sir, – Once he understood the gravity of the coronavirus crisis Boris Johnson should have applied for at least a 12-month extension to the Brexit transition period so that we would not have to cope with what seems likely to be no deal in the midst of a raging pandemic.
His failure to do this demonstrates a reckless and callous disregard for the people he was elected to serve.
No leader possessing even a modicum of care and concern would subject the populace to a highly traumatic event such as Brexit (with predicted disruption in supplies of fuel, food and vital medicines) at a time when the country is having to employ all its resources to avoid being overwhelmed by the resurgent pandemic.
Of course, Boris and his cabinet of millionaires have the personal means to withstand the shock of all this but what of the elderly, the infirm, the vulnerable and the hundreds of thousands of people who have lost their jobs during the last few months? It is tempting to compare the prime minister to the captain of the ill-fated Titanic with the major difference that when Boris spots the massive iceberg looming right in the path of the ship he gives the order "full steam ahead!"
Alan Woodcock.
Osborne Place,
Dundee.
Nothing but bills from wind farm
Sir, – When Scots voted for the SNP they thought they were voting for a nationalist party that would put jobs and Scots first.
It seems we have a party flying false colours.
Once again work is going abroad ('Anger as BiFab misses out on wind farm work', Courier, September 19).
This time it is the steel work for the wind farm off the Fife coast.
It will be built in China, as was the steel work for the new Forth Bridge.
Yet we have BiFab sitting on our doorstep with a third yard in Stornoway.
We also have many more places where the work could be fabricated in Scotland.
Every piece of steel, every nut, bolt, electric cable and the ships needed to transport them will be paid for ultimately by the Scottish public.
As I have said before, these foreign companies should have been told when they wanted to milk Scotland's wind sector that they have to build here or go elsewhere.
There is nothing in this wind farm for us but bills.
How many more times are we to be ripped off by foreign companies aided by four political parties who care nothing for working people?
How many more times are excuses to be made why they could not be built here?
John G Phimister.
St Clair Street,
Kirkcaldy.
Climate crisis demands action
Sir, – I read with despondency the letter from Dr Cameron slating the encouragement of David Attenborough for us to save the planet ('No basis for Attenborough's climate alarm', Courier, September 19).
The Earth is currently getting warmer at a faster pace than at any time in the last 10,000 years.
The Amazon is being burned, and Siberia as well as the Western USA are on fire.
Many animal species are being lost forever.
The seas and their wildlife are polluted with millions on tons of plastic.
The Antarctic and Arctic ice is melting. In short unless we take urgent and immediate action to reverse the ruination of planet Earth our future generations will be few in number.
Dr Cameron's odious response – classic global warming denial based on hee-haw – is dismally misinformed.
Of course it's Dr Cameron's right to express an opinion.
But there is a major difference between an opinion and an informed opinion.
K Heath.
Cortachy,
Kirriemuir.
Climate change 'acts of God'
Sir, – I must thank the Rev Dr John Cameron for putting us all right on 'climate change and global warming'. How silly we have all been.
However, this does not explain why the world is suffering from a spate of forest fires, flash floods, melting and collapsing icecaps, hurricanes and tornadoes by the score, rising sea levels and other such changes in climatic conditions.
I have therefore decided to delete all mention of climate change and global warming with immediate effect and insert instead 'Acts of God'.
Would the good doctor agree?
Ron Blanchard.
Kinghorn Road,
Burntisland.
Consider the rewards first
Sir, – I disagree with the rationale given by projects officer Mike Morgan ('Council forced to u-turn on high street parklets, Courier, September 18) on how you assess the impact of the tattie boxes in Perth High Street.
Anyone in business would consider the implications before launching, and a small scale promotion would be carried out, then analysed.
In business the rewards from any outlay must be the main consideration and this is where councillors and the administration seem to lack experience and knowledge.
We need to promote best business practice into council procedure, managed by the chief executive which prevents speculative ideas by project officers.
Think of what could have been done with this money being allocated to enhancing Perth High Street.
Jim Ferguson.
Feus Place,
Perth.
Council must get real on parking
Sir, – So Fife Council is to close down car parking in the centre of St Andrews against the will of businesses who are having a hard time at this moment.
Get real Fife Council this is just not on.
If you do go ahead with this folly you will have to spend some of the funding you have received (and you want to spend it on something) on a park and ride service so that all of our citizens can shop in our very reliable and efficient shops.
Come on, you know it's a good idea and makes sense.
Bill Sangster.
Former Fife Councillor,
Strathkinness.
Wishful thinking of Tory leaders
Sir, – Scottish education is blighted by a terrible anti-academic curriculum, bizarre anti-punishment policies that undermine discipline, a Children's Rights obsession that erodes adult authority, and rampant indoctrination into every left/liberal/progressive cause going.
The Conservatives' response? Free school meals for pupils whose parents can easily afford to feed their own children.
Hope always springs eternal for my friends in the Conservative Party: the next leader might be much better than the hopeless one they've got now.
Perhaps Douglas Ross will be the last straw and hard reality will finally overwhelm wishful thinking.
Richard Lucas.
Leader of The Scottish Family Party,
Glasgow.
App won't work for everyone
Sir, – Much as I appreciate the benefit of the Covid-19 Protect Scotland app, what about those who do not either have the ability on their phone to have this app, or indeed have the signal availability.
In the first minister's world this is not realistic.
My question is: what do the others do?
Roy Moffat.
Bollyglosh,
Gilmerton.