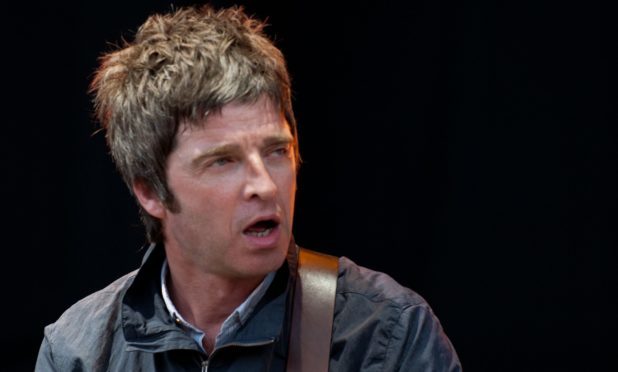 Sir, – I'm all for independence but as we lurch towards what looks like another possible lockdown, isn't it time for all the four nations of the UK to start singing from the same hymn sheet.
That way there can be no confusion and/or excuses for not complying with the law.
Let's make no mistake, there are more people who won't wear a mask than can't and they are the people who have helped to exacerbate this pandemic (it doesn't help when high profile idiots like Noel Gallagher refuse to wear a covering, and then boast about it on social media).
We've all seen pictures in the paper, stories on the news and, indeed, witnessed within our own area large meetings, with no social distancing or any face masks being worn.
It's time to stop messing about.
There should be immediate fines for not complying with the law.
If you're exempt then a lanyard should be worn with your exemption card in full view.
If you are not wearing appropriate protection and have no proof of exemption, then no entry to shops or other premises should be allowed.
Let's have no more nonsense about security guards and shopkeepers saying that they have no powers to force people to wear face coverings – don't serve them, they'll soon get the message.
The police know the busy areas and times,and should therefore be present at them to enforce the law.
Whilst several people have held Sweden up as an example of how to deal with the virus (they've never had a lockdown), the country that has led the way appears to be Japan, with 1,495 deaths at time of writing out of a population of almost 127 million.
This was achieved by a nation doing what they were asked to do, unlike Scotland and the UK in general, where many people only seem to be thinking of themselves.
Eric Travers.
38 Gellatly Road,
Dunfermline,
Fife.
Not easy to curb human nature
Sir, – The Holyrood and Westminster Governments can huff and puff all they like, they will not easily change human nature.
Covid is a coronavirus. So is Influenza, but we never had lockdowns to prevent spread of 'flu that kills a large number of the aged and infirm in our population annually.
The entire Government strategy was flawed from the outset.
Instead of dealing with life's realities and prioritising protection of NHS and care home personnel, they took a view that every life was at risk and should be saved at all costs.
Meanwhile, our economy crashes and future austerity measures necessary to rebuild will create both physical and mental health problems for the population of Scotland.
Fact is that statistics show that young people are not at risk of dying from Covid.
We adults should not be treated like children, and should be left to our own devices, having been made aware of the risks to older and infirm members of the population.
Some of us will take the warnings to heart. Others will not.
That is a fact, and no amount of hectoring by Nicola Sturgeon will change things
Derek Farmer.
Knightsward Farm,
Anstruther.
Chance for UK's redemption
Sir, – In 'Covid1" the UK was caught out badly, acting too late on PPE, ventilators, care home strategy, testing, school exams and sensationalism resulting in unedifying exchanges and one-upmanship, especially between Edinburgh and London.
And an ignominious third place in worldwide deaths per million.
Much has improved and Covid Wave 2 gives the various players – and the people of this country – the chance o redeem ourselves and get on par with the likes of Germany and Scandinavia.
Allan Sutherland.
Willow Row,
Stonehaven.
Scandal of lost wind power jobs
Sir, – As we head into one of the worse economic declines in living memory the news that Scotland's SSE has decided to hand all of its fabrication work for one of the world's biggest offshore wind projects to overseas countries has been greeted with astonishment.
Instead of supporting companies in Scotland, China and Dubai are the lucky recipients of these lucrative contracts leaving locally based employment out in the cold.
Many people only tolerate the industrialisation of Scotland's environment by weather-dependent wind because of the attractive figures for jobs that are pledged for the people who actually live here.
As is increasingly obvious these assurances are rarely if ever forthcoming and certainly not in the numbers that are predicted in an apparent attempt to make planning consent more 'acceptable'.
May I respectfully suggest that those in the wind industry and Scottish Government who herald and promise the many new Scottish 'green' jobs for every environment busting wind development approved ensure they have a fire extinguisher handy for when their pants ignite.
Lyndsey Ward.
Beauly,
Inverness.
Not a lecture, a virus education
Sir, – I totally, understand why Victor Clements is bemused by the outrage expressed at the BBC's intention to cancel the broadcast of the daily Covid-19 briefing by the Scottish Government representatives, led by the First Minister.
After all, he freely admits he doesn't watch it, which therefore puts him at a distinct disadvantage, before he even starts to comment on its usefulness.
Next, he incorrectly thinks that government representatives are making purely politically statements to the watching public.
If Mr Clements had spent some time watching the Freeview Channel 9 broadcasts he would have been fully aware of the care with which the FM and other Ministers have taken to provide balanced answers to the loaded questions from the Press.
He cites listening to the broadcast on Radio, but as most listeners will know BBC breaks off the government broadcast for the 1pm news broadcast.
Watchers will benefit from the full broadcast where the press try to ask similar topic questions with slight variations, which their readership have previously raised.
Lecturing the population it is not and in the last few days with the rise in infection rate, it is education.
It is up to us, the population, to use this well. If we don't more people will die needlessly.
Relatives, friends and colleagues.
Alistair Ballantyne.
Birkhill,
Angus.
Little benefit to Scots of HS2
Sir, – I wonder how many readers will benefit from the introduction of the high speed rail link between London and Leeds – not a lot!
Yet every one of them and indeed every tax payer in Scotland is helping, through their taxes, to pay for this project that will never be used by most of them.
The latest estimate of the cost is over £100 billion.
Just think what a difference Scotland's population share of this of over £10 billion could make to the rail and road network in this country if only we were independent and could control all our own finances.
Peter Swain.
Innerwick,
Dunbar.