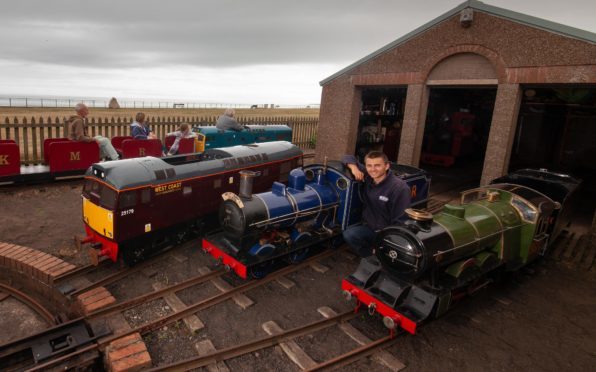 Sir, – Just like my fellow reader David Searle of Errol ('Arbroath could be a tourist favourite again', Letters, September 25) I am deeply saddened that Angus Council appear to have little concern that one of their oldest and most popular attractions is shortly to be consigned to the pages of history.
Five generations of my family have travelled on the Kerr's Miniature Railway line. Only this week my brother and his partner rented a caravan and, with only a couple of days to spare before the Covid-19 restrictions were tightened, we spent a memorable afternoon re-exploring.
Although I am a regular visitor to Arbroath, for my brother, now retired, this was one of the principal things on his bucket list. As youngsters we had spent many a happy time at the Red Lion Caravan site.
Wandering down on to the West Links the large, well kept grassy area was almost deserted – a far cry from what we both remembered.
An area just to the north of the miniature railway had been fenced off and I explained it had been intended that the miniature railway be extended, linking it to where the paddling pool and the new playground now stood.
This was plainly an ambitious project but in light of the fact the council had "inadvertently" moved the footfall away from the miniature railway, it seemed to make good business sense.
Sadly those plans will remain only as drawings, we can only imagine how successful it might have become.
Arbroath was once very popular with summer visitors and Angus Council supported a number of attractions – such as boating on Keptie Pond, the trampolines, Miss Arbroath at the outdoor bathing pool, Talk O' the Town Talent Show at the Springfield Park, The Johnny Geddes Give Away Show, professional wrestling, and the ponies and the donkeys on the beach.
With the miniature railway shortly to be gone, very little is left.
Speaking for myself, foreign holidays are now of little interest and I suspect others will feel the same.
Instead of closing our tourist information offices, as they have done in Arbroath and in parts of Perthshire, should we not be actively encouraging people to stay at home and enjoy all that Scotland, and in particular Tayside, has to offer?
Yes, given the proper attention and investment Arbroath could once again be a tourist favourite!
T W MacFarlane.
Dunsinnan Rd,
Wolfhill.
Independent Malta is fine
Sir, – I noted with interest that Malta this week celebrated its Independence Day, marking 56 years of independence from the UK.
With a population less than that of Edinburgh, Malta has forged its own path since 1964, becoming a republic in 1974 and joining the EU in 2004. This reminded me of an editorial spotted in The Times from 1959, which noted:
"Malta cannot live on its own … the island could pay for only one-fifth of her food and essential imports; well over one-quarter of the present labour force would be out of work, and the economy would collapse without British Treasury subventions. Talk of full independence for Malta is therefore hopelessly impractical."
This struck me as sounding rather familiar.
Alex Orr.
2/3 Marchmont Road,
Edinburgh.
Agreement has no such clause
Sir, – Robert Scott ('Sticking to the agreed terms', Letters, September 22) repeats the nonsense about a "once in a generation" referendum and suggests we look at the "facts".
If he reads the Edinburgh Agreement, he will find no mention of this alleged clause.
He will also know that UK law is based on precedent, and the only relevant precedent for this is the Good Friday Agreement which specifically states that a referendum can be held every seven years if it is felt that the majority of the population support it.
This is clearly the case in Scotland, and seven years will have passed next year. I look forward to the day when British nationalist correspondents explain why they believe we should continue to be ruled by a dysfunctional Westminster, instead of inventing bogus reasons why we should not be allowed to choose to run our own affairs.
Andy Collins.
Ladyburn House,
Cupar, Fife.
Hate Crime Bill is still wrong
Sir, – Justice Secretary Humza Yousaf's proposal only to remove "likely" from his Hate Crime And Public Order (Scotland) Bill's criminalising of behaviour "likely" to 'stir up hatred' doesn't go nearly far enough to protect free speech.
Which writers and artists will be reassured by such a nuance if they still fear having to argue their absence of intent in court?
Existing laws covering "threatening and abusive behaviour likely to cause fear or alarm" already serve us well.
Neil Barber.
Edinburgh Secular Society,
Saughtonhall Drive.
Uni halls not designed for this
Sir, – As a former student at both Fife College and University of Abertay, who now works as an online delivery driver delivering groceries in Aberdeen university halls of residence, I can see things from both sides of the fence.
While I know students will party, especially first year students, as someone who stayed in halls of residence in Dundee as well as the Steeple Church flat, the design of university accommodation does not help during a pandemic as they have small bedrooms and shared accommodation.
The financial imperative of universities for filling university accommodation does not help in a pandemic, and it puts pressure on those who are delivering groceries, shoppers, night shift staff, day shift staff, general assistants and fellow drivers.
Peter Ovenstone.
6 Orchard Grove,
Peterhead.
Mental health risk to students
Sir, – National clinical director Jason Leitch tweeted that students in halls and flats comprise "a separate household. There are exceptions, eg caring responsibilities, but the law is clear: They can't meet indoors with another household – even mum and dad. Sorry."
So it looks like Christmas with family is cancelled for Scotland's 300,000 students. Long before then they will have to endure a considerable amount of Covid-induced misery. For many there will be considerable distress and risk to mental health.
Students are having to cope with the threat of Covid with severely restricted social contact and, very possibly, the experience of being cooped up in cramped quarters for a 14-day quarantine.
Have any of Nicola Sturgeon's health advisers tried to quantify the impact on student mental health of her Covid measures?
To their shame all but one of Scotland's 15 universities refuse to keep a record of student suicides. Nor does the Scottish Government hold any data.
In England and Wales the Office of National Statistics reports a suicide rate of 4.7 suicides per 100,000 students in the 12 months up to July 2017, and no reason to think Scotland's rate is lower.
There must be a risk that more of Scotland's students will die as a result of the isolation exacerbated by current Covid measures than will die of the virus itself.
Cllr Linda Holt.
Dreel House,
Pittenweem.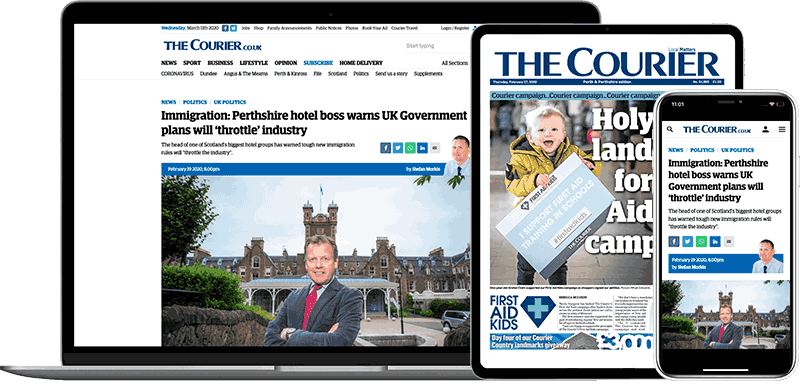 Help support quality local journalism … become a digital subscriber to The Courier
For as little as £5.99 a month you can access all of our content, including Premium articles.
Subscribe