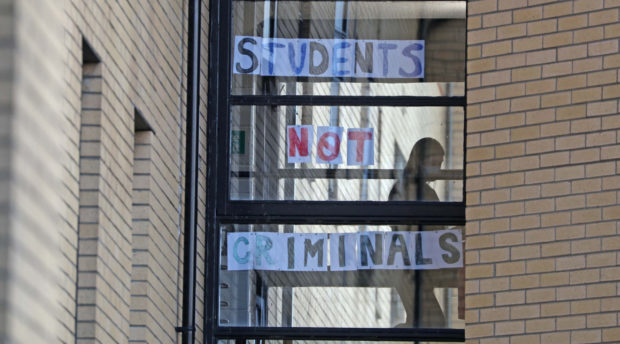 Sir, – Fifty years ago, pre-school children were actively encouraged to swap ailments in order to acquire immunity before going to school.
My sons had mumps and chickenpox before they were five. It tuned up their immune systems.
At present, newly arrived students in tower blocks are locked down in their individual flats of five or six people trying to avoid Covid-19.
If one becomes infected every 13 days there follows two more weeks of isolation and then lockdown for them will last until Christmas.
This is a mental health disaster. May I suggest a change of policy:-
Students who need to shelter are extracted by the university and accommodated separately.
All the inhabitants are then allowed to mingle freely.
A mega Covid party!
Symptoms should start appearing within seven days.
Half will have no symptoms at all, the rest should be recovered within three weeks.
A few may be quite ill, sooner than if they hid away, but they would meet the virus anyway in their present environment.
Think of this as freshers week extended, with the addition of online lectures.
What is there to lose?
Shared experiences forge strong bonds. Everyone looks out for those in need.
The time required to gain immunity for all is shortened drastically and they can all go home for Christmas without threatening their families.
I hope someone in authority considers this a viable alternative to the present misery amongst our student population.
Anne Tee.
Malcolm Crescent, Monifieth.
NHS staff go the extra mile every day
Sir, – I contacted my local health centre regarding a few issues four months ago.
I have since been diagnosed with advanced prostate cancer and type 2 diabetes. I may also have a slight heart issue.
As a result, I have had several appointments with my GP – some face to face and some pre arranged by telephone – and the health centre nurses.
I have been to either PRI or Ninewells for a sigmoidoscopy, colonoscopy, bone scan, CT scan, biopsy, MRI scan, two urology clinic appointments and an appointment with a consultant oncologist.
All within the last four months! I have a further four appointments in the next fortnight including an echocardiogram, a diabetic optical retinopathy screening and one with a second consultant oncologist to discuss radiotherapy options.
On each occasion every receptionist, healthcare assistant, nurse, doctor and consultant has seen me at the pre arranged time.
They have, without exception, treated me with the utmost dignity, compassion, empathy and outstanding professionalism.
Not once have I felt that a consultation was rushed.
All of this in a pandemic when these poor people must leave for work every day feeling quite apprehensive.
Our Scottish psyche tends to say they are only doing what they are paid to do but, in my view, every one of them goes the extra mile every day.
Stewart Falconer.
Glenisla View, Alyth.
Government is out of touch with reality
Sir, – Our British masters are quick to tell us the SNP should honour the fabled once in a generation referendum statement, but almost in the same breath state they will not honour the EU withdrawal agreement signed by their own leader and British PM.
These people are out of touch with reality.
Bryan Auchterlonie.
Bluebell Cottage, Perth.
Extend 20mph limit to Blackness Road
Sir, – I walk frequently on Blackness Road and Perth Road.
On Perth Road there is a 20mph speed limit but not on Blackness Road.
But east of the Balgay junction Blackness Road is, in my experience, busier.
There are cars parked all over the place, especially at school hours, there are children, and old and disabled people.
I think Dundee City Council have a responsibility to make this part of Blackness Road 20mph.
Antony Black.
Blackness Avenue, Dundee.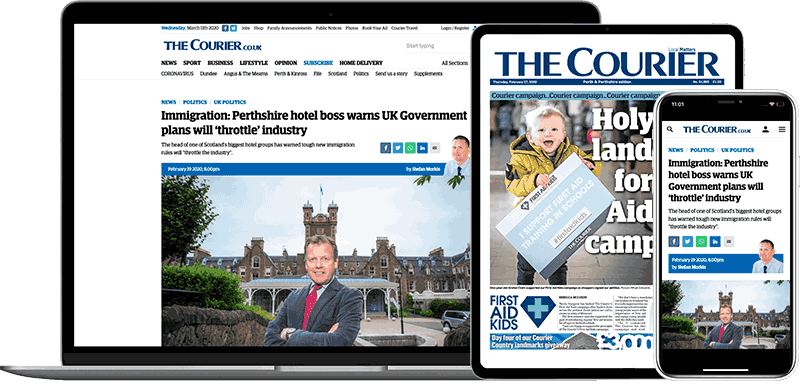 Support The Courier today.
The Courier is committed to delivering quality content to our communities and right now that's more important than ever — which is why our key content is free. However, you can support us and access premium content by subscribing to The Courier from just £5.99 a month. Because Local Matters.
Subscribe