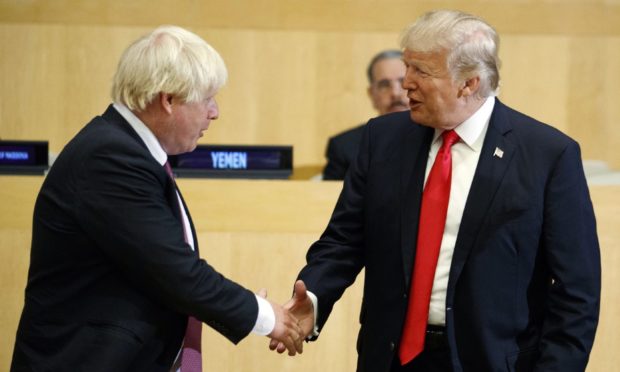 Sir, – Now the prime minister has said a post-Brexit trade deal with the EU seems unlikely he will be more desperate than ever to secure a deal with the US and Trump.
We know discussions with the US have been going on for the past 12 months and Johnson has refused to exclude anything from the deal.
We also know the US is pushing for access to the purchasing power of the NHS in drugs and access to our health data, reductions in safety standards in food production and animal welfare – chlorinated chicken and hormone saturated beef etc – and the lowering of labelling requirements so that we won't know what we are eating.
And the lowering of safeguards on chemicals, currently banned in the UK, being added to cosmetics and the plastics used in toys.
Without a deal with the EU the UK has no incentive to follow the higher standards and safeguards that apply in the EU after December 31.
In Europe and, therefore currently, in the UK chemicals can only be added to food production if it can be shown they are safe.
In the US, companies can add anything to food until it is proved to be harmful.
Consumers in the US are the "testers" for the food industry.
If the UK Government concedes on food safety standards to the current US demands we will all be vulnerable.
I do not wish to be a guinea pig for the US food industry.
Brian Batson.
Lour Road, Forfar.
So much damage done by so few
Sir, – We should all reflect long and hard on the insanity, recklessness and sheer uncaring stupidity of a prime minister who is willing to inflict a catastrophic no-deal Brexit on us while we are battling against a devastating pandemic his government has proved spectacularly incompetent in dealing with.
It is only a matter of weeks ago that Boris Johnson was talking about being back to normal by Christmas and I am sure we all remember his boast about how the UK Government would have a ' world beating ' test, track and tracing system.
For many people, especially those who have lost loved ones and/or livelihoods during the coronavirus crisis there will be no Christmas this year and, with a no-deal Brexit as first foot, 2021 will likely greet us with significant delays in supplies of vital medicines, food shortages and price rises.
Even Michael Gove has admitted UK exports are likely to have substantial tariffs applied.
Boris Johnson and his cabinet have the financial means to cushion themselves against all of this but a major worry for the rest of us must be: Will the UK Government have prepared properly for no deal?
If their coronavirus strategy is any kind of yardstick, the omens are not good.
The prime minister loves to quote Winston Churchill and it may well be that posterity will use a slight corruption of one of Mr Churchill's most famous sayings to refer to the tenure of the present UK administration: "Never have so few done so much damage to so many in such a short time."
Alan Woodcock.
Osborne Place, Dundee.
Virus plan will see tiers before bedtime
Sir, – We wait with bated breath for Nicola Sturgeon's Covid "tiers" announcement.
Will she go radical, strike a blow for freedom and choose 1,2,4 or 5 tiers? Or plump for the "four nations" three?
On previous form my money is on 2.9 or 3.1.
Allan Sutherland.
Willow Row, Stonehaven.
Urgent need to find drug death solutions
Sir, – Is it unreasonable to ask why the Drug Commission has been unable to meet and discuss the latest figures of drug deaths in the period April to June?
Less important meetings have managed to share findings via Zoom or video. Using the pandemic as a reason feels insufficient justification.
Whilst the Westminster Government is unwilling to progress any Scottish change initiatives it is even more vital to work on local solutions.
It is sad to have already lost three months.
Gillian Harris.
Woodmuir Crescent, Newport.