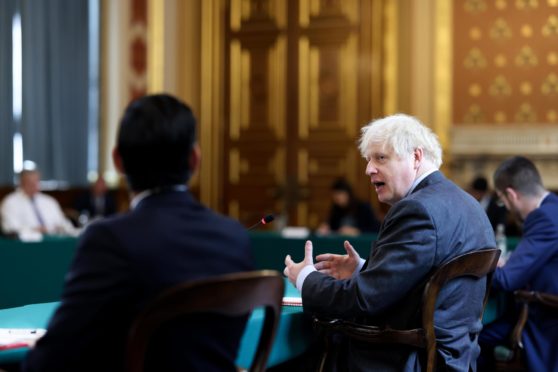 Sir, – It appear the UK Government is once again plunged into its default setting of obfuscation, ineptitude and a continuing inability to answer straightforward questions.
The behaviour of Prime Minister Boris Johnson and his government in relation to furlough payments is nothing short of disgraceful.
The humour element of bumbling Boris has long evaporated and behind the buffoonery it is plain to see how out of his depth he has been all along.
But now it is serious.
The prevarication and inability to address Scotland's questions over furlough payments will surely not be forgotten. The days of 'lead, don't Leave' and celebrity platitudes are over.
The myth of a union of equals is shattered and lying in pieces. Yet out of this unedifying spectacle of the UK Government treating Scotland with disdain will surely come a Scotland with all the necessary levers to allow us to stand as an independent country and, I'm sure, put all the friction with England to one side and perhaps help it get through not only the disaster of Brexit but the overriding problems being thrown up in the current pandemic.
Dr Graeme Finnie.
Osprey Drive, Forfar.
A great irony behind calls for clarity
Sir, – Nicola Sturgeon and Kate Forbes call daily for "clarity" from Boris Johnson and Rishi Sunak over financial support for Scotland during Covid.
This is ironic when they are totally incapable of providing "the people of Scotland" with "clarity" over the finances and economics of an independent Scotland.
The SNP regime has spent two decades trying to distance itself from the UK Parliament, driving a wedge between Scotland and England, thinking it can do better.
It has had nothing but a culture of blame, grudge and grievance but when the chips are down, has to depend on the financial strength of the United Kingdom to see it through.
How gracious it would be of Ms Sturgeon to work constructively with Westminster for the good of all, to drop her resentment, bitterness and anger to manage the devolved administration for the purpose it was designed.
Douglas Cowe.
Alexander Avenue, Kingseat.
Focus on cleaning to beat coronavirus
Sir, – If the country is to overcome coronavirus then the government must stick to facts rather than speculative theorising.
What has been established as fact is that the virus is everywhere on surfaces, on cash machines, phones, supermarket tills etc.
The focus needs to turn to thoroughly cleaning homes and public amenities regularly to stop the rapid spread of this virus.
Eric Gibbons.
Coldingham Place,
Dunfermline.
Ballot box fears over BiFab 'betrayal'
Sir, – Bifab will be the slack nail that every SNP MP and MSP's jacket is hanging on (Unions demands answers over BiFab decision, Courier, October 31).
This betrayal will never be forgotten.
Our politicians, most of whom have never been in a real job, will be worried people.
They have just seen their chances of being re-elected scuppered and their safe, well paid jobs in politics ending.
They should have understood the result of building work going to China for the Queensferry Crossing and the wind farm.
John G Phimister.
St Clair Street,
Kirkcaldy.
Chillingly close to the Thought Police
Sir, – Could there be a more silly manifestation of the flawed Hate Crime Bill than the proposed criminalisation of domestic dinner table chat?
We all test ideas and hypothetical positions in a spirit of safe dialectic exploration with friends and family who know our true souls.
To legislate for there to be no difference between private discourse and public statement is chillingly close to the Thought Police.
Neil Barber.
Edinburgh Secular Society.