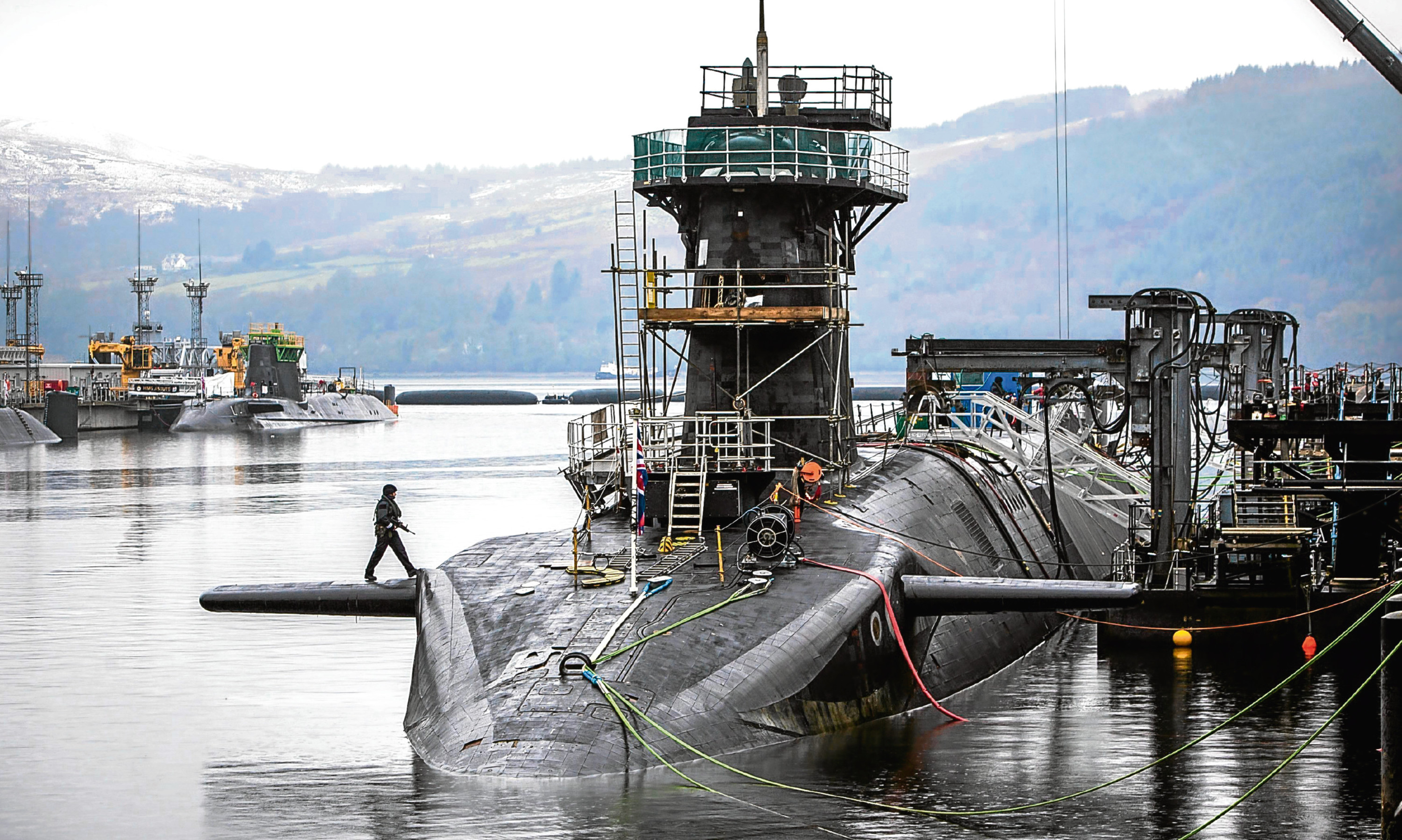 Sir, – On Tuesday morning, following the debate in Westminster on the renewal of Trident, The Courier's Quotes of the Day included these from the Prime Minister Theresa May and from the MP Owen Smith who aspires to be the leader of the Labour Party.
Let me take Owen Smith first who said: "I want a world without nuclear weapons altogether, but I don't think we hasten that by divesting."
Does he really believe that somehow Britain's possession of more powerful nuclear weapons than ever before can in any way contribute to a world without nuclear weapons?
That is just breathtaking nonsense.
Theresa May said: "We cannot abandon our ultimate safeguard out of misplaced idealism. That would be a reckless gamble."
Her statement encapsulates the arid desert of mainstream political belief at Westminster, utterly devoid of any vision or hope of a future flowering of a better humanity, a better Britain, a better world.
The "other guy" (refugees, Muslims, the EU, Eastern Europeans, feckless and workshy benefits cheats, disabled people, gay people, old people, young people) is always seen or portrayed as a threat to our way of life.
Expectation of anything good is abandoned when idealism is dismissed as reckless.
Idealism is the only light in our present darkness, the only antidote to drawbridge politics and the notion that somehow weapons of mass destruction are our ultimate safeguard.
Idealism can never be misplaced.
Those who are long committed to nuclear disarmament will be gathering on Saturday, August 6, for the annual remembrance of the dropping of the atomic bomb on Hiroshima and its appalling consequences.
Never has the need to shine a light in the darkness been greater or more urgent.
Rev Erik Cramb.
Flat 35 Braehead,
Methven Walk,
Dundee.
Euro vote figures were incorrect
Sir, – Clark Cross is right when he describes my letter as sarcastic (July 19) but then when I see outright falsifications being regularly repeated in these pages it is either that or having a good greet.
He has been corrected countless times by myself and others when he says that cyclists pay nothing towards the upkeep of the roads (he now admits that this is untrue) but now talks of them paying a "fraction".
Of course, cyclists pay the same as any other taxpayer and, of course, 99.99% of them own a car but choose to cycle for health and environmental reasons.
Why he should think that I hate motorists I've no idea but, as I own a car, this could present some interesting psychological problems so I'm not going there.
Talking about outright falsifications, we find another in a letter from Ian Lakin (July 19) which was given prime position on the page. Mr Lakin states that Scotland voted "41.6%" in favour of remaining in Europe while demeaning the First Minister's trip to Europe.
Now, every man and his dog on the street knows that Scotland voted 62% in favour of remaining in Europe.
George White.
2 Cupar Road,
Auchtermuchty.
Live and let live, please
Sir, – Dear Mr Clark Cross: please give it a rest, and get out more, preferably on your bike. You will feel a lot better. Cyclists, drivers and pedestrians are all human beings. Some are good, some are bad.
There are worse things going on in the world.
Hugh Wylie.
1 Guthrie Street,
Carnoustie.
Selective quotations
Sir, – I found Mr Clark Cross's latest letter amusing when he claimed Mr White has a hate complex towards motorists.
I suggest that the converse is true: Mr Clark has a hate complex towards cyclists.
It is now patently obvious that Mr Clark, whatever the subject he writes about, cherry picks information that suits his very fixed opinions and totally ignores everything else, hence the repetitive nature of his letters about cyclists and the environment.
Registration of vehicles numbers does not seem to have helped to alleviate the problem of rogue motorists.
The latest available statistics show there are 1.2 million uninsured and other illegal drivers on Britain's roads.
Then again, Mr Clark will probably argue that without registration, we wouldn't know that.
Dave Brimner.
Mearns Drive,
Montrose.
MPs shamed Scotland
Sir, – I agree wholeheartedly with your correspondents about the disgraceful display of MPs not applauding David Cameron and also Nicola Sturgeon not having the Union Flag on display at Bute House for the meeting with Prime Minister Theresa May.
No other country in the world would have committed this slur on any prime minister.
It does make one feel ashamed to be Scottish, and even more ashamed to be represented by politicians who have all displayed just how ignorant they are.
Nor do they know the meaning of democracy when they refuse to accept the result of the 2014 referendum.
Peter McCormack.
Grangeside,
Errol.
Pointlessness of windfarm
Sir, – Despite huge public and local authority opposition, the Scottish Government trampled on democracy and said that four large offshore windfarms could be erected in the outer Forth and Tay.
However, RSPB Scotland said that the impact on sea birds would be too great and raised this issue in the Court of Session.
Judge Lord Stewart ruled in favour of the RSPB, quashed the Scottish Government's consent and ordered ministers to reconsider their decision, addressing the legal points made in court by the RSPB lawyers.
As expected, the Scottish Government and the propaganda machine Scottish Renewables said they were disappointed because thousands of jobs would have been created, clean electricity produced and it would have been a major blow against climate change.
But these jobs would have mostly gone to foreign workers. Also, clean electricity is mixed up with nuclear and imported fossil electricity and the Scottish contribution to global climate change of 0.13% hardly registers.
Clark Cross.
138 Springfield Road,
Linlithgow.
Keep promise to listen to voters
Sir, – First Minister Nicola Sturgeon and the SNP promised to listen to the no voters.
I voted Remain in the European referendum and no to independence and was initially pleased at the SNP's more conciliatory tones.
I would be even more pleased if they exercised 100% focus on the powers that the Scottish Government currently has.
If these powers were to be managed well, then that success should be rewarded. We have a long-running train strike, with commuters, businesses and the environment all hurting but with no end in sight.
We have a growing educational attainment gap and cash cuts for Scottish universities.
We have a 1% cut (in real terms after inflation) in our NHS budget.
These are all devolved powers, so can we please see some positive action?
This would be far more preferable to jumping onto, and then promoting, every possible divisive bandwagon between Scotland and the rest of the UK.
Finally, as Nicola Sturgeon is now so keen to listen to us voters, I wonder if she will adopt the same question format for a Scottish independence referendum: remain, or leave, the UK union?
Iain MacDonald.
41a Highfield Place,
Birkhill.
Create rail halt at airport
Sir, – It would make sense to have a rail halt near Edinburgh Airport, once the trains are back running normally, of course.
The only airport in Scotland to have a rail connection is Prestwick and that is used by half a million people every year. A rail halt would be of great benefit to those travelling to the airport from north of Edinburgh.
Charles Wilson.
King's Road,
Rosyth.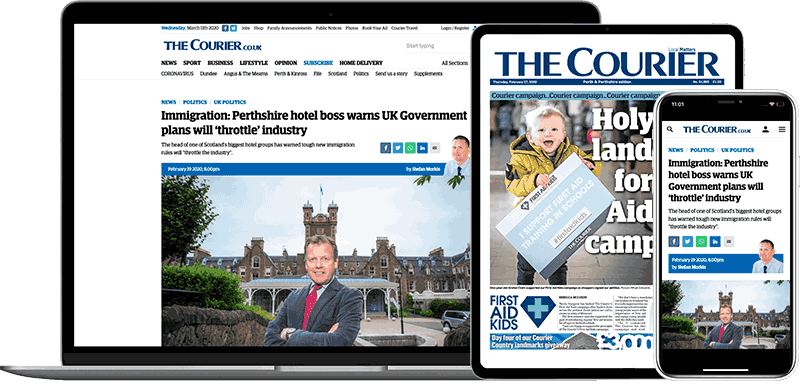 Help support quality local journalism … become a digital subscriber to The Courier
For as little as £5.99 a month you can access all of our content, including Premium articles.
Subscribe