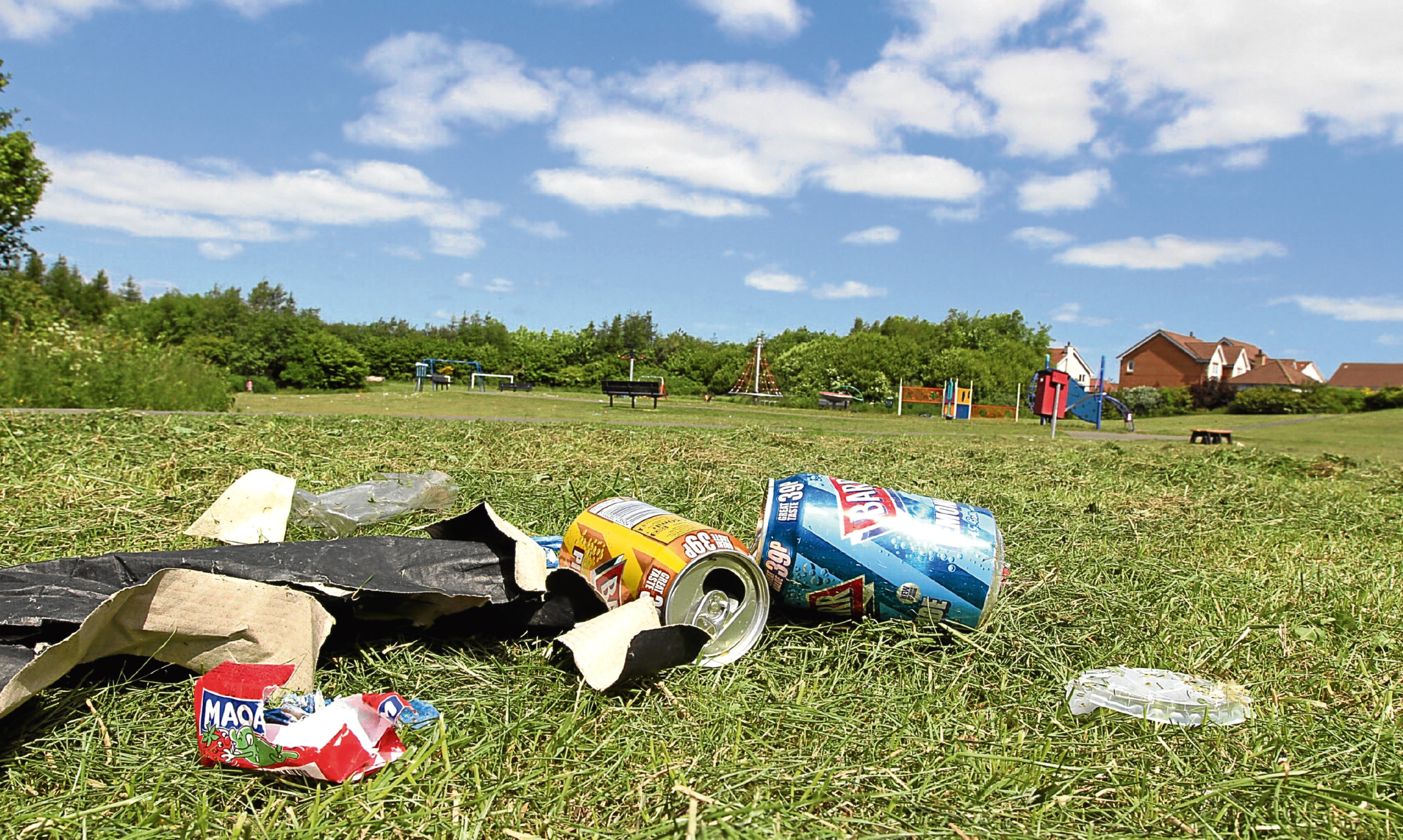 Sir, – We often hear people say "let's put the great back in Britain".
Well, I am old enough to remember the war and the lack of rubbish on our streets.
My reaction is to "put the grate back in the fireplace" where the majority of rubbish was disposed.
Walking in housing schemes and high streets is like being in Legoland with all the coloured bins which take up so much space and look so awful.
The youth of today take it for granted you just throw your rubbish on the ground as someone else will pick it up.
High streets at lunchtime when the school children have been to the shops which cater to their food needs are a disgrace.
In the days of the fire we had our milk delivered in a glass bottle and the milkman picked up the empties next day.
All soft drinks were supplied in glass bottles which were returned for the deposit.
Remember hanging out the roll bag at night?
Groceries were wrapped in paper which was thrown on the fire after use, sweets were sold in paper bags, plastic was virtually unheard of so we did not have plastic bottles and takeaway boxes blighting our space.
We are often reminded there are hundreds of years worth of coal under Fife alone.
I have heard many former miners say they would go down the pit tomorrow as they had enjoyed the job and the camaraderie that went with it.
I am sure, with the technology available today, we could design more efficient fireplaces with better smoke control.
What is going to happen when all the landfill rubbish has decomposed, the surfaces have collapased and gas emissions start to cause health problems in the population?
It is disappointing that we have closed so many paper mills and coal mines with all the people they employed.
We will not go back to these days but it is nice to remember when we were a lot tidier.
JM Donnachie.
Croftouterly,
Leslie.
Stigma of single parents wrong
Sir, – I was appalled by the letter from Robert Mercer-Nairne printed on August 12.
I presume from his address he is a man with connections to the church and this fact makes his letter even worse. Where are his Christian values?
He states children should only be born in wedlock. If not, they should be given away at birth.
This is going back to the dark ages when children born to a single mother were called bastards and ostracised by society.
Not everyone who is a single parent does this by choice.
What about widows/widowers, people who are divorced or naive girls who think having a baby is cool? Every single one of them deserves support and help to be good parents.
Just because a couple are married does not automatically make them good parents. What nonsense to even suggest it does.
At 67 and having worked in jobs where I saw the worst and best of parents, I can assure Mr Mercer-Nairne there are good and bad parents single/married/divorced or widowed.
Margaret Gibb.
5 The Barns,
Burntisland.
Time to reinvent countryside
Sir, – Much has been said lately in regard to the Tayside beavers, that hundreds of years have passed since they were present in our area and, as a result, the terrain and farming practices are no longer suitable for their presence.
However, the development of farming over the years has led to a position where scientists have warned the UK has only 100 harvests left due to the depletion in soil nutrients (Farmers Weekly).
This is primarily due to the intensive farming methods that have been forced on farmers over the years.
Should we now, then, grasp the nettle and reinvent our countryside while saving our soil for future generations?
Incorporating wildlife into the equation, in addition to utilising new and inventive soil-friendly methods, would appear to satisfy both the farmers and the conservationists.
Marginal land, at present only kept in production by subsidies and/or heavy chemical application, could revert to land inhabited by beavers.
This would benefit insects, amphibians, reptiles and birds and, importantly, help boost the number of bees that are vital in the pollination process. Subsidies could be continued but refocused to benefit the new, emerging reality.
The problem must be addressed at some point and wouldn't it be so much more productive if we could all journey in the same direction?
George Murdo.
4 Auchcairnie Cottages,
Laurencekirk.
Poor attitude from university
Sir, – I had to pinch myself when I read the sour grapes of an unnamed spokesman for St Andrews University.
He was actually patting the university on the back for not engaging with local communities before submitting its plans for a cable connection between its windfarm at Boarhills and St Andrews (Windfarm cable link refused for university, August 12).
It is utter bunkum to say that "until planning experts and councillors are able to agree on what's possible, we would simply be consulting on thin air".
First, while the university has evidently spent a great deal of time and money "engaging" with expert planners, outside consultants and officials in Fife Council's planning department, it gave the councillors a wide berth.
If the university had spoken to elected members it would not have been surprised that a majority of nine to three rejected the proposed route when it came to committee.
Second, getting a planning application approved is not a means of establishing what is possible. It's a legal entitlement to develop regardless of what neighbours or others may feel.
Does anyone for a second think the university, having found out "what's possible" by winning consent, would have altered its proposal one iota in response to concerns expressed by communities and residents?
The university would have told them Fife Council approval means all impacts not checked by conditions are acceptable and that they are legally entitled to develop.
Third, one wonders if anyone involved with this project at St Andrews University actually understands what consultation means. Only dictators "consult" on a decision after a decision has been made.
I cannot imagine how the university could show its neighbours any less regard.
Linda Holt.
Dreel House,
Pittenweem.
Birnam Oak's fate is sealed
Sir, – It is always sad to hear of the demise of an old, nay, ancient friend, but this one has been on life-support for a long time already.
What is happening to the Birnam Oak is natural and inevitable and it seems perverse to contemplate spending anything close to £100,000 on treatment which is destined to fail.
Would it not be better and wiser to invest such a fund should it become available, in memoriam, in much-needed new tree planting to regenerate our forests?
C J Allan.
Mansefield,
Tealing.