Sixty years ago this week, a young man called Reginald Mulheron sat down to write his first ever letter to The Courier.
It was to be the start of a regular correspondence over the next six decades and he has kept a copy of every single one – around 600, all neatly filed in envelopes.
Often signing his letters RHL (Reginald Harrison Leitch) Mulheron, there's no doubt Reg, 87, who lives in Tayport, can spin a good yarn.
Over the years he has written around two letters a week on subjects ranging from global and local politics, to the history of Dundee and his own personal memories.
Born and bred in Dundee, what Reg does not know about the city and its heritage is not worth knowing and, with a special interest in the poet William McGonagall, he often gives talks at his local Probus Club.
So what's the secret to writing a good letter? "Keep it concise and succinct and make any criticism constructive," Reg advises.
"I tend to write as I speak and I suppose I do write a good letter considering I never got my certificate at the Morgan (Morgan Academy).
"You've got to work on your brain at my age and The Courier helps keep it ticking over.
"If I read something I want to comment on or don't agree with, then I'll write a letter about it – anything I get a bee in my bonnet about really."
So what was the issue that started this ball rolling?
It began: "Dear Sir, having recently spent a holiday in the Pitlochry area, during which I used the Dunkeld-Pitlochry road every day, I very much agree with 'Anxious' when he writes of his nightmarish drive through this series of bends, especially when being overtaken on them."
Reg vividly remembers the background: "Back in 1956, my wife Jessie and I, and our two young daughters Anne and Linda, had the loan of a caravan a mile from Ballinluig, on the River Tummel.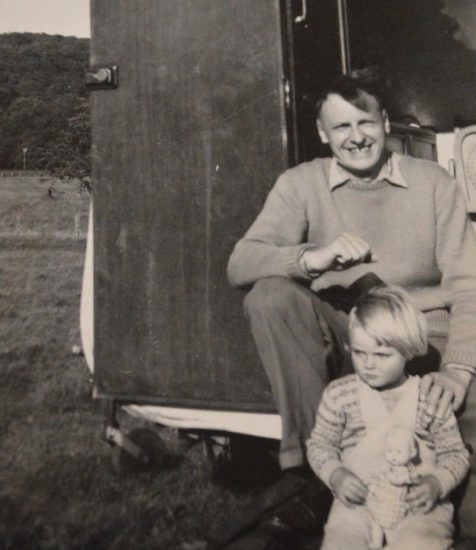 "We drove on the old A9 – it was a terrible road with lots of twists and turns and trees along it and even then it was tricky to negotiate.
"What's more, there was a railway crossing and you had to press a button if you wanted to cross – a woman came out, moaning and groaning and said 'I hope you're not going to make a habit of this.'"
Hanky dropping
When not voicing worries about road safety, Reg has also recounted entertaining tales about his youth over the years, including the time he got told off as a pupil at Morgan Academy for dropping a hanky on the pristine school lawn.
Treasuring Dundee's fine architectural heritage is another subject close to his heart.
One of his favourite letters, published in 1972 and entitled "Should the Morgan be Demolished?" reads: "It came as no surprise to learn that a Dundee councillor is suggesting that the Morgan, after the recent fire, should be demolished.
"To replace the present building with a modern monstrosity would be an additional property pollution we can do without in Dundee."
Another, published in 2000 and called "Hotel for Pigeons" reads: "Visitors and locals alike using the Arbroath route into Dundee will be intrigued at the 'pigeon hotel' on the corner of Albert Street and Victoria Street.
"This once-proud tenement provides accommodation for a large flock of these vermin, with the additional attraction of a tree growing out of the top-floor window."
Never afraid to stick his neck out when it comes to his political views, a letter just a few weeks ago proclaimed: "I am certain many of your readers would have been as amused as I was reading the letter Mrs May Has No Right To Govern, by Perth councillor Peter Barrett, a Liberal Democrat.
"His is a party that has proved over the years that they would sell their granny for a seat at the top table
and a ministerial car, things they are unlikely to achieve through the ballot box."
Reg has received many letters agreeing with his views although, he recalls one politician a few years back did advise him to "simmer down and have a dram".
A recent tale recalled the time his wife Jessie took their youngest daughter Laura to the Open in Carnoustie in 1975.
"Jessie didn't really know anything about golf," writes Reg, "but she did manage to spot Gary Player, the only star she recognised, talking to another man.
"Gary very courteously supplied his autograph and it wasn't until the next day when she was reading The Courier that she saw a photo of Gary and the other man – who turned out to be Lee Trevino. She was kicking herself."
Reg admits he didn't exactly excel academically at Morgan Academy.
"I was a bit of a late starter," he says.
After he left school he worked on a farm for a few months and then served his apprenticeship as an auto-electrical engineer before doing his National Service in the navy before a life on the road beckoned.
"My father Peter worked in a gentlemen's outfitters in Dundee called Menzies and Son but he decided to leave and become a travelling menswear salesman – or a manufacturers' agent as they were called then," Reg explains.
"He was an excellent salesman but he couldn't drive so he was lugging his suitcase on and off buses and trains and that was when I decided to work with him."
When he retired and Jessie's health started to deteriorate they left their beloved Dundee and moved to Tayport where Reg, now widowed, still lives.
However, his inquiring mind – not to mention three granddaughters, one grandson and a great granddaughter – keep him busy and he promises it won't be long before he's putting pen to paper again.
Terry MacCallum, Craigie Column editor, says: "Reg always has an interesting tale to tell or comment to make. He has a good sense of humour and a strong sense of the history of the city he was brought up in.
"He is keen to ensure that 'old Dundee' doesn't get forgotten and a lot of his comment reflects that.
"He is extremely knowledgeable and probably has a better memory than I do for events in the past."
200 years of opinion, debate — and the occasional row
The Letters Page has been at the heart of The Courier for 200 years.
It's the place where readers share opinions, let off steam and inform and advise other readers. Councillors, politicians and other public figures keep a keen eye on the column and have often replied to letters, sparking a good debate.
While some readers will write a "one-off" letter, others have been corresponding for years. Chris Ferguson, The Courier's Letters Page editor, has noticed that while the general trend these days is for most correspondents to use email, a growing number seem to be returning to traditional, hand-written methods.
"We have some, such as Gordon Dilworth of Pitlochry and Mike Smith of Cleish who have never used email, but also what appears to be a new 'intake' of correspondents using pen and paper.
"I can tell a Reg Mulheron letter before I open the envelope from his distinctive handwriting.
"Reg writes concise and topical letters which provide a counterbalance to longer letters.
"He has been contributing for 60 years, making him our longest-serving correspondent, so he brings decades of life experience to the column and sometimes a dash of humour, which is welcome and sometimes necessary.
"Just like Mr Mulheron's, Mr Dilworth's and Mr Smith's letters are instantly recognisable from a distance. The former likes to check all contributions for accuracy while the latter writes, in general, about wildlife and land use.
"I had a quick look through my letters folder today and found one from Mr Dilworth dated May 6 2003, although I know he has been writing for much longer.
"The Rev Dr John Cameron has joined our congregation in more recent years.
"He stepped up his letter-writing career when he retired from full-time ministry. He is outspoken, a bit of a rebel in the Kirk, always topical and brings a depth of experience to the page.
"The other clergyman who features more than occasionally is David Robertson, former Free Kirk moderator, who bats ferociously for the Gospel and is usually under attack from secularists and humanists.
"Indeed, faith and fur motivate many correspondents. Anything to do with spiritual matters, animals or the countryside provokes strong
responses.
"Beavers and their role in last year's Alyth floods brought out a number of hydrology experts and the complicated interplay between animal and water was debated.
"Birds, whether they are grouse, gulls or sea eagles, are another favourite topic and our columnist Jim Crumley's outspoken views help supply a stream of responses.
"We can't fail to mention Clark Cross of Linlithgow, whose resolve to end wind turbine subsidies remains undiminished after years of letter writing.
"For me, an ideal letters column represents the geographical spread of our circulation, includes fur and faith and always a touch of politics.
"I have to single out Perth readers for praise and not just our regulars, Isabel and Charles Wardrop. The ones from the Fair City are the fastest to comment on anything affecting the place, from the city hall to empty shops and road changes."
Send us a letter
We are always on the lookout for new correspondents and welcome submissions on any subject.
Letters can be emailed to letters@thecourier.co.uk or sent to The Courier, 80 Kingsway East, Dundee, DD4 8SL.
Try to make them topical and keep them to a maximum of 200 words. We are always oversubscribed and cannot use all submissions.
We like to group letters by subject and sometimes delay publishing until we have a sufficient number on the same theme.
As far as possible we try to achieve a balance of opinions but that depends on you, the reader and what you submit.