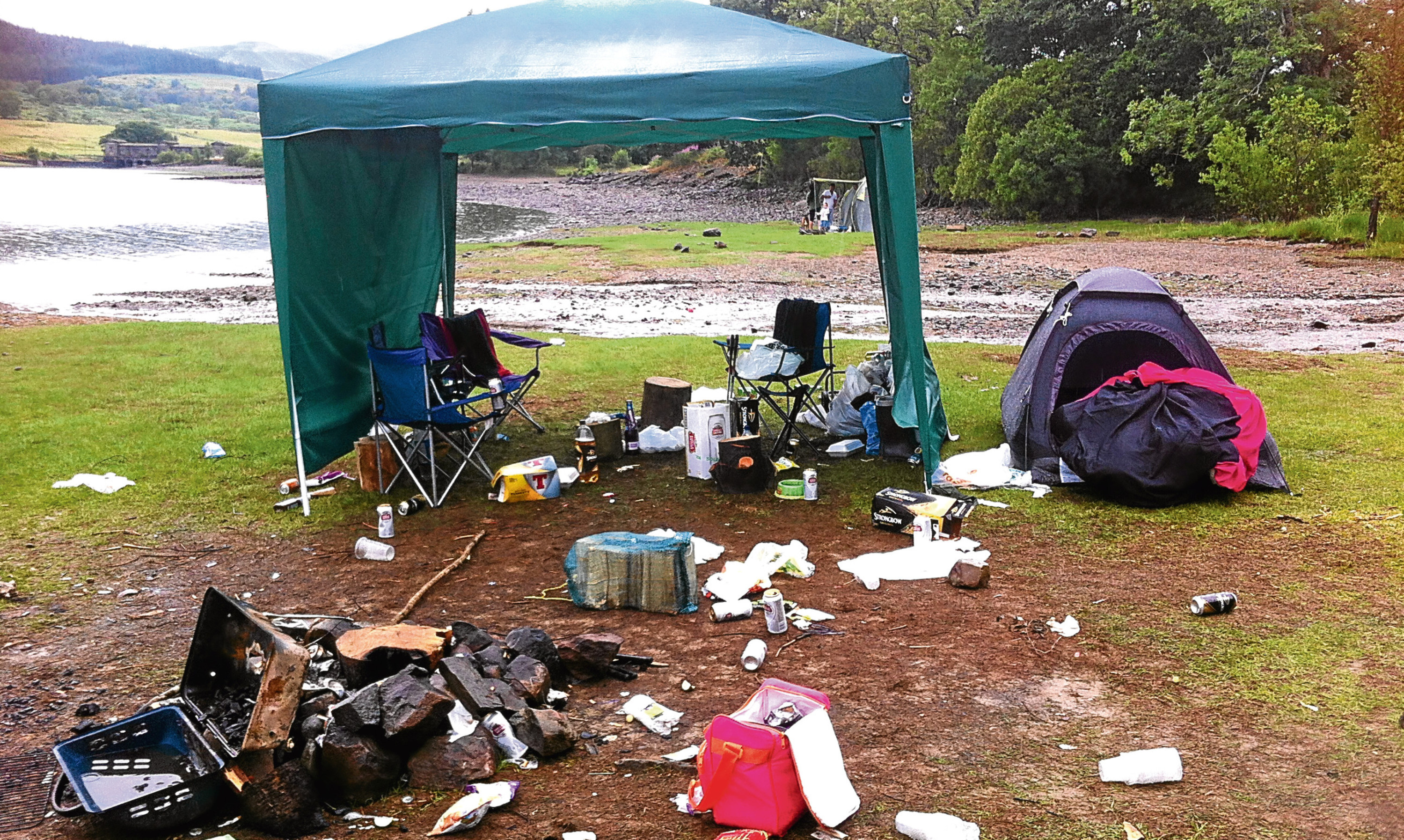 Sir, – If people speed in cars we punish the individuals concerned.
Likewise, if people drink drive or use a mobile telephone while at the wheel they face charges.
At great cost we set up speed cameras or speed traps at blackspots, we use facial recognition software to identify who is actually driving the vehicle and after all is done, we ban those people who are caught breaking the law.
At no point would anyone suggest banning all drivers because some people speed.
Yet the banning of wild camping seems to be the default reaction to the problem of rural roadside litter.
There are problems across Scotland with litter and there is no one-size-fits-all solution.
Why should there be a ban on Loch Tummel but not on Loch Rannoch?
Will people be deterred from dropping litter because camping is banned?
The answer is no, for society is full of pig-ignorant people who will continue to drop litter until something forces them to change their habits.
Let's be honest, many people walk round towns and cities dropping goodness knows what and no-one challenges them. Local authorities have the power to fine individuals up to £80 for dropping litter but often fail to do so.
So why on earth would these same people change their habits when in the countryside?
If the Scottish Government can change our shopping habits by imposing a mere 5p charge on plastic bags, what effect would the determined imposition of the £80 fine have on our littering habits?
James Cassidy.
3 Beecraigs Way,
Plains,
Airdrie.
Restore St Cyrus life-saving gear
Sir, – A number of years ago I noticed life-saving equipment at St Cyrus beach was in a state of disrepair.
The equipment had been installed by the former Kincardine and Deeside District Council, who inspected and maintained the equipment.
I contacted my Aberdeenshire councillor who organised the replacement of the neglected equipment.
Unfortunately, for some unknown reason, Aberdeenshire Council has chosen to neglect the expensive equipment it installed about 10 years ago.
On a visit to St Cyrus beach last week, I noticed that most of the life-saving equipment had disappeared, apart from one discarded belt holder lying at the bottom of a sand dune. There was no sign of a lifebelt.
Why has Aberdeenshire Council neglected the equipment, abandoned inspections and maintenance at St Cyrus beach?
Urgent action is needed to restore the equipment and we also need an assurance that it will be inspected and maintained.
Edward Valentine.
15 Napier Place,
Marykirk.
Staying in tune with the times
Sir, – Crematoria hymn books fall open of their own accord at The Lord's My Shepherd and Abide With Me which, in a non-churchgoing age, are at least known by the public.
I Did It My Way is so self-indulgent that Frank Sinatra loathed it but it became an alternative at the end of my career, invariably an absurdly inappropriate comment on the departed.
My favourite memory of self-selected music was when we processed out of the chapel after the funeral service of a much-loved gay parishioner to ABBA's Dancing Queen.
Rev Dr John Cameron.
10 Howard Place,
St Andrews.
EU problem for Scotland
Sir, – It was interesting to hear of the EU decision that Ireland was in breach of the EU no-state assistance to private companies rule when it did a deal with Apple.
The result was a reported 4% tax rate on Apple's corporate earnings "transferred" to Ireland from its business activities in other parts of the world.
Last year, Luxembourg and Holland suffered similar rulings in the respective cases of Starbucks and Fiat.
It calls into question what would be the SNP strategy to attract foreign investment into an independent Scotland that would, according to SNP preference, continue to be an EU member state. These EU rulings stop governments of EU states offering subsidies and tax incentives.
As so often is the case with the SNP, we never hear detail about strategy in the frequent bouts of aspirational rhetoric.
Derek Farmer.
Knightsward Farm,
Anstruther.
Hollow words from Mr Brown
Sir, – In 1979, Margaret Thatcher guaranteed Scots that the rejection of a Scottish assembly would not mean no change.
She assured voters that voting no would not kill off the constitutional question and she would come up with "something better". That no vote cost Scotland 250,000 manufacturing jobs, £40 billion in North Sea oil revenues and early exposure to the Poll Tax.
Gordon Brown is now channelling the spirit of Mrs Thatcher when he talks about a "more federal relationship" for the UK to kill off a second referendum. Mr Brown is like an old abused circus bear wheeled out to do the same old trick because the unionists have run out of ideas.
Mr Brown promised "federalism" would be enacted after the no vote in the referendum. What we got was David Cameron's version of the movie the Hunger Games but without the games.
Gordon Brown should not be trusted. It was his adoption of PFI which sees Scottish taxpayers giving £1 billion to corporations who avoid tax.
His raid on private pensions in 1997 cost us £100 billion. Of course, his last act of economic incompetence was to loot the UK Treasury in order to bail out the banks he failed to regulate in the first place.
Gordon Brown is a man who holds the Scottish public in contempt. He only ever gives speeches to hand-picked audiences of loyal Labour hacks where he will not be challenged.
He had 10 years as Chancellor and three as Prime Minster to come up with a new constitutional settlement.
Alan Hinnrichs.
2 Gillespie Terrace,
Dundee.
Migrants after British benefits
Sir, – Xavier Bertrand, president of the Calais region, wants to let migrants make a British asylum claim in Calais.
The French should be reminded that under international law people who claim to be in need of protection must seek asylum in the first safe country they enter.
Most of those in camps entered Europe through Greece or Italy and should sent back.
If the French do not want Third World migrants in France then they should stop them at their borders.
The overwhelming majority of these "refugee" and "asylum-seekers" are young men of military age.
The main attraction of Britain is that they know they will receive housing, welfare benefits and access to our health services, all of which are in meltdown.
Clark Cross.
138 Springfield Road,
Linlithgow.
Let voices be heard on tax
Sir, – Fife firms must make their voices heard in the official review of the business rates system or risk an £11 million tax hike.
Former RBS boss Ken Barclay is leading a Scottish Government review of the rates system.
While we believe that the system needs modernised, we can't see smaller firms in Cupar, Dunfermline or Rosyth landed with big, unaffordable bills.
More than 6,000 premises in Fife benefited from the Small Business Bonus scheme last year, resulting in £11m worth of help.
However, critics say the scheme should be abolished – putting businesses and jobs at risk.
If your business properties have a combined rateable value of £35,000 or less you're eligible for this rates discount but for how much longer?
Business owners can let Mr Barclay know how important rates relief is to their business and its future at: www.gov.scot/businessrates
Janet Torley.
Chair,
Fife branch of the Federation of Small Businesses.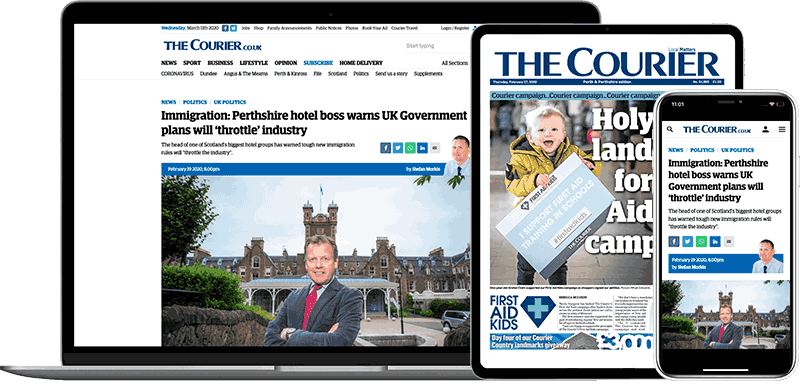 Help support quality local journalism … become a digital subscriber to The Courier
For as little as £5.99 a month you can access all of our content, including Premium articles.
Subscribe