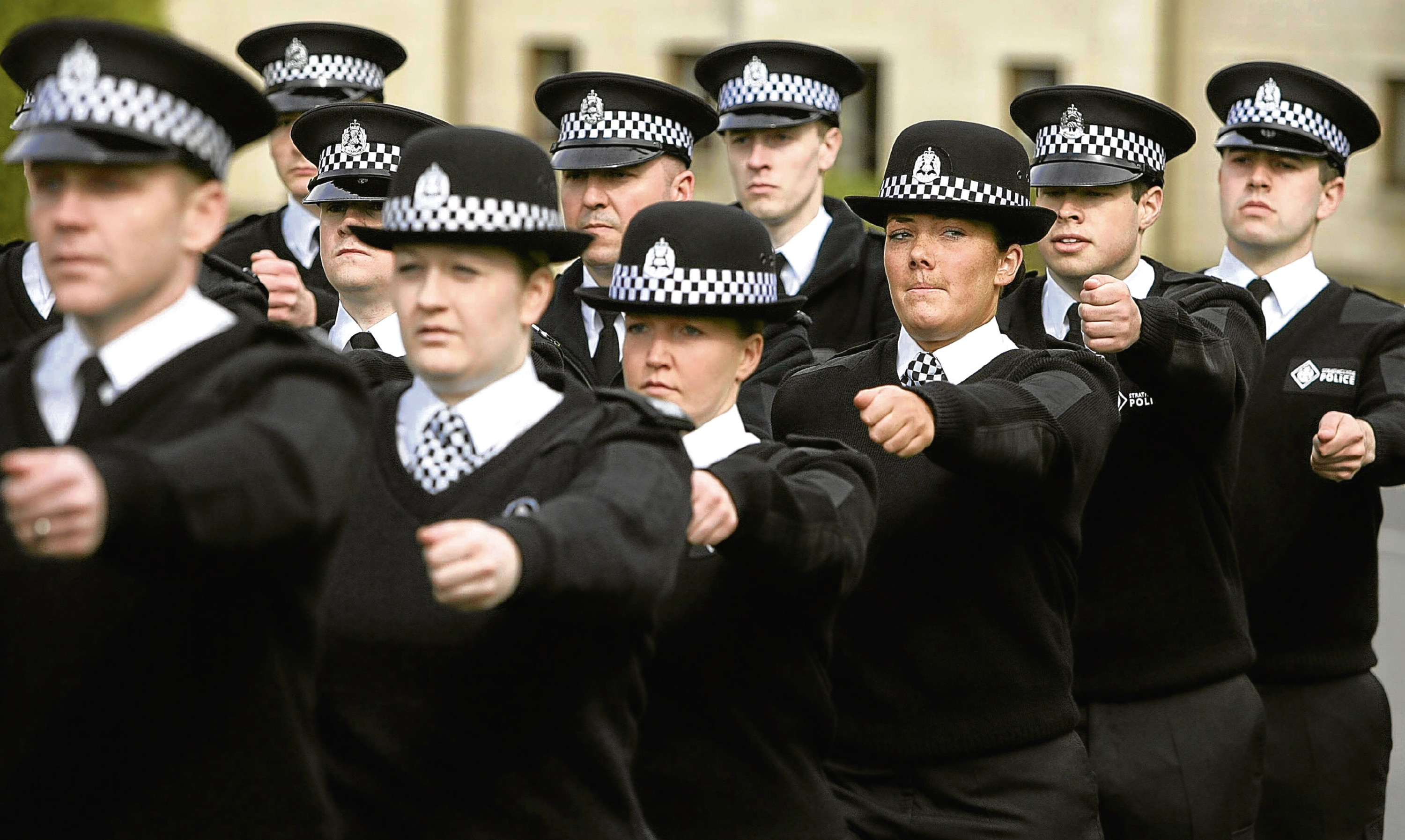 Sir, – I note that Police Scotland is again in the news and under attack (September 24) for being still in existence as an entity.
My own views are possibly as valid as some of those who have used your pages over these past few months and are that the creation of Police Scotland seemed to me to be inevitable and timely.
I was a police officer, for just over 30 years, having joined the original Perthshire and Kinross-shire Constabulary in 1961, thereafter by amalgamation being a member of the Perth and Kinross Constabulary (Shire and City) and in 1975 again by amalgamation, Tayside Police.
In my view, all of these forces performed their duties well and creditably, but amalgamated they were, for among other things, economy of scale.
The article reports a call for a return to regional policing but something very similar happens under Police Scotland, except that instead of eight chief constables, we now have one.
It is difficult for me to compare the challenges of a present-day police officer, with my own times. I am aware, of course, of the massive rise in the use of illegal substances, although they were in common use by the time I ended my service and had to be countered.
Additionally, child abuse and domestic disturbance have a much higher profile and I realise that more resources will have to be deployed to these so that other areas will probably be left somewhat short.
I have to say that one of the main differences between then and now is that I feel that during my own service days the police did not have to endure the level of almost malicious complaint from some quarters that is the order of the day now.
For myself, I think that Police Scotland is an organisation whose day has come and I wish it well.
David MacDougall.
40 Willowbank,
Little Dunkeld.
Speaking up for constituents
Sir, – Your correspondent considers it "idiotic" of me to highlight the concerns of constituents in the West End of Dundee.
Let me advise that I will continue to do so and I will always speak up for my constituents and their right to be consulted.
Cllr Fraser Macpherson.
West End,
Dundee City Council.
Pollution risk from airport
Sir, – I write with reference to your article, Dundee West End residents have expressed overwhelming support for plans to revamp the airport, despite concerns from their councillor over noise and pollution.
Residents might not be so welcoming of plans to expand Dundee Airport when they consider that a study published in the British Medical Journal showed airport expansion was linked to an increase in heart attacks in the local area.
Other reports show that jet fuel deposits lead in the environment around airports and that aircraft emissions contain chemicals that damage the lungs and may be involved in triggering certain types of cancer.
Studies from the UK and the USA show an approximate 20% fall in house prices when airports are expanded in the neighbourhood. Does extending the runway still sound so jolly now?
Dr Roddie McKenzie.
45 Clayhills Drive,
Ninians Views,
Dundee.
Politicians right to ask questions
Sir, – In relation to the letter by Mike Donaghy, Councillor is doing her best for Perthshire (September 26) there is unfortunately an issue with broadband provision in Highland Perthshire at the moment which requires to be resolved.
As the chair of one of the 10 constituent community councils who are members of Highland Perthshire Communities Partnership (HPCP), I welcome the scrutiny that has been brought to this as it is not obvious to us what is going on at the moment and where responsibility lies.
HPCP is a valued community support group in this area and we rely on it to liaise effectively about issues of community interest across what is a very large and often remote ward.
The decision to provide broadband was well intentioned and researched, and if everything had gone to plan, then that would have been an excellent way of supporting community efforts into the future.
But something has gone wrong. We don't know exactly what that is, and it is right that Murdo Fraser MSP and Councillor Ian Campbell have asked the questions why.
This is a matter of wider local interest up here. There is a lot of public money involved and we would all like to see the issues clarified, whatever they are, and the situation resolved.
Victor Clements.
Chair,
Aberfeldy Community Council,
Mamies's Cottage,
Taybridge Terrace,
Aberfeldy.
No point-scoring over broadband
Sir, – Your correspondent, Mr Donaghy, seems confused about the issues surrounding the provision of broadband in rural Perthshire.
Neither I, nor Murdo Fraser have attempted to score political points and it is disappointing Mr Donaghy feels this is the case.
Neither I, nor Murdo Fraser blamed Councillor Kate Howie or suggested that she is personally culpable.
I would not entertain that suggestion.
The only suggestion as to that comes from Mr Donaghy himself.
It was the SNP-led, strategic policy and resources committee of Perth and Kinross Council that decided there would be no further funding from the council to HPCP for broadband provision.
In addition it was decided there would be no further funding from Community Broadband Scotland for HPCP and the council would no longer consider any funding for HPCP unless "an independent due diligence exercise be undertaken by an external consultant immediately".
The council stated it would fund HPCP to the tune of £5,000 contingent on the undertaking of the due diligence exercise.
This offer was not accepted by HPCP.
The council stated it would look at alternative providers of rural broadband in Highland Perthshire.
I am surprised that Mr Donaghy is not curious about this course of action and I would suggest that as the council has refused an FOI request by The Courier, perhaps Mr Donaghy should ask HPCP itself for an explanation and then share that with the rest of us.
Cllr Ian Campbell.
Highland Perthshire, Ward,
Perth and Kinross Council.
Mr Corbyn may be "real deal"
Sir, – I agree with your columnist Alex Bell that it is wrong to denigrate Jeremy Corbyn, above.
He and John McDonnell seem to have a practical, flexible, sensible and radical approach to solving our economic and social problems, and they deserve a proper opportunity to take these to the electorate.
What worries me is the extremist element that they have attracted which has a completely different agenda and which, like a parasite, could not only devour the Labour Party from the inside but win enough disenchanted, unthinking support to destroy our country.
I don't know what the answer is but it increasingly looks like Labour will split into at least two parties.
One bit of good news is that many radicals who are disenchanted with the SNP's faux socialism will see Mr Corbyn's Labour as the "real deal" and defect.
Allan Sutherland.
1 Willow Row,
Stonehaven.