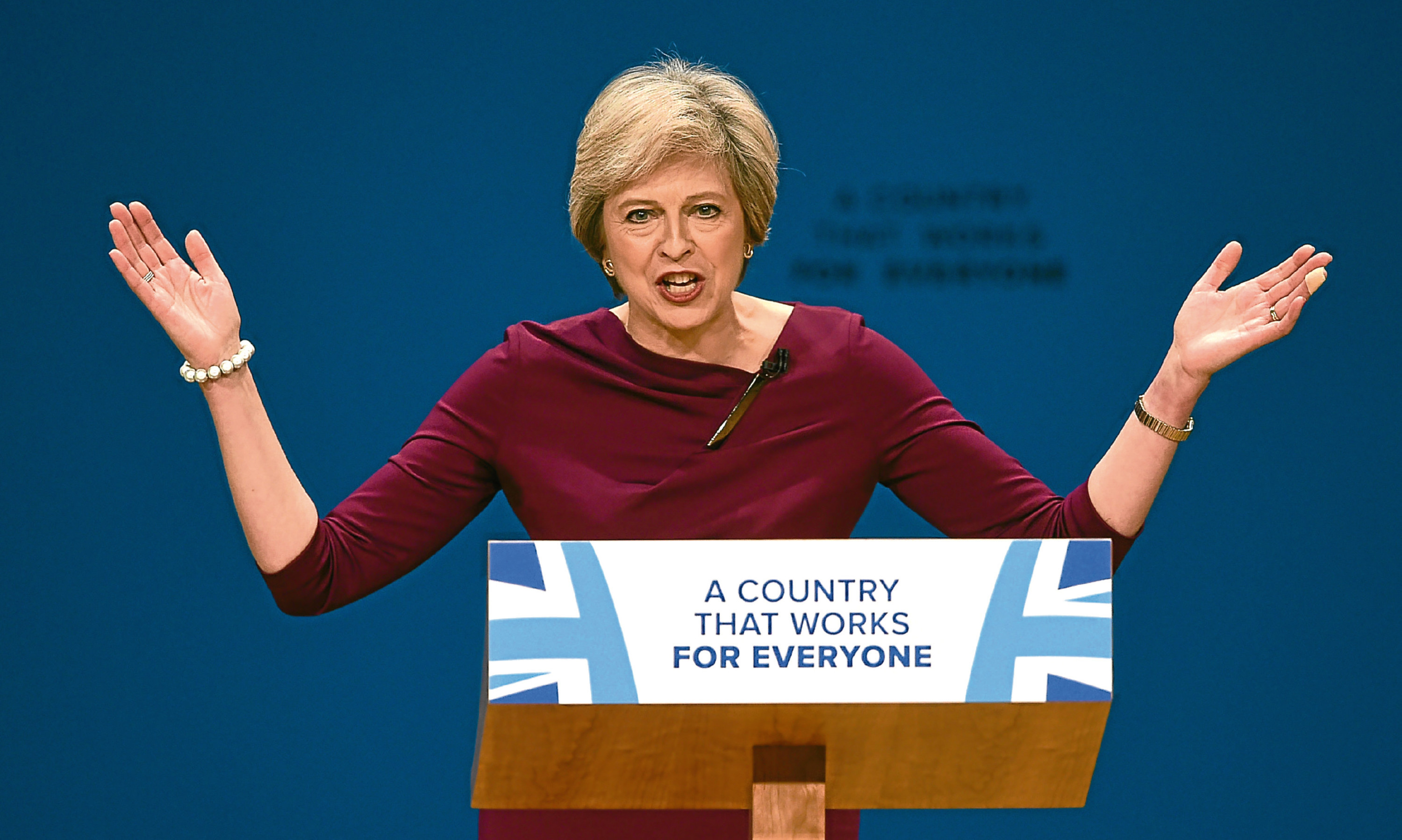 Sir, – With the party conference season in full swing and the political commentators going into overdrive, we can only hope for a period of calm.
We may hope for calm, but it is unlikely, especially after the Conservative Party leadership made some very uncomfortable remarks about foreigners.
I have sympathy for those not on the right of politics who voted to leave the EU and I am sure they did it for the very best of reasons, even though I don't agree with their views.
However, what must be of concern to them is the xenophobia coming out of the party conference – and not by mad right-wing backbenchers, but by those at the top.
It made for very uncomfortable listening and must be a worry to all the people from other countries who have made this country their home.
It would appear the UK Government is determined to adopt the type of British nationalism many find unacceptable and is in danger of taking us back to a time of Victorian principles that categorised people and kept them there for life.
Surely Conservatives with a moral compass must have been dismayed by what they heard at their conference, and surely those – at least in Scotland – will stand up to this type of British nationalism and xenophobia.
If these right-wing Conservatives are not held in check, then these islands will be a much poorer place and will seen as unpleasant for those not born here.
Bryan Auchterlonie.
Bluebell Cottage,
Perth.
Leven would love disruption
Sir, – Further
unwelcome disruption to rail services in Central Scotland seems to be justified in terms of short-term pain for long-term gain.
The ScotRail Alliance spokeswoman claimed these engineering works will "lead to a more reliable, better rail network that will rank amongst the very best".
We beg to differ.Sympathetic as Levenmouth and East Neuk residents are to
the sufferings of other public transport users, this week marks the
47th anniversary of the closure of passenger services to Leven and we'd love to be in the privileged position of facing a temporary disruption.
The continuing lack of rail links to an urban area – a catchment of 45,000 plus people – continues to blight an entire community for no obvious reason,
since tracked owned by Network Rail is in place, existing Fife Circle services can be extended and necessary studies completed.
This perspective highlights the blinkered approach of a national rail policy that seems to focus on the existing network to the exclusion of connecting regions and places that any logic and reason dictate should be served by rail to achieve necessary national as well as local connectivity.
Initiatives such as the Levenmouth Rail Campaign thus face an extended and arcane procedure probably not dissimilar to that experienced by Victorian rail pioneers, of having to argue individual cases and jump through many complex and expensive hoops to achieve consideration.
The "revolution in rail" regularly claimed for Scotland thus
continues to be deeply discriminatory, favouring those
places already connected and urgently needs to be superseded by a comprehensive and rational rail strategy.
Dr Allen Armstrong.
28 Viewforth,
Buckhaven.
The setting of the sun
Sir, – There can be no denying Scotland is one of the last remaining
colonies of an empire for which the sun, at one time, never set.
So to establish for certain who needs who in this broken union we simply have to look up some definitions for the word "colonise".
One common theme is quickly established in that "the invading country seeks to acquire political control over the other while exploiting it economically".
This was as true in 1707 as it is today, which, of course, means that despite the false accounting figures project fear continues
to publish, the fact is Westminster need us so it can continue its pretence of world
influence.
But, like all the other nations to decolonise themselves in the last century, it is only a matter of time before Scotland does the same.
R Clark.
Craigton,
Monikie.
Political smoke and mirrors
Sir, – I find it sad that Scottish
Government Cabinet Secretary John Swinney, someone I once judged as "one of the good guys", has descended into the smoke and mirrors approach to politics
first introduced by New Labour.
In his letter to The Courier, Councillor's Baseless Claims
(October 10), of course, Mr Swinney is technically accurate in his assertions. But, of course, he only tells part of the story.
He is correct to assert that: "Every council area will retain all the council tax they raise in their area".
What he doesn't say, though, is that every council will have had their block grant from the Scottish Government reduced by exactly the same amount that is raised by the increase in the council tax bands.
In short, the increased income arising from council tax bands will not give one extra penny to any council to spend on local services, but will add to the coffers of the Scottish Government.
It is a very clever con worthy of a number of previous UK and Scottish finance ministers.
Local councils get the blame for the rises in council tax (with the
proceeds from the rises ending up with the Scottish Government) while the Scottish Government gets praised for the extra investment in education with no apparent rise in taxation.
Scotland will never be forgiven for not acknowledging the
miracle of finding £100 million to invest in education without the Scottish Government raising tax rates.
It might well be clever politics, but it stinks in terms of local democracy and local communities having more say about where their money
(not the Scottish Government's) should be spent.
Bryan Poole.
Education spokesman,
Fife Council.
Remembering all who serve
Sir, – It was pleasing to see Colonel Maclean's letter about the Royal British Legion Scotland's Festival of Remembrance on November 5.
Unfortunately, I'll be out of the country and unable to attend, but I'm sure it will be a memorable occasion,as nearly all such events are.
At services across the land, reference will be made to Jutland and the Somme, in this the centenary year of these battles, and, as Colonel Maclean says, there will be time to reflect on the losses "in that conflict and in other wars since".
Every year I ask why just other wars?
Service personnel are killed in the course of their service and these losses are seldom, if ever, mentioned.
The National Arboretum Memorial at Alrewas carries the names of more than 16,000 British service personnel who have either been killed in action or in training since 1945.
Those names from the army certainly will
be of those killed in the Korea War and other conflicts and peace-keeping operations, and, therefore, can be classed killed in action, but some will be accidents.
However, in my service, the Royal Air Force, thousands have been killed in accidents since 1945.
Such losses need to be remembered because a sacrifice is also made by those who train for action. Please let us not forget them.
Two very recent cases come to mind – the corporal who died
of exhaustion on a run when aiming for promotion, and the
private killed in a live-firing exercise.
In time their names will be on the memorial wall at Alrewas.
At this time, as poppies are appearing on shop counters, let us remember that service personnel put their lives at risk in training or even just to entertain us in military displays.
JA Laing.
10 Graybank Road,
Perth.
Looking on the bright side
Sir, – Every day in the media we are being told of the terrible state the police, NHS and public sector finances are in, and yet when Holyrood is asked to explain the state of these services we are told everything is rosy in the garden.
Why do I get this image of the band on the Titanic playing Always Look On The Bright Side Of Life?
Bob Duncan.
110 Caesar Avenue,
Carnoustie.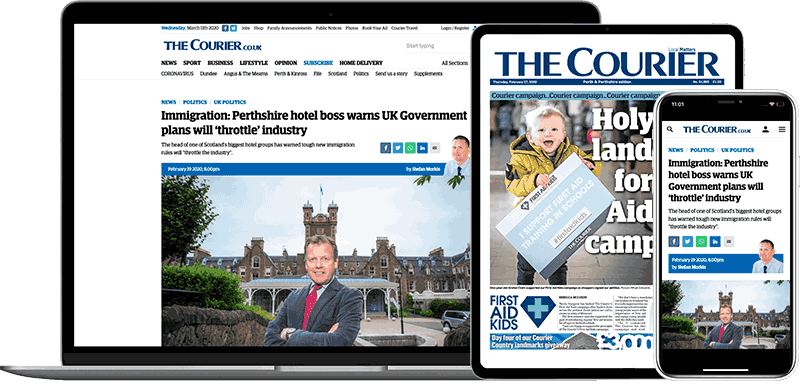 Help support quality local journalism … become a digital subscriber to The Courier
For as little as £5.99 a month you can access all of our content, including Premium articles.
Subscribe