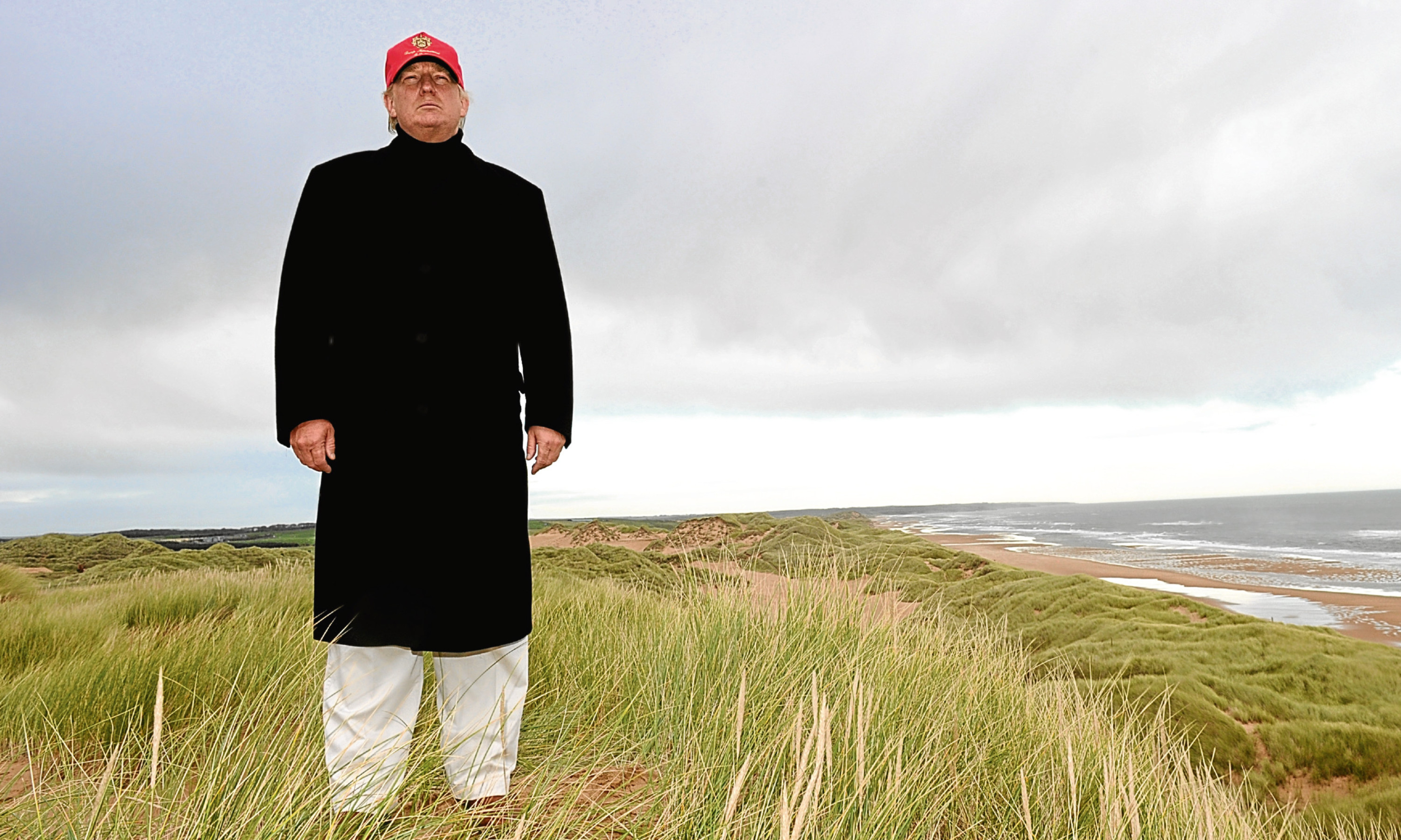 Sir – Scotland should not insult America's President elect.
He's a great fan of Scotland. Donald Trump is especially proud of his family heritage. He's invested in Scotland and regularly hires a piper to accompany him.
We now have a terrific opportunity to boost visits and attract more valuable American tourists.
Holyrood is promoting its plan for Tartan Day in Donald Trump's home town, New York. Being hostile to the President may not help.
I have just returned from one of my many trips to the USA. I have been visiting there for many years.
One of the biggest differences from here and there is how polite and effusive Americans are to all their visitors and customers. Is it too much to ask that we do the same?
Mocking our neighbours is also bad for Scottish jobs and Scottish incomes.
One way or another, it is our customers who pay our wages. Without their spending, our public- sector funding would also drop, with awful consequences.
Tourists from England are our biggest tourist spenders in Scotland.
They also buy more of our food and drink exports than we do and we want to sell them lots more, including our tartans and haggis.
We need all of our customers, whoever they may be.
There's no requirement for us to agree with people outwith Scotland.
It is simply in our interests to be polite and hospitable.
Andrew Dundas.
34 Ross Avenue,
Perth.
We need grown-up politics
Sir, – What a ridiculous outburst by Scottish Greens co-convener Patrick Harvie over the election of Donald Trump as President of the United States (November 10).
What is he going to do with some of our people, possibly some of his own constituents who he might regard a racist, sexist bullies? Press hard for them to be deported from Scotland?
The people of the United States of America have spoken.
They in fact gave Hillary Clinton a majority of a few hundred thousand votes on the overall poll. Donald Trump got a majority in the electoral college system, a means devised by the founding fathers to ensure that the will of the majority should never develop into tyranny.
Most people who voted were aware of the system and it allowed Mr Trump to triumph.
Of course, things were said in that campaign which many of us found distasteful. It probably put a number of people off voting altogether.
But there is a need for all of us to give the victor the benefit of the doubt, to keep an open mind, and judge the new President by his deeds in the future and not the campaigning rhetoric of the past.
Should he come to Scotland in the near future, it will be the responsibility of the Holyrood government and the opposition parties to welcome him with maturity and magnanimity. That is the kind of grown-up politics Mr Harvie seems keen to reject.
Bob Taylor.
24 Shiel Court,
Glenrothes.
Give Donald Trump a chance
Sir, – I wonder if I am the only one who finds the epithets used by Scottish political leaders, and in particular the First Minister Nicola Sturgeon, to describe US President elect Donald Trump as unbefitting the privileged positions accorded to them by the Scottish people?
Since winning the race for the White House, I've heard Mr Trump being described as misogynist and racist by Kezia Dugdale and sexist and bullying by Ms Sturgeon.
Has it never occurred to our politicians that, like him or loathe him, Donald Trump is now someone with whom we must do business if we are to maximise our global trade potential?
I might also say that given the SNP in recent years has abandoned a pledge to reduce literacy and numeracy, cut school class sizes to 20, snubbed the visit of the Dalai Lama, refused to condemn the yob culture which hounded Nigel Farage out of Edinburgh, and which now seems intent on bullying public employees into playing the family-snooping role of named person, it does seem grossly hypocritical that it should be slinging mud at Mr Trump.
The President elect has certainly not covered himself in glory with many of his alpha-male comments but neither has this SNP administration with its unfulfilled promises, rude behaviour and bully-boy tactics.
If only Ms Sturgeon was mature enough to take the dignified approach of Hillary Clinton and give Mr Trump the chance to lead, then perhaps we might be able to move on and leave behind all the electioneering rhetoric.
Jamie Buchan.
Grove Road,
Broughty Ferry.
A bright future for Dundee Port
Sir, – Mr Sangster's letter (November 10) questions Dundee's capability for handling North Sea oil and gas decommissioning.
Decommissioning represents a very significant opportunity for Dundee and here at the Port of Dundee we are investing both in the supply chain and in the necessary infrastructure to ensure that the city benefits from the undoubted economic benefits that will come from this.
The fact is that many of these oil and gas structures will come ashore on barges, eliminating the need for water depths available only in Norwegian fjords.
At Dundee, we already have a strong track record in handling these barge vessels, the most recent being the Heerema H627.
As every Dundonian knows, the port also routinely hosts some very large North Sea structures in the form of the jack-up rigs that regularly transform the city's skyline.
Just as importantly, we are collaborating with Dundee City Council, specialist decommissioning contractors, waste management experts and Decom North Sea to ensure that Dundee is rightly seen as a decommissioning hub with an unrivalled capability for handling this work.
This is thanks to the port's sheltered location, unrestricted air draft, and ultra-heavy lift capability coupled with the city's skilled and available workforce.
Far from missing the boat, as suggested in Mr Sangster's letter, we are all sharply focused on ensuring that Dundee is ready and more than able to fully realise the opportunity that decommissioning represents.
David Webster.
Port Manager,
Port of Dundee.
Club honours VC recipient
Sir, – I was pleased to see Michael Alexander's report about VC-winning pilot Hugh Gordon Malcolm in Wednesday's Courier.
Wing Commander Malcolm, of Broughty Ferry, was flying a Blenheim bomber when he was killed in 1942 and he was remembered for many years by the Malcolm Clubs.
I'm ashamed to admit I still have a tie borrowed in 1962 in an emergency from one of the staff in the Sloane Square Club.
But I hope I have made amends by being a member of the Blenheim Society which supports the only flying Blenheim in the world.
Readers interested can contact the society on its website.
Ian Gilbert.
16 Robertson Crescent,
Pitlochry.