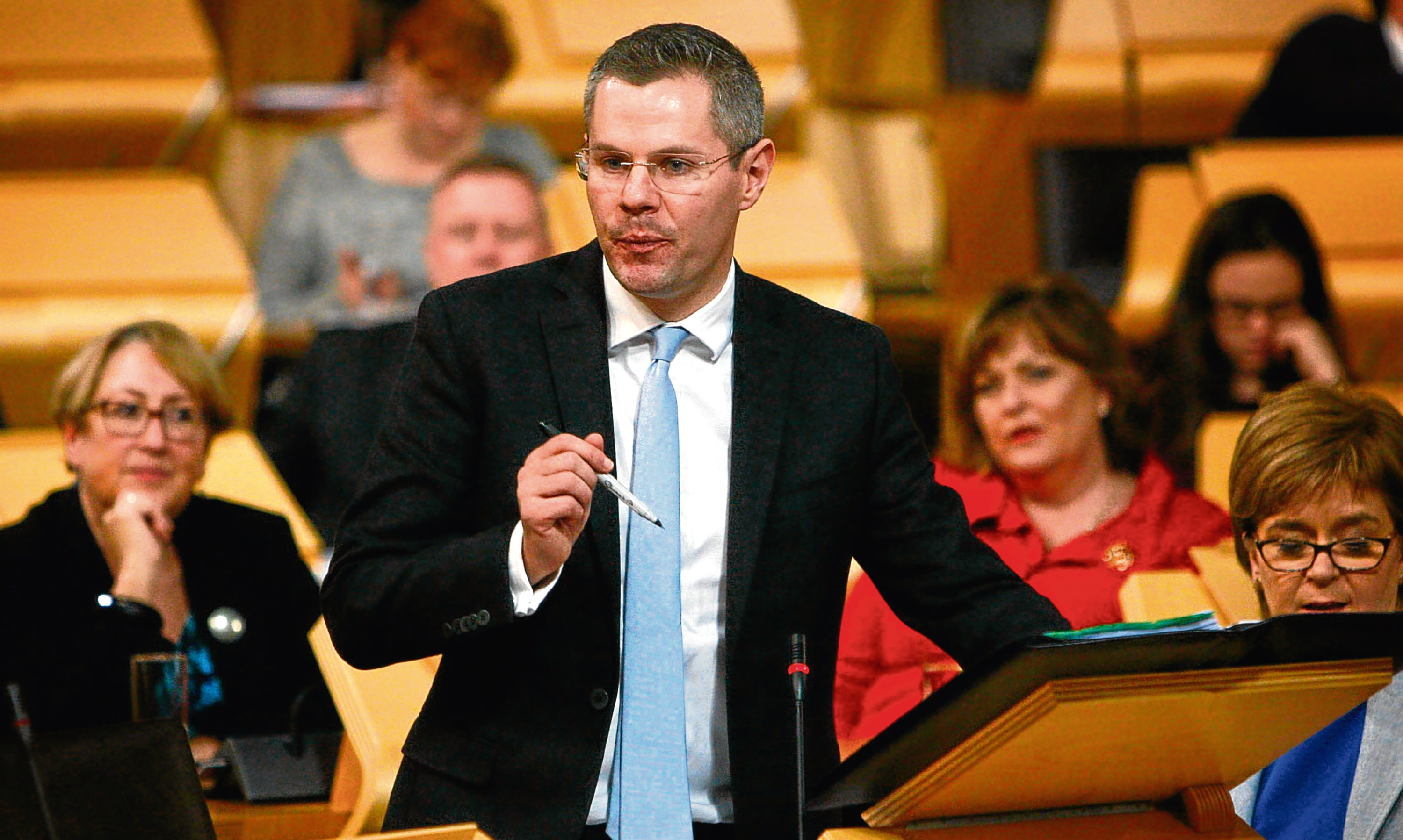 Sir – Cabinet secretary Derek Mackay's claim that anyone earning more than £43,430 is a high earner and should be taxed accordingly at the 40% rate is clearly nonsensical and will not be appreciated by the skilled public servants and others who will be penalised.
Then, of course, there is the extra £500 for the higher band rates to look forward to along with the penal land tax for those with more expensive homes to consider.
Indeed, one could be forgiven for thinking that the SNP is against moderate and high achievers and in turn will make it less likely to attract or retain the very people we need for Scotland to prosper.
Mr Mackay went on to say he would not pass on "the costs of UK austerity" to the lowest income earners in attempt to shift the blame to the Tories. Really?
What has become blindingly obvious is that Scotland can no longer afford the whole raft of extra freebies we get, covering student tuition, prescriptions and so on in spite of receiving the union dividend (unavailable to England) subsidising our public services by £1,400 per capita per year.
Further problems lie ahead for the SNP as the devolved powers the party demanded will come home to roost when the anaemic growth in our economy will matter for the first time, resulting in a lower tax take from the newly devolved taxes.
Given the above and if the SNP wants to be taken seriously, then at least its politicians should be honest about our current economic prospects, explaining that with the lower growth expected, the extra entitlements we receive compared to England are unsustainable and will need to be addressed.
Unless the Scottish Government faces up to its responsibilities and stops blaming Westminster for its mismanagement of the economy, we can expect the latest budget to be a harbinger of things to come, with an increasing tax burden for Scots in the future which will serve as a signal to inward investors that Scotland is not open for business.
Ian Lakin.
Pinelands,
Murtle Den Road,
Milltimber.
Give workers proper rewards
Sir, – During the 1980s I was manager of a bus company in Paisley.
I was responsible for 80 staff providing almost round-the-clock services including on Christmas Day and New Year's Day.
I received what I considered to be a most reasonable salary and a company car.
I worked unsocial hours but most significantly, I had flexibility as to when I worked.
My staff did not have this flexibility and had to be out in extreme conditions at most unsocial times.
Their basic income was less than mine but they received many allowances and enhanced payments for overtime. This resulted in many of them earning more than the manager.
Not for one moment did I begrudge them, after all, I had this flexibility to go home if I really wanted or to come in late.
What appears all too common now is those in superior positions receive rewards out of all proportion to those who are at the sharp end.
Do shift workers at our hospitals get priority parking spaces over those working 9am to 5pm? The scaffies who want to do a good job are constantly subjected to changes dictated by those who have never handled a broom.
University backroom staff must be scunnered at principals' remuneration.
There always seems to be money for those at the top and for grandiose schemes which have no relevance to our most pressing needs.
We have so much to look forward to in 2017. Compliments of the season.
Ken Cameron.
11 St Michaels Drive,
Cupar.
We could have peace on earth
Sir, – Saturday afternoon found me stuck to the radio as usual.
I was listening to Pick of the Pops which features a selection of chart music from selected years.
The great David Bowie and Bing Crosby were featured dueting on Mary's Boy Child and the Little Drummer Boy.
I found this a perfect way to relax and enjoy the forthcoming Christmas season.
Without the garbage that is spouted by politicians of all parties and self-opinionated writers to The Courier, we could have a more amicable time. Merry Christmas everyone.
Willie Robertson.
Grianan
Lynton,
Stanley.
Turning the tables on store
Sir, – I have never shopped at Waitrose. Living in Angus, I find their shops too remote.
Dr Richard A'Brook.
82 Thomas Street,
Carnoustie.
We can expect annual tax rises
Sir, – In your article, Dundee may see council tax hikes (December 17) council finance spokesman Willie Sawers confirmed this could happen.
As far as hard-pressed home owners are concerned the "could rise" part of that statement must have made them choke on their cornflakes. It is also alarming that if you live in a house that falls into the top four bands, the council believes you can afford to pay more.
Of course, the council tax is going to rise by a minimum of 3% and the council cannot wait to do so. And this from an SNP that promised to abolish the council tax.
The local elections cannot come soon enough. When the council tax is increased it will herald the annual bump up just like the old days of the rates. Merry Christmas.
Ed Thomson.
Camphill,
Broughty Ferry.
Breakthrough to be welcomed
Sir, – The first of what has been pejoratively called "three-parent-babies" could be born in the UK next year following a decision giving the fertility technique the go-ahead.
Babies born using mitochondrial replacement therapy (MRT) receive a tiny amount of DNA from another woman in addition to the parents to replace their faulty genes.
One in 200 children is born with faulty mitochondrial genes leading to deadly conditions affecting vital organs, muscles, vision, growth and mental ability.
The Kirk met the news with doom and gloom but as a parish minister who has seen the devastating effects of such genes, I welcome MRT with open arms.
Rev Dr John Cameron.
10 Howard Place,
St Andrews.
Thanks from North Carolina
Sir, – I hope you will be able to help us get a thank you message to two of Perth's residents, Jeff and Elizabeth, whose last name we failed to obtain when we met them on the Jacobite steam train on October 3. They were our tablemates and were charming. They told us they had moved to Perth 50 years ago because they fell in love with the mountains in Scotland.
Not only did they provide delightful company and a local perspective, they surprised us with a gift at the end of our adventure.
My husband had mentioned his disappointment at not having seen any of the Scottish highland cattle during our three days of touring.
As we donned our coats, Elizabeth stunned us by handing us a large, flat bag which held a 2017 calendar featuring highland cattle.
We thanked them bunches and parted ways without thinking to swap email addresses or any other means of contacting them.
Judy and Chris Cashwell.
109 Schooner Road,
Mooresville,
North Carolina.