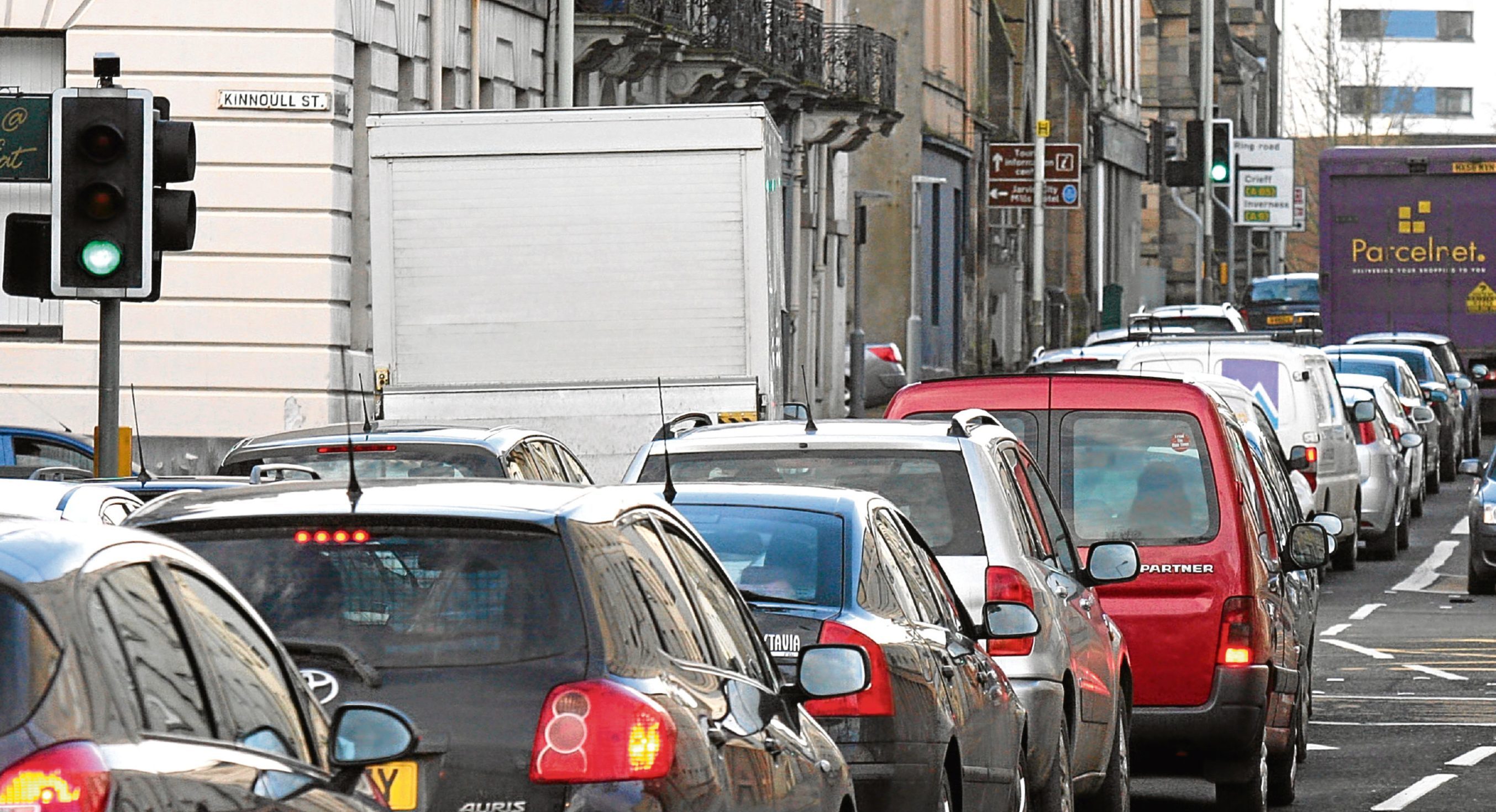 Sir, – With regard to measures to tackle vehicle-generated air pollution in Perthshire, Andrew Llanwarne (January 11) was quoted as speaking of the "health effects on children walking to school, commuters arriving at work and older people going to the shops."
The "health effects" include exacerbating respiratory and heart conditions, and, according to recent research, a strong association between living near heavy traffic is an increased risk of dementia.
I live in Perth and do not drive by choice.
I have resided close to two Perth city zones with particularly high levels of toxic emissions: Atholl Street and Bridgend.
Certainly, children, commuters and older people are exposed to harmful air pollution across the city but so too are people of all ages living and working in Perth.
In many areas, choosing a green option such as walking, cycling, or using public transport necessarily involves taking polluted routes.
Rightly, legislation now prevents us from smoking in public places but pedestrians, cyclists and residents, who are in effect passive smokers of exhaust fumes, are not similarly protected. Low emission zones are a welcome start but wide-ranging measures are required to make cities, and increasingly towns and villages healthy and pleasant places to live and visit.
Jane Andrew.
Flat 8,
Ardchoille House,
Strathmore Street,
Perth.
Families will flee tax hike
Sir, – I see Angus Council is continuing to shoot itself in the foot (possibly both feet) with an unequal increase in council tax.
There is a need for an increase in council tax, in line with inflation, to continue to fund the services we expect but this increase needs to be apportioned equally based on the market value of the property in 1991.
The increase of more than 3% to properties in bands E to H is neither fair nor reasonable and I believe may not stand up in either a Scottish or European court.
I live in a band G home in the country where we get fewer services than any property in towns. We have no street lights, path cleaning or salting and no food-waste collection.
This type of unfair taxation will eventually cause some younger, productive families to move south of the border where all their tax payments will then go to the UK coffers. What then will our SNP government do to make up the shortfall?
George Sangster.
Woodlands,
Logie Craigo,
Montrose.
Immigration effects on NHS
Sir, – Many times over the last few days I have heard that the pressure on the NHS is because the UK has an ageing population.
As I approach 70 I would like to apologise for my part in that pressure.
However, I take it then that the 333,000 extra people (net migration ) people coming into the UK every year to queue up at the NHS for treatment without having paid any contribution have no effect?
Mike Rogalski.
82 Feus Road,
Perth.
Time for action from secularists
Sir, – Nick Cole (January 11) wrote that "almost all wars and abuses arise from blinkered imposition of religious teaching".
This is a generalisation, easy to say or write, but difficult to provide conclusive proof of.
To make any general observation about religion or morals is difficult because it depends on the view held by the person making the point.
For example, a person belonging to one of the world's great religions which condemn abortion might generalise as follows: world abortion figures now exceed all the deaths recorded in every war in world history.
They would point to secularists making laws which are detrimental to humanity.
Secularists would avoid any morality issue by saying abortion happens to a foetus (a non-viable entity) whereas a religious person would take the view that the killing of a human with potential is wrong.
Robert Canning of Secular Scotland writes on religious observance (RO) in our state schools .
He is suggesting that RO should be an optional activity not suitable for those who do not believe in the school's religion.
I would respectfully suggest that the answer to his problem with RO lies in his own hands.
Why does he not engage his society in planning its own school where this RO would not be a meaningful activity?
Philip Kearns.
47 Grove Road,
Dundee.
Hope for Cyprus breakthrough
Sir, – It has been encouraging to note the talks in Geneva to end the partition of Cyprus between the Turkish north and Greek south, so that the whole island has a unified – if federated – political structure.
At present only the south is recognised by the EU, and UN troops oversee a buffer zone across the island.
Any agreement would have to be sanctioned by the UN and put to a referendum on both sides of the island, probably in the late spring.
We have, of course, been here many times before, with a proposed UN solution in 2004, overseen by the then Secretary General Kofi Annan, accepted by the Turkish community, but heavily rejected by Greek Cypriots in a referendum.
However, this time seems different and we are close to an agreement being reached on the future of the island.
It has always been agreed that some of the territory controlled by the Turkish Cypriots will be ceded to Greek- Cypriot control in any peace deal.
The debate over how much should be handed over and its location has hampered previous talks.
Encouragingly, we seem to be close to establishing this, and the UK has offered to give up half the territory of its sovereign bases as part of any deal.
We face a real moment of truth and will soon find out whether the island nation can be reunified after decades of failed attempts.
Alex Orr.
77 Leamington Terrace
Edinburgh.