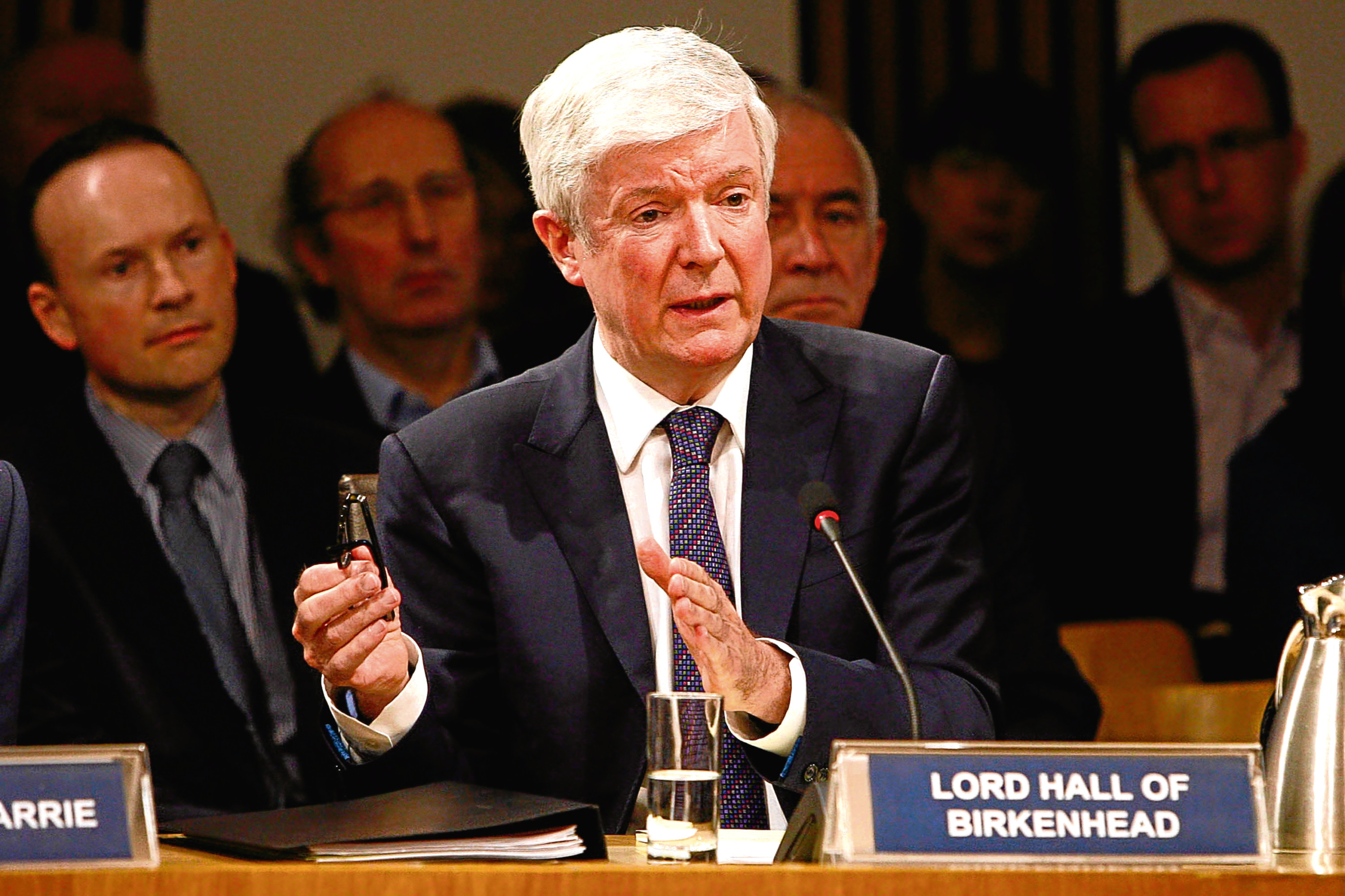 Sir, – It is a step forward that BBC bosses now at least admit there is a need for a dedicated channel reflecting Scottish culture and how world events effect Scotland.
To some, the preferred option would have been a Scottish Six and to some others, anything other than the status quo may lead to the end of the world.
However, although my preference would have been a Scottish Six, we have to view this as a win of sorts that presents opportunities to put Scotland's unique and varied culture at the heart of broadcasting in the country.
If those who will be tasked to run it are allowed to commission programmes without interference from London and it is properly resourced, then there is no reason why it cannot be successful.
I believe, at present, Scotland gets around 55% of the licence fee raised here whereas Wales receives 95% of the fee raised there.
I am not sure if the news at 9pm will be successful as it will be competing with the many channels who put out their popular programmes at that time.
I look forward to seeing how this will develop over the coming period but would add a note of caution that the BBC should perhaps look outside the box as to who will present and anchor this channel and would hope the same old tired presenters are not wheeled out and a new dynamic breed is found and introduced.
Bryan Auchterlonie.
Bluebell Cottage,
Ardargie.
Spiritual growth throughout life
Sir, – I was caught by a single word "nuisance" offered by Robert Canning and referred to by Philip Kearns in their correspondence about the benefits of inclusion, or otherwise, of a religious education in denominational schools.
Mr Canning's observation of religious education simply as a "nuisance" recalled to mind my own experience as a pupil six decades ago.
I failed leaving certificate examinations in French, physics, and chemistry. These subjects were my bete noire, my nuisance subjects.
My learning interest focused on English, music, physical and religious education, all four of which have served me, each to a lesser or greater extent, during my life.
The older I become, the more the spiritual part of my religious education holds sway.
It is unlikely to have evolved like this for me if it had not been part of my school's curriculum. An amazing grace.
Andrew Lothian.
69 Dundee Road,
Broughty Ferry.
Police should be hands free
Sir, – I read with interest your article about new penalties for using a mobile phone while driving. I agree with the penalties and think they should go further. It should be an offence to have a mobile switched on during any journey.
However, can someone explain the difference between a motorist using his mobile while driving and a police officer using his microphone for his radio?
Surely it is time for police to get their own house in order before they crack down on others. Get hands-free microphones.
Robin Rodger.
24 Honeyberry Drive,
Rattray.
Illusion of EU growth market
Sir, – Joanna Cherry MSP, when challenged by Andrew Neil as to why the EU single market was more important to Scotland (£12 billion last year) than the UK market (£48 billion last year) stated that it was our "growth market".
Given that this country's movers and shakers have had the availability to market their goods in the single market for the last 23 years, I can see no logical reason why they would suddenly favour it, unless Europe is in desperate need of tartan-clad, left-hand drive baby boxes.
Graham Ellis.
Moredun,
The Brae,
Kirkton of Auchterhouse.
Could king be under City Hall?
Sir, – With the announcement of the search for the lost burial site of King James I of Scotland, one obvious question arises.
Have the academics and archaeologists ever considered looking beneath Perth City Hall?
What better excuse was ever needed to demolish such a fine building?
Kenneth GN Stewart.
Florence Place,
Perth.
Population drain threat
Sir, – One of Nicola Sturgeon's claims for the SNP wanting Scotland to join the EU is to encourage significant levels of inward migration from central Europe.
Scotland is arguably short of people. Its population growth consistently fails to match many other parts of the UK and we've been less successful in attracting immigrants than elsewhere in the UK. It is, therefore, opportune to remind Ms Sturgeon that, shortly before the last Scottish separation referendum, a survey showed 700,000 of us would leave Scotland were the SNP to succeed in partitioning the UK.
Let's assume most of these may not be able to go and that perhaps only 20% or 140,000 would emigrate. But the most mobile tend to be the highest earners and thus the highest taxpayers. This is not a demographic segment the nationalists can afford to lose.
Would an independent, post-oil boom Scotland be able to attract enough high-earning EU migrants to replace this valuable lost tax yield?
After years of Greek-style austerity being inflicted upon us to meet the EU's stringent financial requirements, it doesn't feel like a terribly welcoming environment, does it?
Martin Redfern.
4 Royal Circus,
Edinburgh.
SNP is not racist party
Sir, – Bernard Levin wrote a piece about "one-subject obsessives" and I fear it is into that category that one must place your eloquent but single-minded columnist, Jenny Hjul.
On a Wednesday I play a game to see how far down her article I can get before finding a bitter reference to the SNP or a personal attack on Nicola Sturgeon.
Might I suggest Ms Hjul takes a lesson from Jim Crumley, with whom I often disagree, but who is capable of writing passionately and rationally on all sorts of subjects, winning my applause.
With regard to Ms Hjul's belief that support for the SNP is a symptom of racism, might I plead my own case?
I was brought up in a strictly Tory house in the north east of Scotland, and on moving 50 years ago to Dundee and now Angus, I gradually saw the merits of SNP policies and am now a staunch SNP voter.
I am very fond of England, have had a number of very enjoyable holidays there, and if circumstances were such that I had to spend the rest of my life in, say, Yorkshire, I would be delighted.
Oh, and some years ago I sold a piece of property next door to a couple who were moving up from England and who remain among my best friends.
SNP support equals racism? I think not.
Gordon Cook.
Gowanlea,
Gardyne Street,
Friockheim.