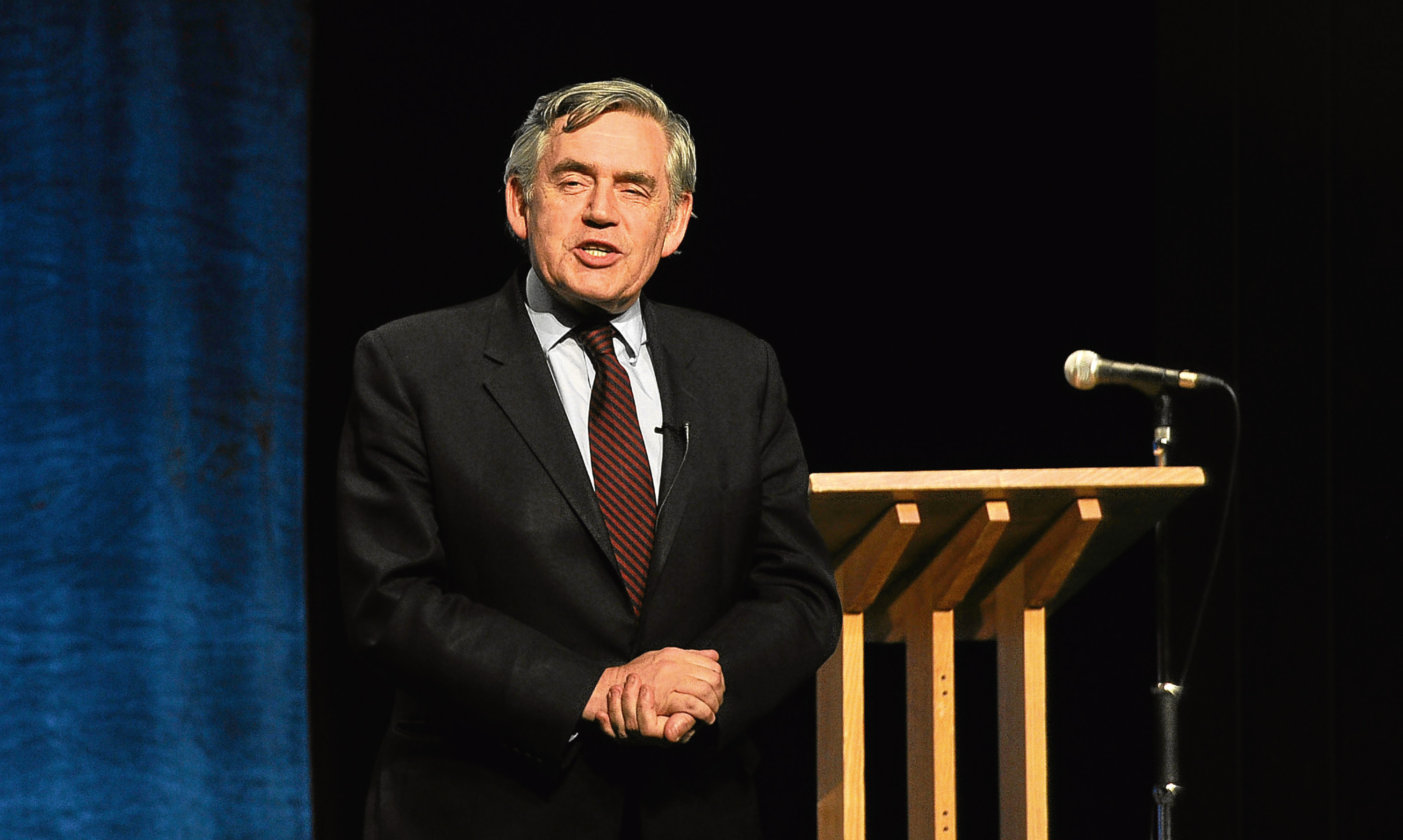 Sir, – Did former Prime Minister Gordon Brown (March 18) shine any light on the case for a more federal Britain in his speech to the Adam Smith Festival of Ideas conference?
Simply giving the Bank of England a new name, and relocating some of its staff to Edinburgh does not change its main role; that is to regulate monetary policy in the United Kingdom and, if necessary, to adjust interest rates.
Similarly, his views on giving Scotland the right to enter into international treaties don't seem to have been thought through properly.
In international diplomacy, each country can have only one source of power. Unless it is backed up by a considerable military and economic presence, it is unlikely to be effective.
In 2014, Mr Brown helped to devise the so-called Vow; new devolved powers which he claimed would bring Britain as close to a federal structure as is possible.
It was not an easy task in a nation where one country has almost 85% of the entire population.
Much of that Vow has yet to be implemented, and even the former Chancellor's new proposal to devolve VAT and give Scotland a substantial share of the money we'll get back from Europe after Brexit still leaves a democratic deficit.
Labour has much to do if it is to excite voters about its plans for federalism.
Mr Brown's ideas are likely to create more heat than light at a time when the public is unsure which way to go on another independence referendum.
Bob Taylor.
24 Shiel Court,
Glenrothes.
Ex-PM cannot fool Scotland
Sir, – The vicious backlash from the English press will surprise no one in the independence camp.
In the coming months and years we will be subject to calls for the decapitation of our First Minister courtesy of the gutter press and there will be a takeover bid of the correspondence columns by the usual union lovers.
Your correspondent Jill Stephenson sees fit to recycle the lie that independence will endanger pensions. It is a lie that was exposed as such by Westminster two years ago. Either Ms Stephenson has not been paying attention or she is deliberately trying to frighten pensioners into supporting the status quo.
I have no doubt that letter columns will contain many examples of the lies and false promises that won the 2014 referendum.
I see that Gordon Brown is being wheeled out to recycle his federalism solution. Too late Gordon, once bitten, twice shy. We will not be fooled again
James Smith.
4 Brownhill Place.
Dundee.
Ms Sturgeon stole my vote
Sir, – I voted remain in the EU referendum; the SNP stole my vote and used it against me. A total of 62% of Scots who voted chose to remain. Ms Sturgeon has arrogantly assumed these voters support her push for another independence referendum.
I was never asked if my vote could be used to promote the SNP's separatist agenda.
The First Minister took my voice away from me and in doing so disrespected me, went against my will and took me down a path I have no control over.
Susan McKenzie.
8 Richmond Terrace,
Dundee.
Betrayal by Westminster
Sir, – A total of 14 % of Scottish voters supported the Conservatives at the last general election while 61% of us voted to remain in the EU.
Yet Theresa May is dragging us out of Europe and we continue to suffer from cruel Tory cuts and their foodbank welfare state.
Far from giving Scotland any of the powers that will return from Europe, Mrs May intends to keep them all at Westminster.
She has now decided to lecture Scotland about unity, told us to shut up about a referendum and to do what she tells us.
In spite of the clearest wishes of Scotland, or maybe because of them, the Tories are treating us with complete contempt.
The risk to the union that Mrs May's arrogance and disrespect poses has not been lost on Gordon Brown who is suggesting that Scotland should get full federal status with power over tax, fishing and welfare. He sees that you will never keep the Scottish people in the UK by denying them their democratic rights or by issuing Tory lectures from Westminster.
K Heath.
Cortachy
Kirriemuir.
Fiscal power to stay in London
Sir, – Alex Salmond announced a useful and important concession. He said his party would no longer insist that Scotland must have a place on the Bank of England's monetary policy committee after we'd left the union.
In short, the interest rates we pay on mortgages, credit cards and loans would continue to be determined by the London money markets and our own credit ratings.
It has for long been a complaint of all parts of the UK that are far from London, that neither they, nor Scotland, are sufficiently represented by the policies of the Bank of England.
Mr Salmond's concession now accepts that interest rates would continue to be set in London and followed in Scotland.
Across the Atlantic, their monetary committee has just raised their interest rates by a quarter of one per cent, and higher than the Bank of England's rate.
Moreover, Janet Yellen – the head of the US bank – has hinted at further US rate rises during this year.
Unusually, the Bank of England has not followed by raising its equivalent rate, probably because there has been a large devaluation of the pound following the Brexit referendum result.
Already, prices in our shops are rising as a consequence.
For all of those reasons, we should welcome this common sense concession that Mr Salmond has proposed for Scotland. If we continued to use the pound we would have to accept the consequences of that bank's decisions.
Andrew Dundas.
34 Ross Avenue,
Perth.
Give ex-pat Scots a vote
Sir, – Tony Miklinski is right that, in any future Scottish-UK separation referendum, the voting conditions should not be set by only the SNP.
Even though UK Scots down south were disenfranchised by them in 2014, with the timing and voting age spectrum chosen by Alex Salmond, the Yes side still lost.
Scots people are not less interested in the outcome, nor less Scotttish, if they live in the UK or are military but outwith the land of their birth.
Their birth certificates could show qualification.
The SNP leadership has shown it cannot be appeased; political justice and fairness in such a referendum demand the enfranchisement of interested UK Scots living outside Scotland.
(Dr) Charles Wardrop.
111 Viewlands Road West,
Perth.