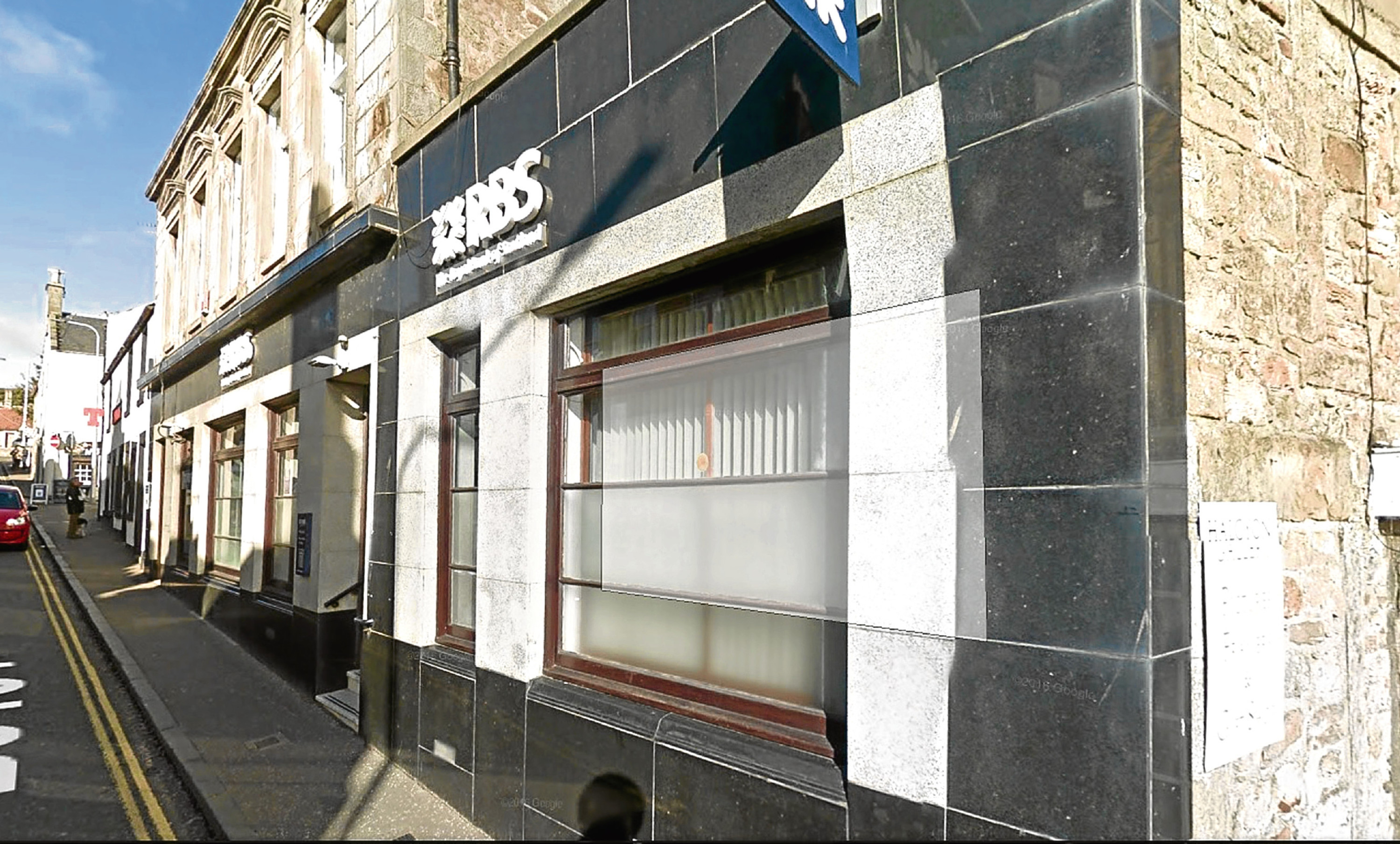 Sir, – Until recently the RBS had three branches in the East Neuk.
With the closure of the Anstruther branch, face-to-face banking will be restricted to one branch of the TSB.
It is true there will be a branch in St Andrews but this is a long way to go if you are elderly.
As for customers using the branch less, I find this incredible.
I use the branch every day and I have yet to go in and not find a queue.
As for the view there are three free cash machines within one mile of the branch, I would dispute this.
There is one at the Post office and another at the Co-op.
I assume they count the machine at the RBS branch as the third one, but this will go when the branch closes.
The fact is that many people do not carry cash but rely on cash machines for money, and quite a few retailers in the area do not accept cards.
I can assure you that small businesses suffer when the cash machines are not working as customers cannot withdraw out cash so shops lose sales.
With only one cash machine in the town centre, it could prove very difficult for customers who rely on these machines for cash and for the retailers who rely on the customers having cash.
As for RBS customers using the post office network, this may very well help these small businesses and I for one will be using the Anstruther Post Office for my cash deposits and change.
But to say there are three post offices within three miles is stretching things a bit.
There is one Post Office in the East Neuk and the others are post office counters within existing businesses.
The removal of the last branch of the RBS and its cash machine from the East Neuk will have a negative effect on the community, and may well drive people to shop and conduct business in the larger towns.
Martin Dibley.
Pets Pantry,
Anstruther.
Conservatives working for Fife
Sir, – I'm pleased retiring councillor Andrew Rodger sees
the Fife Conservatives holding the balance of power after May 4. Fife will be the better for that.
However, I can't see his prediction of a Labour/SNP alliance.
My reading of Fife politics is that Labour and the SNP dislike each other far more than they dislike us.
Perhaps Councillor Rodger is confusing us for the mythical "Tories" that everyone's heard of but no one has met.
Fife Conservatives will continue to work with anyone whose ideas are right for Fife, one idea at a time, as we have for the last decade.
But work with is not the same as join with.
In many ways, the  biggest barrier to good local government is the division of councillors into the two camps of administration and opposition, after which the merits of any idea are judged on who thought it up.
Us good, them bad is not a clever way to run anything.
Dave Dempsey.
Leader Fife Council
Conservatives,
7 Carlingnose Park,
North Queensferry.
Sturgeon's ironic trip to the USA
Sir, – It is rather ironic that Nicola Sturgeon can travel freely to the US after having called for a ban to prevent President Trump from entering the UK.
It is to be hoped that she will learn a lesson about how free countries operate, but I'm not  holding my breath.
There is a further irony in Ms Sturgeon's insistence on speaking about Scottish secession from the UK in a country where a very bitter civil war was fought in the 1860s to prevent one part of the union seceding.
The resounding  victory for the union has not been seriously
challenged since then.
Yet it now seems that Ms Sturgeon, in the face of Mrs May's "now is not the time" response, is raising the possibility of "testing" the part of the devolution settlement that reserves constitutional issues to Westminster.
She mentions this while acknowledging many Scots are reluctant to embark on a referendum campaign so soon after the 2014 referendum.
It is clear that anything she has said about not holding another referendum until the people of Scotland demonstrably have an appetite for one is as worthless as the once in a generation mantra she repeated ad nauseam throughout the 2014 campaign.
What the Americans are making of the leader of a devolved administration in a tiny country claiming that she wants Scotland to be the equal of the United States is anyone's guess.
I imagine there is much mirth among those who have actually heard of her and her visit.
Jill Stephenson.
Glenlockhart Valley,
Edinburgh.
US trip a waste of public funds
Sir, – First Minister Nicola Sturgeon's taxpayer funded trip to America, ostensibly to mark the annual Tartan Week celebrations together with a tour of trade talks and sundry speeches, and afterwards to consult California's Governor Jerry Brown, a well-known foe of the President on such matters as climate change, must rank as the ego trip of the year.
However, this must still come second to Alex Salmond's junket trip in 2012, which cost taxpayers £468,580 and included a stay in a five- star hotel favoured by stars such as Brad Pitt and Angelina Jolie.
Something to do with golf was it not?
The sad and inescapable fact is that such sorties, at considerable public expense, produce little constructive outcome and as such are cost ineffective.
The massive amounts of monies invested therein would surely be better spent in
shoring up all our withering domestic services such as education, NHS, care in the community, the police, the state of our roads, to name but a few.
The old adage Nero fiddles while Rome burns, springs readily to mind.
David L Thomson.
24 Laurence Park,
Kinglassie.
No need for petty politicking
Sir, – Councillor
Donald Lothian tries to create division between the communities north and south of the New Inn roundabout over repairs to and modernisation of the A92 (April 7).
Fife Council is prepared to borrow up to £1.5 million to help upgrade the Cadham and Balfarg roundabouts to the north east of
Glenrothes.
It hopes that the Scottish Government through Transport Scotland will use its
borrowing powers to help support that.
This is completely different to the day-to-day spending on repairs that is needed right along the route from Kirkcaldy to the Tay Road Bridge.
He should have known the difference between capital and revenue spending.
It is quite wrong to suggest that the local authority is treating two parts of the region differently on this.
The real issue here is that in Glenrothes there is quite a lot of support for dualling the trunk road from Preston to Balfarg.
The councillors and communities in north-east Fife have a different approach. They do not want to see a fast road scything through the area.
They do certainly want to see improvements at the junctions in Freuchie and near Ladybank.
That is what Councillor Lothian should be concentrating on together with pressing Transport Scotland to be more vigilant on day to day repairs.
He should be trying to get Fife Council to work in partnership with the agency on this.
He does himself no favours by petty politicking about whether
Glenrothes gets more favourable treatment than north-east Fife.
Bob Taylor.
24 Shiel Court,
Glenrothes.
Labour leads on equality
Sir, – Your article, Where's the next Nicola? (April 6) about the need for more women election candidates is indeed apposite.
However, at the 2016 Scottish Parliament elections the Scottish Labour Party achieved gender equality among its candidates. Across the UK the Labour Party continues to be the only party which pays more than
lip service to gender equality.
Rosalind Garton.
Shieling of Blebo,
Cupar.