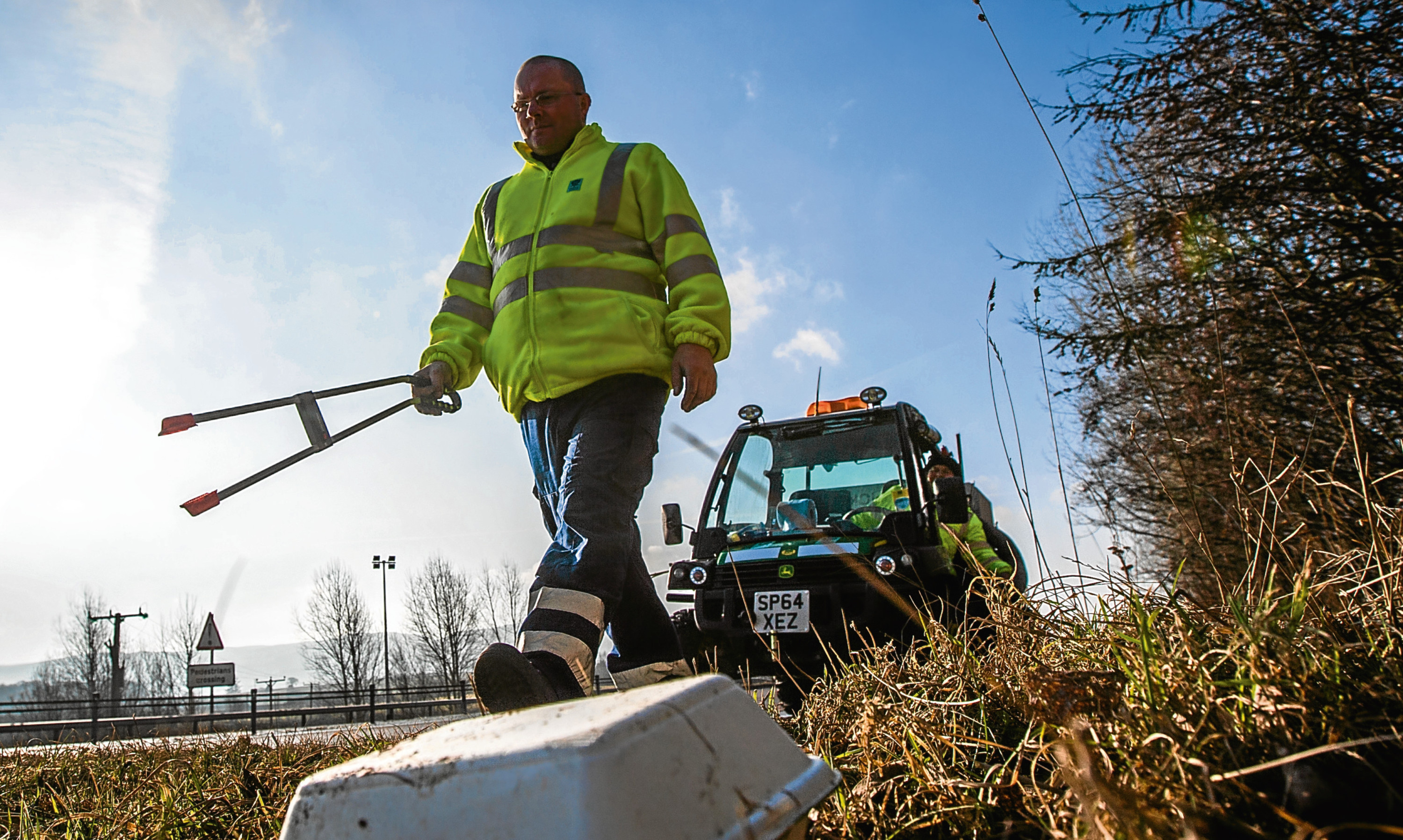 Sir, – Several correspondents from different parts of the east of Scotland have highlighted the volume of litter dumped at roadsides.
Some of it is a result of fly-tipping and some has simply been thrown from car windows.
There is little point berating the police and local authorities for the problem because they did not deposit it. This scourge has its roots in sloth and lethargy which breed attitudes of indifference to the appearance of the environment and the rights of fellow citizens.
What else can explain the actions of people who meet in car parks to consume fast food and then throw the waste below their vehicles?
Walk along many country roads in Angus and you will find pizza boxes, curry cartons, plastic bottles and fast-food containers.
It is far from unusual to come across discarded beer bottles.
Are people really swigging from beer bottles as they drive before throwing them from windows?
Another favourite missile launched from vehicles is the used disposable nappy.
I wonder how long it will take them to degrade in a ditch in Angus?
In this part of the world we should count ourselves fortunate that the urban centres are not too large and we are surrounded by easily accessible countryside.
However, that beauty is being despoiled by oafish behaviour.
Police officers and litter wardens cannot be out at all times hunting for litter louts but one or two hefty fines would focus minds.
In contrast to the feckless fast-food dumpers, fly-tippers show even more determination.
They make the effort to drive bin bags full of rubbish, old white goods, furniture and building materials into the countryside and dump them in lay-bys or at farm entrances. This is a disgrace.
Robert Anderson.
Kirkton,
Arbroath.
Business as usual for Scots
Sir, – Let's fast forward to June 9.
The Conservatives increase their UK-wide majority in a campaign fought largely on Brexit elsewhere in the by UK but focused on independence in Scotland.
Here the SNP retains many of its seats with some losses, principally to the Tories.
There's an overall reduction in the number of SNP votes cast, coming in well under the 50% needed by the nationalists to win a second referendum. Nicola Sturgeon will claim this as a resounding endorsement for her teenage independence dream and Ruth Davidson precisely the opposite.
The nationalist leader will demand another referendum from Theresa May which, as we and Ms Sturgeon expect, will be refused.
And so it goes on ad nauseam, or at least until after the 2021 Holyrood election.
Pretty much business as usual in Scotland then?
Martin Redfern.
Merchiston Gardens,
Edinburgh.
Get deal for whole of UK
Sir, – The best news of the week was an opportunity to register our dissatisfaction with the SNP.
We now have the chance to express our opinion regarding the SNP pursuing independence.
Voters will be able to decide what sort of country they want. Either a party pursuing independence or another seeking to get the best possible result from the Brexit negotiations for the whole of the UK.
AG Walker.
Puddledub Cottage,
Guthrie.
Tory attacks on vulnerable
Sir, – Ruth Davidson has been forced to admit she supports the "barbaric" and "disgusting" rape clause by Kezia Dugdale, who called on her to condemn the policy.
Does the Scottish Tory leader also approve of her party's removal of 50,000 Motability vehicles from disabled people, which presumably affects their job or prospects of employment?
James Stevenson.
Drummond Avenue,
Auchterarder.
Opinionated presenter
Sir, – Nick Robinson's disrespectful and hectoring interviewing of the prime minister on the Radio 4 Today programme on Wednesday morning showed how inept the BBC is at getting factual information for the public.
The proceedings consisted of no more than the PM having to deal with Mr Robinson's own opinions, rather than presenting her own case.
At times, Mr Robinson sank to the level of a bad Monty Python sketch. It is time for these so-called journalists to be replaced.
Malcolm Parkin.
Gamekeepers Road,
Kinnesswood.
Tories fear fraud probe
Sir, – I suspect the real reason we are facing a general election is the 20 Conservative MPs being investigated by 16 police forces over election expenses irregularities.
With a fine of £70,000 already given to the party by the Electoral Commission and the potential of criminal charges being brought forward over the coming months, the 2015 election victory looks pretty compromised.
Iain Anderson.
41 West End,
St Monans.
Clear choice for Scotland
Sir, – With Theresa May calling a general election for June 8, let this be a date the people of Scotland wake up and reject SNP rule.
Scotland deserves better than MPs who behave in a boorish manner in parliament and on social media.
They only have independence as their goal while their counterparts in Holyrood neglect to do a fair and reasonable job with the devolved powers that they do have.
They have failed the police, education system and health service in Scotland and are threatening another divisive referendum.
And they constantly bicker with and blame Westminster for not having more powers, yet they can't take control of welfare benefits until 2020, leaving vulnerable people they claim to care about so much at the hands of Westminster.
Nicola Sturgeon says judge her on her record. I hope the Scottish electorate does this on June 8.
Gordon Kennedy.
117 Simpson Square,
Perth.