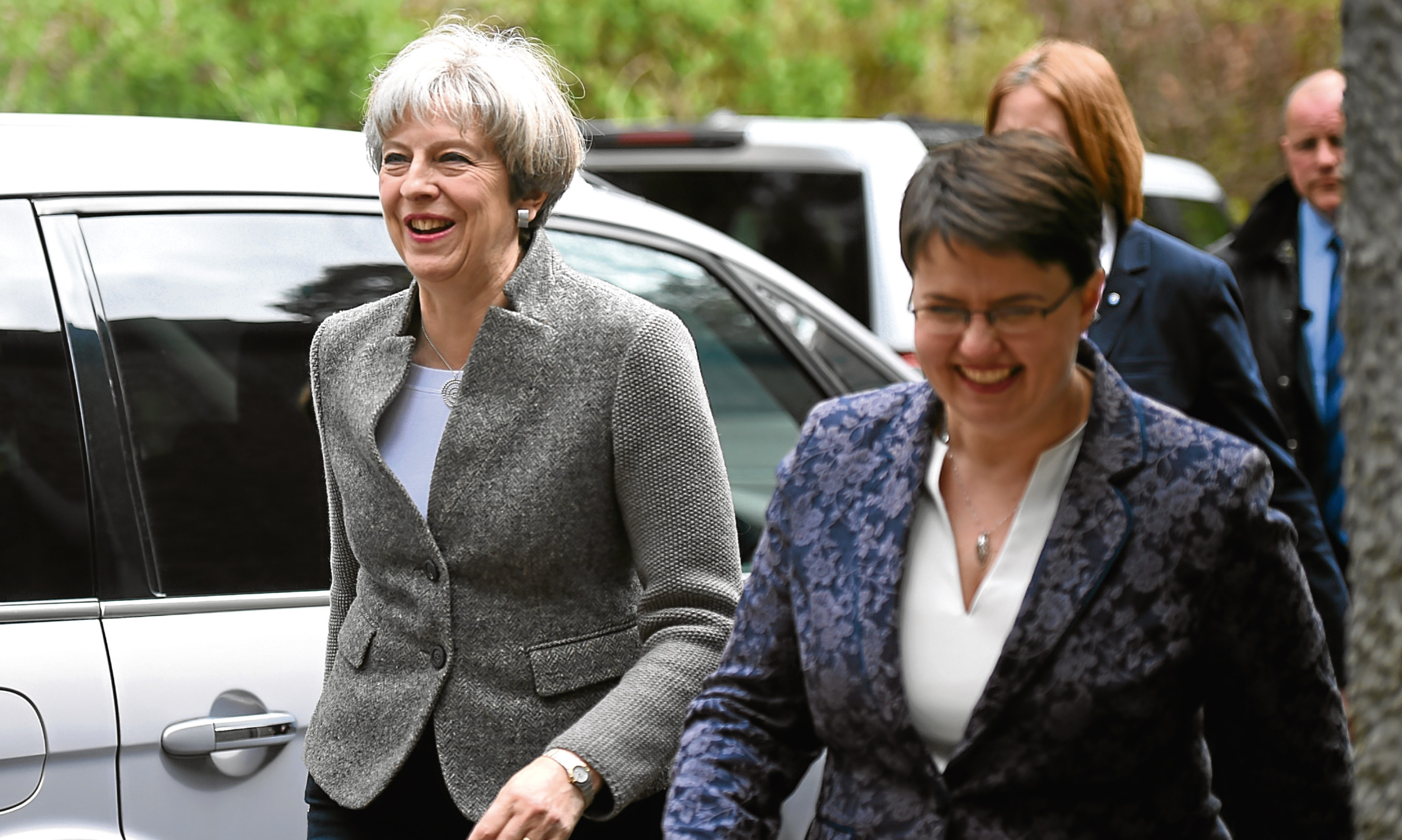 Sir, – It was intriguing to note Ruth Davidson claim that a recent YouGov poll indicating the Tories are on 28% in Scotland was a sign that Prime Minister Theresa May was apparently "more in touch with the people of Scotland than Nicola Sturgeon".
This is odd, as one would have thought to be "more in touch" would mean that you had to actually be leading polls, and yet the SNP, according to the poll cited, is on 41% and set to retain just shy of 50 out of 59 seats, while the Tories will have a handful of MPs.
Indeed, Mrs May and Ms Davidson's strategy of claiming that in Scotland the general election is effectively a referendum against holding a second independence referendum has the potential to backfire spectacularly, unless of course, it triumphs north of the border.
If it fails to do so, clearly the door is now fully open to the holding of another referendum and Ms May would have to do the honourable thing, remove her current unwarranted objection and immediately hold discussions with the Scottish Government to name the date.
Alex Orr.
Flat two,
77 Leamington Terrace,
Edinburgh.
Vote for misery and poverty
Sir, – I had to laugh at Jill Stevenson's letter (May 1) in which she feigns surprise that anyone can believe that a Tory majority at Westminster would see Scotland clobbered. Where has she been?
Quite aside from the odious rape clause attack on rape victims, in recent times we have seen the Tories legislate to cut help for mentally ill people and this on top of the savage attacks on the poor with DWP staff feeling obliged to send penniless families to foodbanks.
Does anyone really think that these disgusting attacks will stop if Theresa May gets a majority?
For decades, Scotland has voted for more humane policies only for their democratically expressed wishes to be trampled all over by Tory governments deliberately prioritising tax cuts for the mega-rich bankers and hedge fund managers who very largely fund the Conservative Party.
These bankers have made sure their party has so much money that many current Tory MPs may be facing charges relating to their excessive spending leading up to the last election.
The message is very clear. Vote Tory and vote for misery and poverty for the sick. Vote Tory for more swag for the bankers and for the Tory Party's election campaigns.
I think we deserve rather better.
K Heath.
Cortachy,
Kirriemuir.
Failure of green vehicle policy
Sir, – The TaxPayers' Alliance has revealed that Scotland's local authorities have spent nearly £1 million on 147 electric vehicles since 2011.
All of the 147 vehicles purchased since 2011 have an average of 5,843 miles and, therefore, the overall average annual mileage is likely to be in the region of a paltry 2,000 miles.
An Edinburgh Council car purchased in December 2014 for £21,037 has done only 5,803 miles.
Aberdeen City Council leased four cars in September 2016, mileage: 262, 418, 1,421 and 1,842.
Glasgow City Council has 17 electric vehicles but refused to provide costs. Something to hide?
Moray Council purchased a Peugeot costing £27,666 in July 2011: mileage 14,112.
A Perth and Kinross Council vehicle has done only 8,570 in five years.
It is easy to parade your green credentials when someone else is paying the bill.
Looking at the mileage figures, those who suggest that local authorities should be praised for electric vehicle initiatives obviously have their green blinkers on.
Clark Cross.
138 Springfield Road,
Linlithgow.
Marine needs royal pardon
Sir, – Had the battlefield positions been reversed, we would no doubt have been treated to a video of Sergeant Alexander Blackman's beheading after a period of torture by the Taliban, for our politicians to condemn and tut-tut over.
This is not a war against a conventional military enemy, so the Geneva Convention does not apply.
As Her Majesty is head of the armed forces, she could perhaps grant Mr Blackman a royal pardon, thus also letting our troops know that their dangerous work is appreciated.
Malcolm Parkin.
Gamekeepers Road,
Kinnesswood,
Kinross.
Move jobs to Levenmouth
Sir, – Why are all political parties ignoring simple solutions?
For example, there is a need for a deliberate effort to transfer public sector jobs out of booming Edinburgh to places like Levenmouth which are struggling.
Checking online alone, you can find around 160 well-paid Scottish and UK Government job vacancies in the Edinburgh area.
We know property prices in the capital are already over-inflated, creating a housing bubble which risks following London's disastrous path.
Latest figures also show unemployment there at historic lows (around 4%) creating labour shortages which are hampering the city and the country's growth.
Why is no political party pressing to move such work, most of which need not be tied into a city location, to areas that need employment?
They might even save on salaries in the process. If they moved enough establishments and higher-paid positions to areas such as Levenmouth you can be sure there would be a powerful clamour to reinstate our railway link.
There is already far too much centralisation in Scotland following the short-sighted decision to site the Scottish Parliament in Edinburgh.
The result is a growing concentration of prosperity, supported by further public investment in facilities such as transport while disadvantaged communities such as Levenmouth struggle. It is high time to level this playing field to the benefit of all and it is easily achieved.
Stuart McIntosh.
68 Kirkland Walk,
Methil.
SNP determined to get its way
Sir, – Anyone confused by the mixed signals coming from the SNP over whether the general election is about independence, should recall that some things transcend all else.
While Mr Salmond appears to have strayed off the SNP official line with his claim that SNP seats at Westminster will equate to support for independence, the reality is that whatever the result, the SNP will spin it to their benefit.
If seats are lost, Nicola Sturgeon will argue it does not affect her plan to use the Holyrood vote of SNP and Green MSPs to justify a referendum.
If the SNP's previous general election is matched or beaten, it will be judged to be providing support for a second referendum. So, depending on the outcome, either Ms Sturgeon or Mr Salmond will be right, with the SNP determined to get its way whatever happens.
Keith Howell.
White Moss,
West Linton.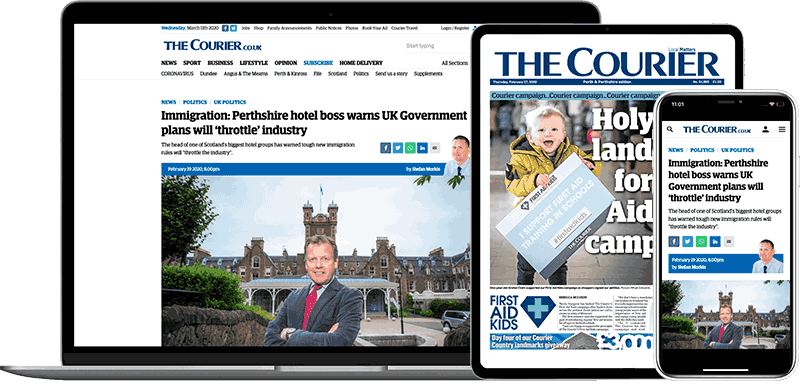 Help support quality local journalism … become a digital subscriber to The Courier
For as little as £5.99 a month you can access all of our content, including Premium articles.
Subscribe