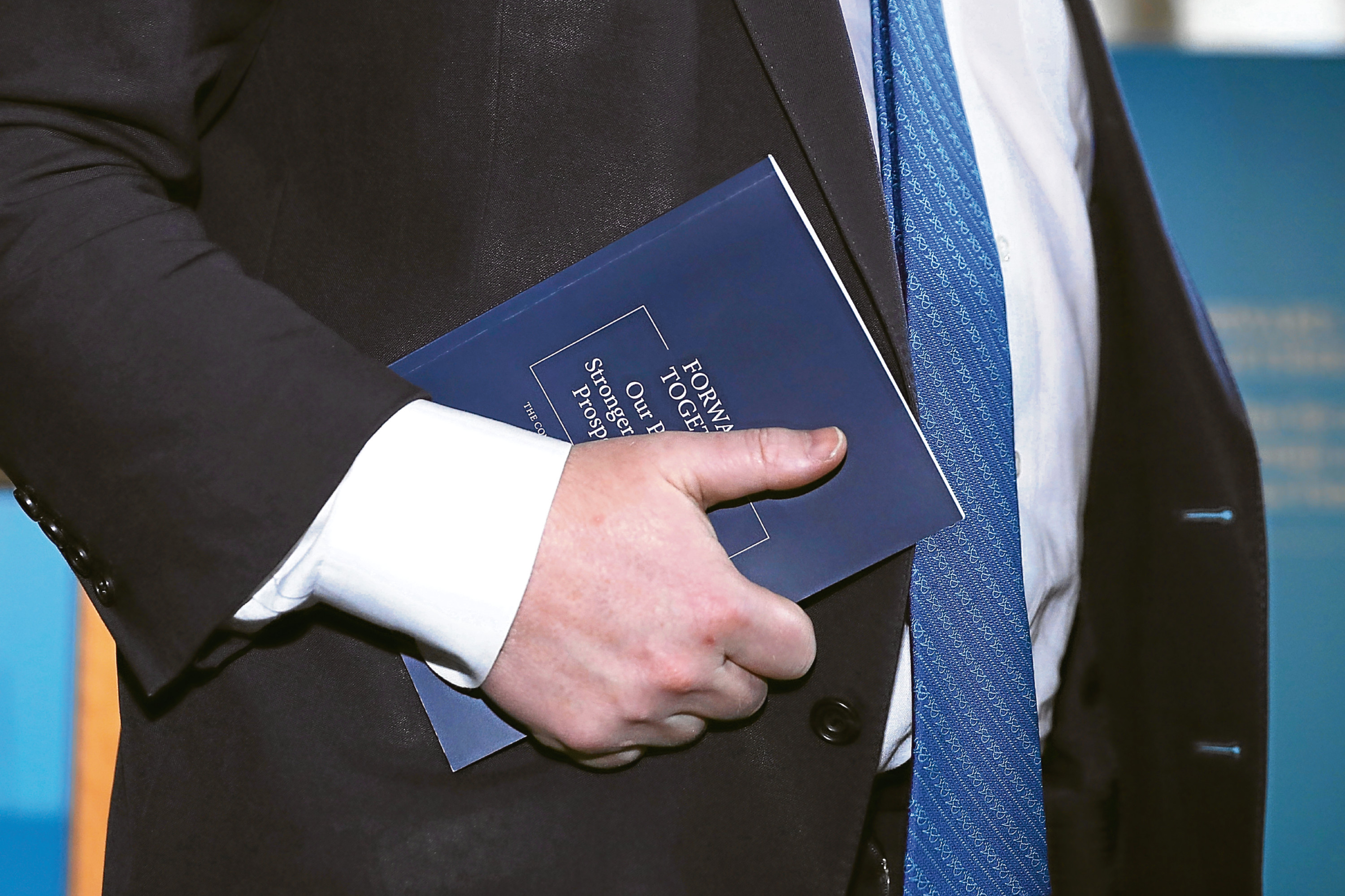 Sir, – An issue raised within the Conservative manifesto and which is clearly a cause of some concern is the small matter of EU funding.
Scotland is set to lose £110 million a year of so-called EU structural funding, vital cash that helps create jobs, boosts training, and develops transport projects and green energy.
This funding from the European Commission is currently managed by the Scottish Government, but with Brexit, this funding will be lost and it will be up to the UK Government to plug any gap created.
There are, however, no guarantees, further reinforced by the Conservative manifesto, that the funds lost will be fully replaced in Scotland by a future Conservative Government.
This proposes the establishment of a United Kingdom Shared Prosperity Fund.
In addition to this is the issue of Common Agriculture Policy funding, amounting to around £560m a year.
While this support funding is guaranteed in the manifesto until the end of the parliament, there is no guarantee that a similar level of such funding will continue beyond this.
Following Brexit, Scotland will be at the whim of Westminster as to how any such future funding is allocated.
What we require are guarantees that this vital funding will be replaced and that it is additional to, not replacing money in the current Scottish Government budget.
Alex Orr.
77/2 Leamington Terrace,
Edinburgh.
SNP already has mandate
Sir, – Martin Redfern expresses a common unionist trope that the Scottish Government somehow lacks a mandate for a second independence referendum (May 24).
The SNP won the 2016 Scottish elections with 47% of the vote on a manifesto which clearly stated that Holyrood should have the right to call a constitutional plebiscite "if there is a significant and material change in circumstances, such as Scotland being taken out of the EU against its will".
Scotland is duly being taken out of the EU against its will and, ergo, a 54% majority of the Scottish Parliament has supported a second vote.
But this is not enough for Mr Redfern. Theresa May apparently has a mandate to block said referendum, and presumably to implement the entire Tory platform, despite the fact that her party won just 15% in the 2015 general election in Scotland and 37% UK-wide.
Only when unionists are counting do 15 and 37 become bigger than 47 and 54.
David Kelly.
17 Highfields,
Dunblane.
June 8 not about independence
Sir, – Your correspondent Martin Redfern must be a wealthy man. He not only knows what all folk living in Scotland want, he knows how we will vote in the future.
I would like to point out this general election vote is irrelevant regarding another independence referendum.
That mandate was given in the 2015 elections and passed by the Scottish Parliament.
The Tories received a mandate for the EU referendum on 37% of the vote. The SNP achieved 47%.
If the SNP vote does go down, that could be due to many factors such as SNP voters switching to Jeremy Corbyn to help keep the Tories out, however, starting from 40% will be better than starting from 28% like the last time.
Independence is a lot bigger than a political party. Many support independence but not the SNP.
Rodric Selbie.
45 Silver Birch Drive,
Dundee.
Conundrum for nationalists
Sir, – It is clear that Nicola Sturgeon is trying to recalibrate the SNP message on independence for the purposes of winning as many votes as possible.
But Scotland has got very used to this SNP tactic of playing down independence when trying to secure votes only to return to it being the main priority once the election result is in.
The First Minister's preference to focus on Brexit during the general election might not make things much easier for her.
Most have realised by now that SNP talk of staying in the single market is purely political posturing, given all the key figures in the EU have made clear that a separate special deal for Scotland while it is still part of the UK is not going to be agreed to.
Rather, Scotland would need to leave the UK first, and then apply to join the EU.
The conundrum for the SNP is that there is a glaring flaw in seeking to leave the UK to become more independent, only then to seek to join the EU, and its ever-closer union project, again at a likely high cost as membership would be on the EU's terms. Surely, such a stance simply defies logic?
Keith Howell.
White Moss,
West Linton.
Common sense overlooked
Sir, – The informative article concerning North Esk salmon dying of the fungal infection saprolegnia is no surprise.
This used to occur downstream of Morphie Dyke.
Pitlochry dam on the Tummel and Cargill's Leap on the Ericht are other areas that have a history of spring salmon kills when low water and high pressure coincide with high fish density.
The Scottish Government mandatory catch-and-release policy for spring salmon has made the problem much worse by insisting that all springers, up until March 3, must be returned.
Salmon that have been hooked, played (stressed), damaged, then photographed prior to release are very susceptible to fungal infection and a slow death. Common sense dictates that badly damaged fish should be dispatched while lightly hooked fish may be safely returned.
This usually happened when we had a voluntary code of conduct recommended by fishery boards.
Once again, science has overwhelmed common sense.
Michael C Smith.
Threapmuir Farm,
Cleish,
Kinross.
Halt handouts for green energy
Sir, – The energy policy of the Scottish Government is not fit for purpose.
According to research by the Renewable Energy Foundation, "constraint payments" of £69 million were made by the National Grid to Scottish wind farm operators in 2016 and in total £277m since 2010.
A "constraint payment" is money paid to wind farms to switch off when there is too much electricity being produced.
These payments do not come out of the National Grid's pocket but are added to domestic and business energy bills.
Scotland will soon be the most crowded country in the world for wind turbines with 2,683 turbines and another 282 under construction and a further 2,202 with planning consent.
Building even more wind turbines will mean even more "constraint payments" and escalating energy bills.
This is another reason to halt the march of these heavily-subsidised, unreliable monstrosities.
Clark Cross.
138 Springfield Road,
Linlithgow.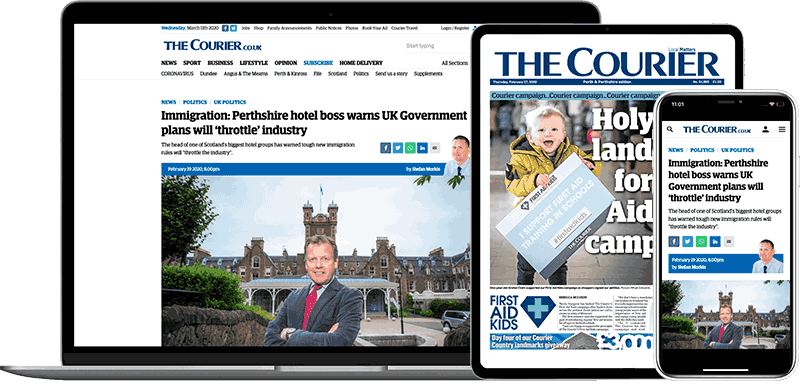 Help support quality local journalism … become a digital subscriber to The Courier
For as little as £5.99 a month you can access all of our content, including Premium articles.
Subscribe