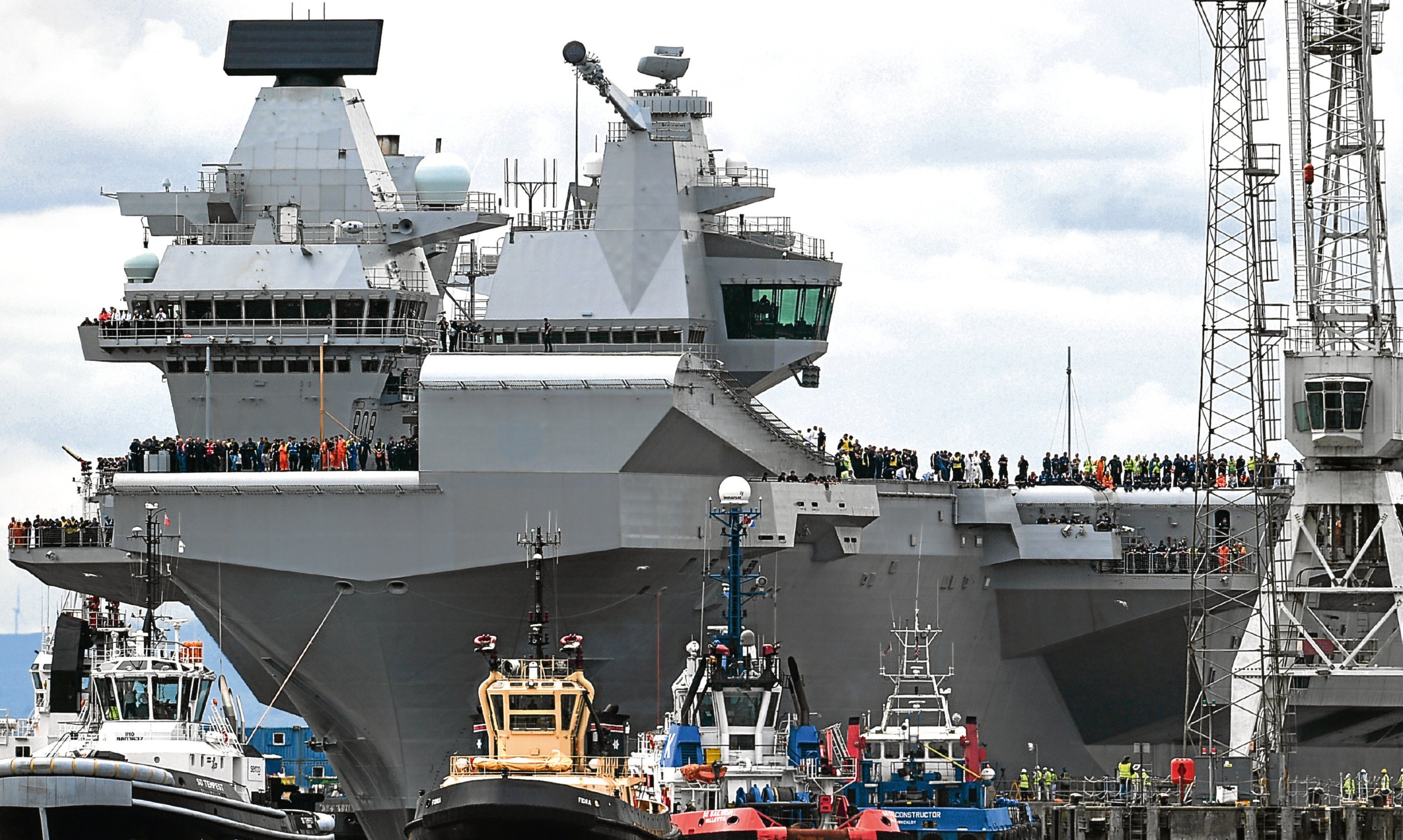 Sir, – Some readers are scraping the barrel for reasons why Scotland should continue to be ruled by a disastrous Westminster Government.
Peter Stewart (July 19) suggests that an independent Scotland cannot defend itself against a major attack. He is right of course, but then neither can the UK.
In any major conflict, countries join together with others to defeat a common enemy; this is what Nato and other alliances are for.
The implication that the English or the Scots would stand by and watch while the other was invaded by a foreign power is frankly ridiculous.
The simple fact is that Scotland would be better defended as an independent country because we would spend the defence budget (which we already pay for in taxes) on defence.
Contrast this with Westminster who frequently use the "defence" budget to kill people in foreign countries.
Andrew Collins.
Ladyburn House,
Skinners Steps,
Cupar.
Wide ranging implications
Sir, – I wonder if people will grasp the implications of your report, Life Without Gender?
These range from the relatively trivial such as announcers on the London tube no longer being allowed to say ladies and gentlemen.
Then we have the incredibly dangerous such as a 40-year-old man who identifies as a girl to shower with girls.
As your report indicates, the no gender, transgender, non-binary bandwagon is the latest one our government is going to jump on now that same-sex marriage is in the bag.
Apparently in this new genderless world, babies are no longer born male and female. They are born and then assigned a gender. This is a gender you are free to choose and change as you please.
If we remove gender then that is all gender specific sport removed.
The Scottish Governments gender quotas are dead in the water before they even begin.
If I feel I am being denied a job because of my gender then all I need to do is walk into my local post office, fill out a form, identify as another gender, and Bob's your uncle, or auntie.
It is little wonder that some of the main opponents of the genderless fad are feminists such as Germaine Greer.
But the people of Dundee should be very aware of what happens when this unscientific, illogical political fad takes hold.
Do we really want our children to be taught that they are genderless?
This is happening now and if councillors like Gregor Murray get their way, they will be imposing their harmful ideology on all our children.
I am told a child in Dundee came home upset that her teacher had told her she could choose to be a boy or a girl.
That is a terrible burden to lay on a child, as well as being complete nonsense. Yes there are people who suffer from gender dysphoria and need help dealing with gender identity issues – but don't try to turn all of society into genderless just to accommodate the handful who need help not affirmation.
David Robertson.
St Peter's Free Church,
4 St Peter Street,
Dundee.
Poor let down by London
Sir, – Helen Brown's column on July 21 made pleasant reading, especially her tribute to people like the late Jo Cox MP who do or try to do a decent job for us all as well as themselves.
Also appreciated was her advice to former Prime Minister Tony Blair to keep his mouth shut.
However, turn the page to the letters section and you have Derek Farmer, prompted by the publication of the salary list of the BBC's highest earners, complaining that people in the public sector misuse public funds through lack of proper control.
This is the same person who has regularly denigrated the unfortunates in our society who rely on support from the benefit system while conveniently overlooking the fact that as a recipient of farming subsidies he too benefits financially from government funds.
Close by there was another tirade from Martin Redfern accusing the Scottish Government of double standards because Holyrood used the UK Government's financial bribe to the DUP for political reasons to ask for more cash.
He states that in its pursuit of independence, the Scottish Government has failed to recognise that the powerhouse economy of London and the south-east of England provides benefits to us all.
He may well feel comforted by this notion but I don't hear any applause coming from the queues at the foodbanks.
Allan A MacDougall.
37 Forth Park,
Bridge of Allan.
In praise of young people
Sir, – My late and much-missed daughter Christine passed away suddenly five years come Christmas and it would have been her 50th birthday last Monday.
Her aunt in Blair- gowrie, also Christine, left some of her favourite flowers at the monument at Coupar Angus Cross that day, with a short message.
I collected the flowers on Friday July 21, and passed them to Margaret Mallis at the Corner Shop in Coupar Angus to enjoy, after she had alerted me to them being there.
A huge pat on the back to the young people of Coupar Angus for leaving that little tribute, untouched and thriving for the week.
Ray Hepburn.
4 Davidson Crescent,
Coupar Angus.
A blinkered view of world
Sir, – In advance of his return to centre stage, albeit on the Edinburgh Fringe rather than on the benches of the House of Commons, Alex Salmond reveals more about the SNP approach to a second referendum than he might have intended, as he claims the referendum will come right as Brexit goes wrong.
Back in 2014, the people of Scotland were unconvinced by the proposition Mr Salmond and his team put together.
Subsequently, much of that prospectus was widely discredited, as much of it was built on assertion and wishful thinking.
In the intervening years, the current First Minister has had various experts trying to come up with a more credible Scotland's future two, but nothing they have come up with has been judged ready for public scrutiny.
Instead, the case for Scotland's permanent separation from the UK is apparently largely dependent on the UK Government making a hash of Brexit negotiations.
Yet even if the Brexit outcome is at the more negative end of the spectrum, would the case for Scotland going it alone, quite possibly ending up outside both the UK and the EU, really be strengthened?
Or might the importance of the positive inter-dependence between Scotland and the rest of the UK become all the more important?
Mr Salmond's optimism that the SNP will get its way continues to rely on viewing the world with his own blinkers.
Keith Howell.
White Moss,
West Linton.