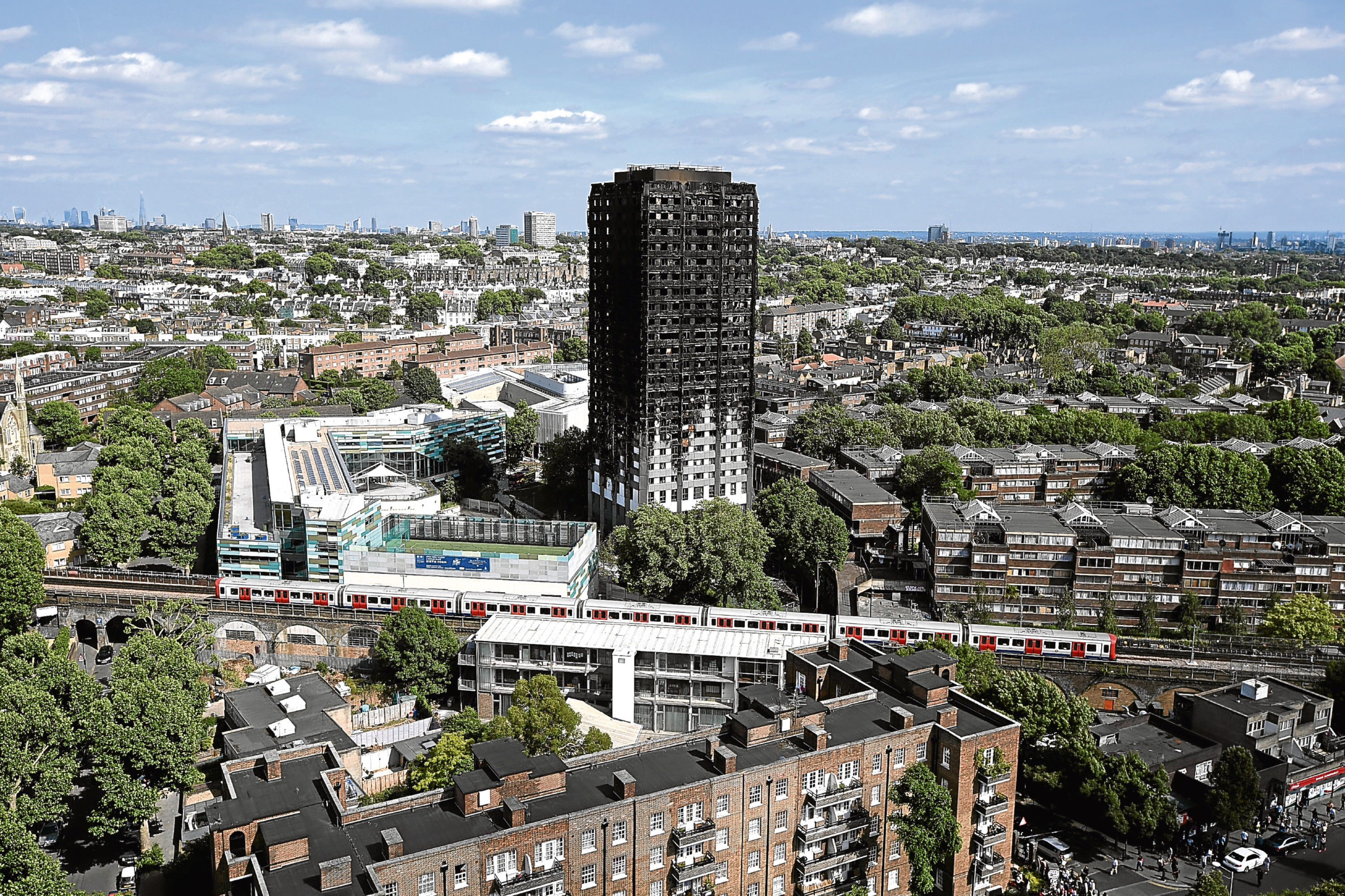 Sir, – Will it ever be possible to get the truth about what caused the Grenfell Tower disaster?
The case for a public inquiry chaired by an experienced judge is that it should allow all the facts to be explored and to make recommendations for the future.
I doubt, though, that the sort of emotive language used by nearby residents' leader Samia Badani is likely to help us find out exactly what happened (August 8).
She seems to have already concluded that there has been "systematic contempt, neglect and discrimination" against low-paid people and migrant communities.
She should really allow that charge to be tested in the public inquiry forum.
Certainly the Notting Dale area where the disaster occurred has been known for decades as one of the most deprived in London.
The tower is only about a kilometre from the scene of the notorious Rillington Place murders in the late 1940s/early 1950s.
Before redevelopment, the area was described as right at the centre of Steptoe and Son land after the popular television series of the 1960s.
Poverty and poor housing standards have existed there for more than a century.
Whether that in itself would cause the local authorities to be lax in the way they applied building regulations is for the inquiry to find out.
Nobody has anything to gain by jumping to conclusions more suited to the political arena rather than the judicial one.
Bob Taylor.
24 Shiel Court,
Glenrothes.
Myths around electric cars
Sir, – It didn't take long for the anti-electric car brigade to start voicing their opinions on the government's plans for banning ICE (internal combustion engines) in the future.
Apart from both letters being factually incorrect, the proposal will happen. Electricity is infinite in its availability, fossil fuels are finite.
As for the comments on 10 Hinkley power stations being needed, that is rubbish.
New technology is under development which will see smart charging where EVs charge automatically when grid demand is low.
And when their batteries are full, they will feed back into the grid when demand is high.
The range of EVs is not halved in cold months. It reduces slightly by some 10% at 0c but when ambient temperature is above 10c, there is little difference.
The only item that affects the range is the heater/AC system that on my car reduces range by three miles.
EVs are not scrapped if the battery fails. The battery can degrade over time if not managed correctly and can be replaced by your dealer.
There are minimum servicing costs and mechanical failures are far less due to fewer moving parts.
Finally, there has been no recent recorded incident of an EV battery bursting as quoted by one of your readers.
Charlie Burton.
3 Fowler Street,
Cellardyke.
Baby boxes pass safety standards
Sir, – In two of your letters (August 7) both contributors on the subject of the baby box appeared to lack understanding of the system and how it is being rolled out.
In one letter, the gentleman stated that in Finland, expectant mothers had to attend antenatal classes to be able to receive the baby box, but insinuated that in Scotland, expectant parents will just be handed the box.
And in the second letter, the lady seemed to think the same that all expectant parents are just sent the baby box without having a say in the matter.
Both of these contributors are wrong. I am currently pregnant myself and to be eligible for the baby box I had to attend my 20-week scan where I was given a form to fill out and take to my next antenatal appointment with my midwife as she has to also complete a section of the form.
It is my choice whether or not I fill this form out. If I don't want my child to receive a baby box then I simply ignore the form.
For years, expectant parents have raced to the nearest store to buy the sparkliest, most dazzling moses basket.
This is simply a posh name for a wicker basket. Therefore, I find it difficult to understand what is so scary and appalling about putting your child to sleep in a box, with a mattress, that has received British Safety Standard accreditation.
It really is a sad day when people begin to begrudge a policy designed to benefit babies, to tackle deprivation, improve health and support parents.
Councillor Julie Ford.
Ward 13,
Fife Council.
Scots cannot afford Scotland
Sir, – Many Scottish people are complaining about the expense of taking a holiday in their own country.
While there are a few bargains to be found on odd weekends, the cost of a week's break can be astronomical.
Last year my partner and I wanted to do a tour of the Scottish islands, but as we prepared our itinerary we were amazed as the prices for each place and ferries spiralled out of control.
We eventually went to Luxembourg for a week (dinner bed and breakfast and ferry to and from Amsterdam included) for £350 less than our original planned trip in Scotland.
Holidaying in Scotland is definitely for the tourists.
Eric Travers.
38 Gellatly Road,
Dunfermline.
Greens should break with SNP
Sir, – In an interview at the weekend, Green MSP Ross Greer said: "The reality is that the SNP's popularity is on the decline after a decade in government which has, since the referendum in particular, been deeply uninspiring…Those who see independence as a means towards a more socially, economically, and environmentally just Scotland are frustrated by a government which won't use the powers it has now to tackle poverty, inequality, and exploitation of the planet."
I am sure all the 63% of people who did not vote SNP on June 8 would agree with this view, which must have been developing long before March, when he and his five Green parliamentary colleagues voted to ram home a vote for a second referendum, labelling it "the voice of the Scottish Parliament".
So full marks for eventually speaking out Mr Greer, but what you need to do now is to convince your colleagues to stop riding on the SNP's coat-tails and save us all from this political, economic and social deep freeze by letting us elect some competent people who are interested in what is best for Scotland.
Allan Sutherland.
1 Willow Row,
Stonehaven.