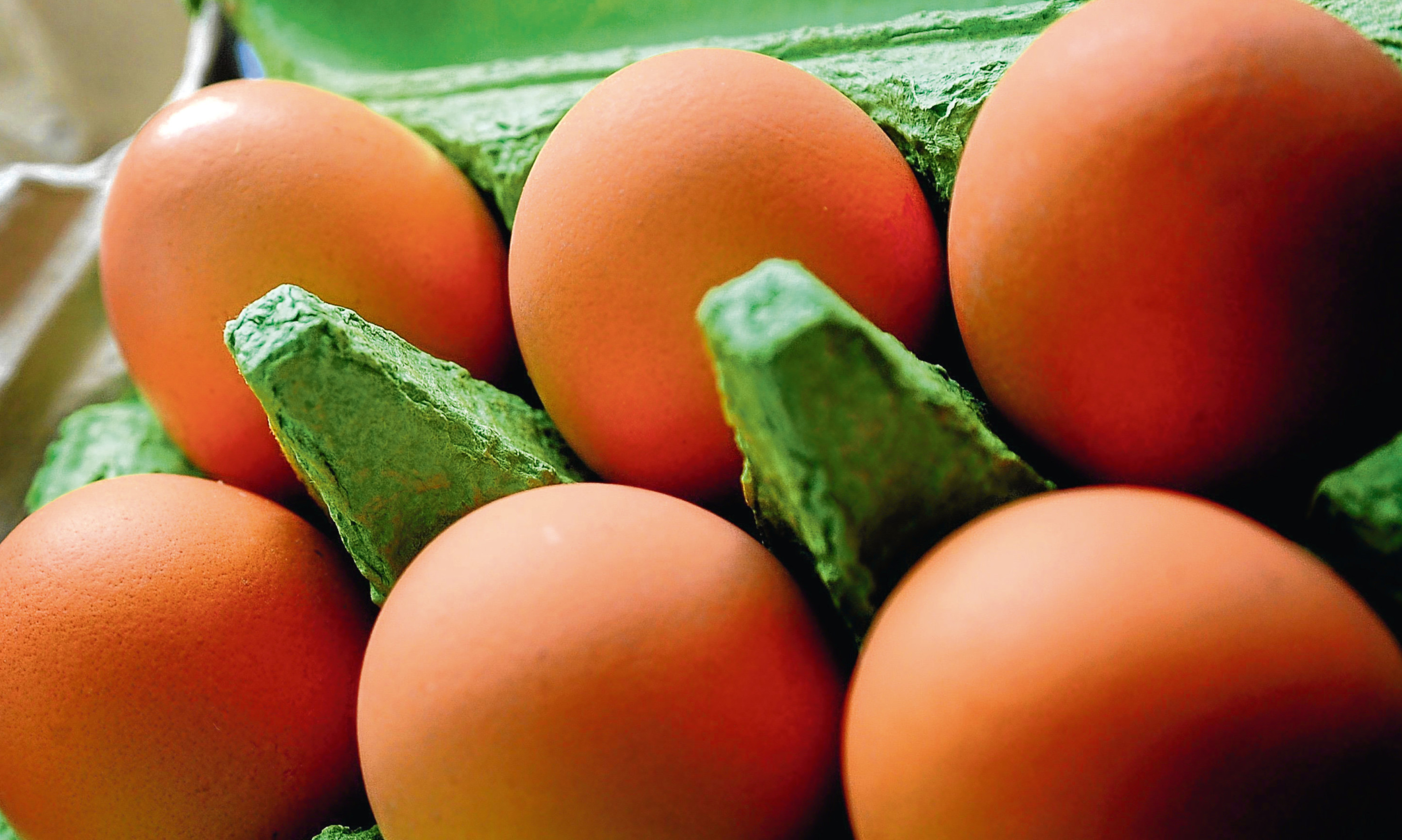 Sir, – The current health scare over imported eggs simply highlights the differences between EU and UK animal welfare standards.
Apparently, 150 egg producers in Europe are guilty of selling eggs contaminated with an insecticide commonly used to combat the problem of red mite, a blood-sucking parasite on poultry that is most prevalent in intensive battery-cage production of chickens.
Battery cage egg production continues to be widely used throughout Europe, which continues, therefore, to benefit from mass-production competitiveness compared to the UK domestic industry .
The UK poultry industry, in contrast, is the most heavily regulated sector of UK agriculture and receives no CAP subsidy from government.
Barren cages have been banned since 2012.
The moral of the story is simply that devotees of fried/scrambled/boiled eggs should take care to buy eggs produced in Scotland and, preferably, locally to their towns and cities.
British agriculture is a world leader in welfare and problem-free production of domesticated animals and birds; an important issue for our own health and welfare and ignored by those who seek to continue having us remain subservient to the Brussels bureaucrats and their "I know best" attitude to the regulation of the fundamentals of our food.
Derek Farmer.
Knightsward Farm,
Anstruther.
Continuity overlooked
Sir, – Dyed-in-the-wool nationalists are airing their republican sympathies online by demanding that Nicola Sturgeon should open the new Queensferry Crossing over the Forth.
That the Queen is head of state and that she will perform the Queensferry Crossing opening ceremony 53 years to the day since she opened the Forth Road Bridge count for little.
If you're a passionate separatist, your focus is division, as represented by the SNP and its leader, not continuity and heritage.
The majority in Scotland are more circumspect. Ms Sturgeon's personal popularity has nose-dived on the back of her UK break-up obsession combined with the SNP's lacklustre management of Scotland's public services.
Martin Redfern.
Woodcroft Road,
Edinburgh.
Satisfaction in Christ
Sir, – You kindly published my letter in which I recommended the following book, Satisfaction Guaranteed – A Future and a Hope for Same-sex attracted Christians by Jonathan Berry (with Rob Wood).
I deliberately chose not to include a lot of detail about the contents, in the hope that people might be curious and interested enough to actually read the book for themselves before making any assumptions.
However, having received my first-ever anonymous letter in the post (written by a Christian) I realise that I should perhaps have made it clear that Jonathan's book is most definitely not advocating or encouraging an active homosexual lifestyle for Christians.
The satisfaction in the book's title refers to that true, lasting satisfaction which can indeed only be found in a relationship with Jesus Christ.
I can only apologise, both to the unnamed person who wrote to me, and to any other readers who may have made the same assumption.
And I still absolutely recommend this book. I actually found reading it to be a very humbling experience.
Sheena Leszke.
23 Tayside Crescent,
Aberfeldy.
Real costs of immigration
Sir, – Ruth Davidson wants the Conservatives to lead a national debate on immigration.
There has been a national debate going on for several decades, and the consensus view, among all ethnic groups, is that immigration should be reduced.
We don't need the Tories to lead a debate. We need them to fulfil the will of the people, instead of the will of the liberal political/media elite.
The social costs of immigration are significant, for new immigrants and the existing population.
Immigrants are often happiest in areas dominated by those sharing their previous culture, but this slows integration. The more distinct large immigrant communities there are, the more potential immigrants will want to join them as the cultural barrier seems so low.
Multiculturalism accelerates immigration. This problem must be addressed by ensuring immigration into any community is not exceeded by the rate of assimilation.
The costs of migration to poor nations that lose most qualified workers must also be considered. Some African countries have begged Britain to stop taking their nurses. It is selfish to denude struggling nations of the staff that they have invested their resources in training.
Richard Lucas.
Scottish Family Party,
272 Bath Street,
Glasgow.
Tories should force election
Sir, – I read that Scottish Conservative leader Ruth Davidson is lobbying the UK Government on immigration.
Other than wondering why it is, with 140,000 unemployed people in Scotland chasing 70,000 job vacancies we need immigrants, I doubt that immigration should be the priority of the leader of the opposition party in the Scottish Parliament.
The Conservatives are not only the opposition, they are also the only party in Scotland not tarred with the brush of being in government and failing to deliver, in 18 years, real benefits from devolution.
Instead we have seen a decline in education, health, housing, commerce and industry, and social care, so I would hope that Ms Davidson would focus on developing a set of hard-nosed, sensible deliverable policies in these areas.
Armed with this, and her team's excellent performances in wearing down the lacklustre SNP front bench, she would be ready to force the election that Scotland badly needs, well before 2021.
All she needs is for the Greens to follow the lead of Ross Greer in admitting the incompetence and divisiveness of the SNP and be willing to bring down this disastrous SNP government.
Allan Sutherland.
1 Willow Row,
Stonehaven.
Return of ship's correct title
Sir, – With reference to my recent article about the War at Sea in 1917 (August Passchendaele supplement) may I request a correction. I am not the chairman of the Unicorn Preservation Society though I do claim to have one of the longest associations with HMS Unicorn, having been christened out of the ship's bell. I have acted, and continue to act, in many and varied capacities on Unicorn's behalf, but not as chairman.
May I add how pleased I was to see your recent Spotlight page refer to Unicorn by her proper title, HMS Unicorn.
She was launched as HMS Unicorn but became The Frigate Unicorn when she left the navy in 1968, as she was the first large RN ship to be privately preserved and there was no precedent for retaining HMS.
Since then, other preserved naval ships have retained their HMS and I coined the HM Frigate Unicorn style as an intermediate measure.
The return to the proper HMS Unicorn was decided five years ago and readers may have noted that I always use it. It is good to see it now taking wider effect.
Roderick Stewart.
Dronley House,
By Dundee.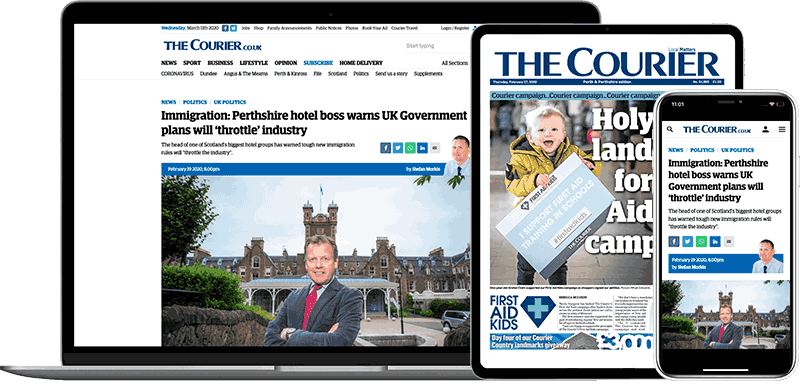 Help support quality local journalism … become a digital subscriber to The Courier
For as little as £5.99 a month you can access all of our content, including Premium articles.
Subscribe