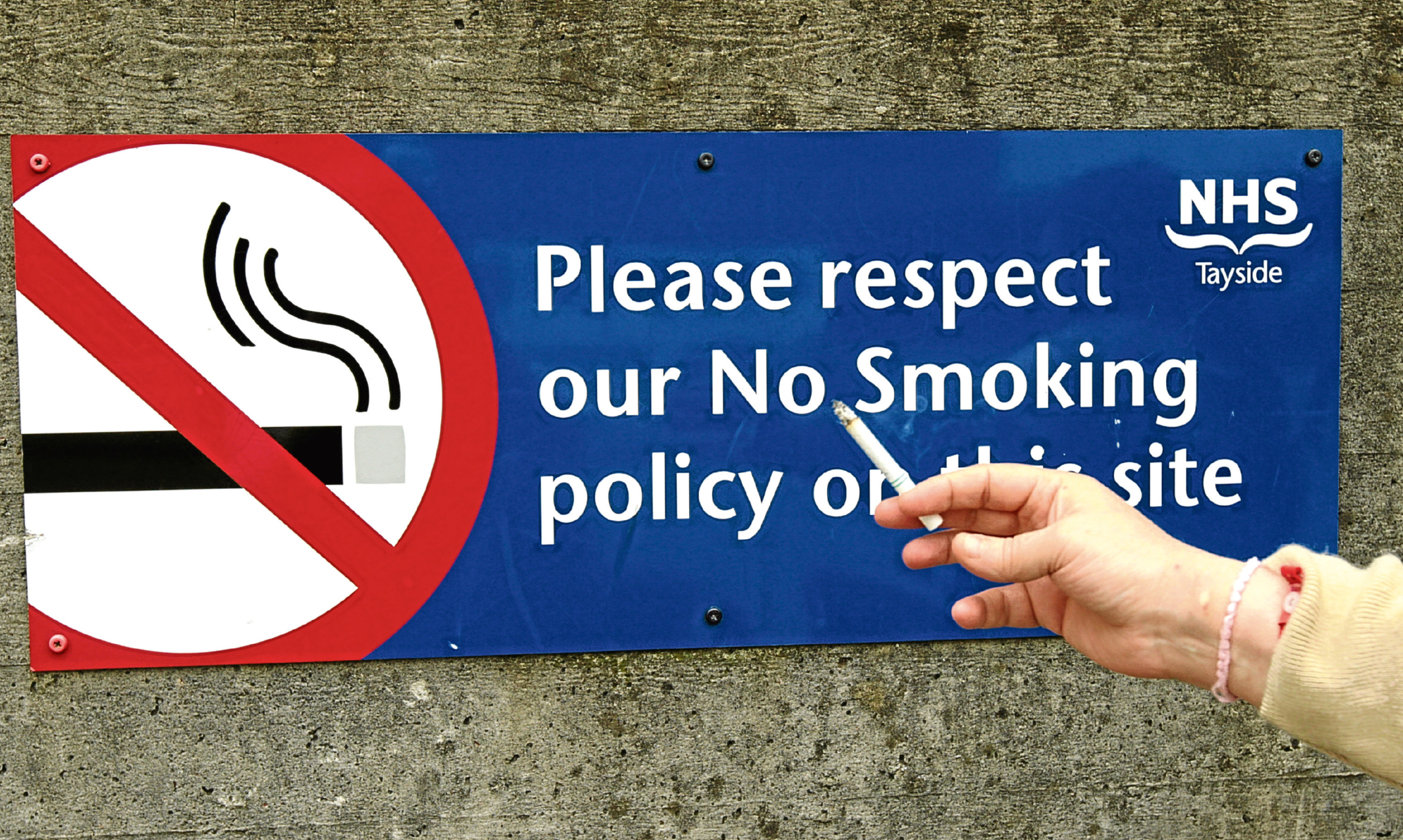 Sir, – A few weeks ago my wife and I had the pleasure of having a baby boy in Ninewells Hospital, Dundee.
Unfortunately he contracted an infection and had to stay in for a week.
I would like to thank all the staff in the neonatal department for their excellent work looking after both my wife and my son and helping him have a speedy recovery.
The doctors and nurses were all very professional and a credit to the hospital.
Conversely, I would also like to voice my absolute disgust at the dozens of people everyday who flouted the no-smoking rules on the hospital grounds.
When given the chance to take my newborn son out for some fresh air, I found this incredibly hard to come by as every exit and even the gardens at the main door near the car park were littered with smokers filling the air with their poisonous reek.
They completely ignored all the signs and pre-recorded messages.
I think they are being very selfish when they smoke in these areas.
Hospitals are a place where people go to get well not to get choked in second hand smoke, unpleasant for an adult, and criminal for a baby.
Peter Hughes.
15 Balmossie Road,
Broughty Ferry.
Raise not close attainment gap
Sir, – One cannot help but suspect political motivation behind moves to hit independent schools financially with proposed changes to business rates.
The SNP's central education target, unquestioned by all other Holyrood parties, is to "close the attainment gap."
This would entail pupils from the wealthiest families performing at an identical level to those from the least well-off backgrounds.
On this view, costly independent schools that provide excellent education clearly contribute to the "attainment gap," and are, therefore, part of the problem.
The whole "attainment gap" philosophy is founded on the false assumption that all children are equally capable of academic progress, or that academic ability is evenly distributed across social classes, and that divergences of outcome must therefore be caused by structural injustices in society.
Our education system should provide the opportunity to excel for all pupils, focusing additional attention on those facing particular difficulties.
The goal should be raising attainment for all, not "closing the attainment gap".
To quote from our policies: "Independent schools should enjoy charitable status automatically, as educating children to a high standard is a good to society."
Richard Lucas.
Scottish Family Party,
272 Bath Street,
Glasgow.
SNP is not a nationalist party
Sir, – Everyone's favourite unionist/loyalist /British nationalist, Jenny Hjul, once again gets on her favourite hobby horse of nat- bashing (August 23).
Let us all be clear. The SNP is not a nationalist party but rather a normalist party.
They want no more and no less than all those other small, democratic, nations that populate the world.
Such is her repeated venom against the SNP and their aims, it makes me wonder what Ms Hjul thinks of nations like New Zealand, Ireland and Australia who have already achieved what Scotland strives for.
I wonder is she believes them to be as deluded and xenophobic as she believes the SNP to be and does she write newspaper columns in those countries and ascribe those traits to their political parties and thus, by extension, their readers also?
Henry Malcolm.
331 Clepington Road,
Dundee.
Two-way trips not possible
Sir, – In reply to Ron and Gill Martin, Taymara would love to provide a two-way boat service between Dundee and Perth and back as part of the exciting new initiative we have undertaken in partnership with Perth and Kinross Council.
Unfortunately, we are only able to run our vessel Missel Thrush the one way, from Dundee to Perth.
This is because a return Perth to Dundee passage would have to disembark passengers at Broughty Ferry before returning to Missel Thrush's berth at Tayport.
The state of the tides would not permit us to complete such an extended operation in safety.
Perth has relatively deep water facilities in the form of the Willowgate Pontoon and the harbour itself, thus permitting a much wider window of operations.
The charity (and partners) will continue its efforts to explore innovative ideas in the pursuit of a comprehensive service on our beautiful river.
In the meantime, and until, and if, a suitable harbour is developed for the embarkation of passengers at the Dundee or north-east Fife end, I am afraid that the options will be severely limited.
David Klett.
Development officer,
Tay Maritime Action.
Our pensions must be funded
Sir, – Alex Orr (August 22) thinks immigration is the answer to paying the pensions of an ageing Scottish population.
Like most socialists, Mr Orr fails to grasp the idea of creating an invested fund geared to provide for the future retirement of the population, preferring instead to pay for pensions from current tax revenue, which would suggest a need for immigrants.
But those immigrants must be productive and pay tax right from the start.
That does not happen of course, and many become dependents from day one.
Then those immigrants retire, and by Mr Orr's thinking, more are needed to pay for their pensions, and so on. The mathematical conclusion to this process is that the population of the world ends up living in Scotland.
Properly controlled immigration may well have some advantages for a sparsely populated country such as Scotland, but it has no bearing on our ability to pay pensions, which can only be done by sound fiscal management.
Malcolm Parkin.
Gamekeepers Road,
Kinnesswood.
Was Jesus wrong as well?
Sir, – Rev Dr John Cameron, in his second letter promoting abortion (August 23, following on from the one of August 14) adds the Pentecostalists to his previous list of "religious extremists" – the others being Muslims, Catholics and the Free Church.
What is slightly puzzling is why he left out the church of which he is a minister, the Church of Scotland.
After all, their official position is also against abortion.
The General Assembly of the Church of Scotland declared that: "The foetus is, from the beginning, an independent human being" and therefore it can be threatened "only in the case of threat to maternal life, and that after the exhaustion of all alternatives".
It is difficult enough to understand why a minister would be a member of a church and deliberately contradict its teachings.
But it is even more puzzling to grasp how as a professed follower of Jesus Christ, Dr Cameron does not want to protect the weakest and most vulnerable of human beings: the child in the womb.
Or does he think that not only has his own church got it wrong, but that Jesus got it wrong as well?
David Robertson.
St Peter's Free Church,
4 St Peter Street,
Dundee.