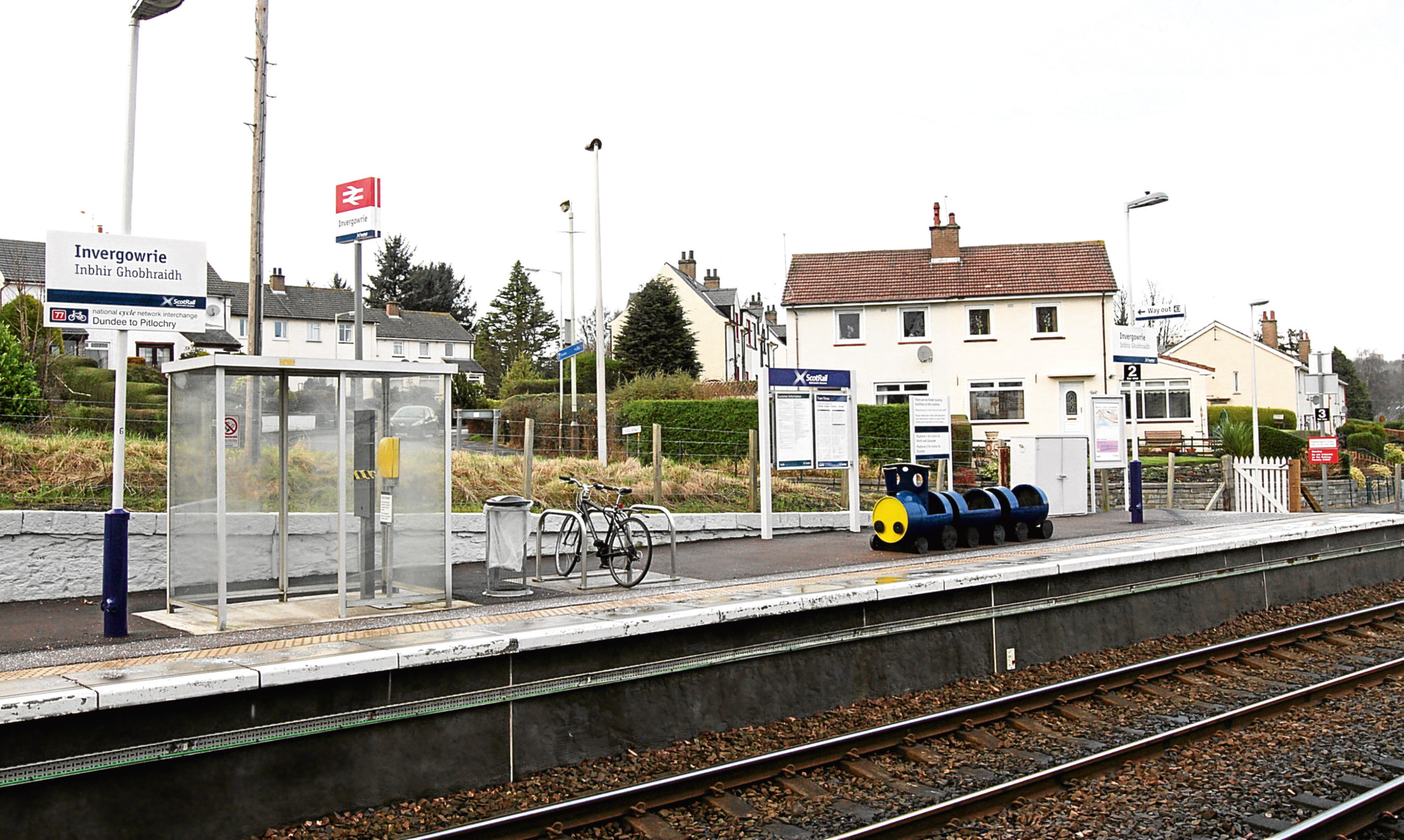 Sir, – I refer to Dundee City Council's plan for the relocation of Invergowrie station with provision of a park and ride at Dundee West (Riverside).
I suggest these plans be reconsidered due to changed circumstances since originally put forward in 2009/2010.
These include: soon-to-be-introduced driverless technology; the redevelopment of Dundee central railway station; a ban on the sale on petrol/diesel cars and vans from 2032 onwards in Scotland and 2040 in the rest of the UK.
It is questionable whether park and ride will be required if low-cost driverless taxi services will be available, and if private cars can be sent home driverless from the railway station.
Plans requiring capital expenditures for a new station (Dundee West) and the replacement of parkland by some acres of park and ride tarmac that might become a white elephant should be reconsidered.
Dundee's central railway station (redeveloped at a cost of £28 million) together with a low-cost driverless taxi service can deliver most of the identified requirement.
Improved road access to Invergowrie station together with a low-cost driverless taxi service could deliver the rest.
It is not necessary to close Invergowrie and build a new station 1.5km from it.
We should wait for an understanding of how this new era of driverless electric road transportation will develop before committing to new capital expenditure on railway stations.
Hugh Levins.
596 Perth Road,
Dundee.
Give SNP credit for new bridge
Sir, – The people of Scotland are rightly proud at the engineering marvel that is the new Queensferry Crossing, but amid all the back slapping and congratulatory tones, let us not forget who is ultimately responsible for its construction.
It was not the Labour/LibDem coalition. These parties did not lift a finger for eight years, and instead, allowed the issue to be kicked into the long grass.
The SNP are not perfect, not by a long shot, but we should be grateful that they put their foot down and gave the go ahead for this badly-needed piece of infrastructure to be built.
RMF Brown.
Hill Terrace
Markinch.
Make time for tapestry
Sir, – As a voluntary steward at the Great Tapestry of Scotland on display at Verdant Works, Dundee, for another six weeks, I would beg the public to go along and see this masterpiece.
Many people may think they have seen it before, but the 80-plus panels on show are almost all new and the display is really fantastic.
This tapestry tells the story of Scotland from its beginnings, with its fascinating history, contains information on Scots who excelled in so many fields and the great entertainers. There are panels on Dundee's history, and so much more.
There is much to see and read, but the ticket required for entry allows as many visits as you want for one year.
Please put a visit at the top of your list of things to do.
Norma Duncan.
2a Well Street,
Monifieth.
Littering is unacceptable
Sir, – Residents of Perth Road and other streets near Harris Academy, Dundee, have complained to the school about their pupils' daily littering of Perth Road and vicinity.
The school is obviously not tackling the littering problem as our neighbourhood continues to be strewn with litter every school lunchtime by these inconsiderate pupils.
To make matters worse, these uncouth youngsters are not concerned at all that their rubbish has to be regularly picked up by the council cleaners who follow in their wake as they head back to class.
These pupils should be fined every time they throw rubbish onto the streets and the funds used for a luxury holiday for these council employees who daily keep our streets clean only to have these young people throw rubbish about and dirty them the very next day.
What a thankless job. The council should not encourage this kind of disrespectful attitude of young people towards their seniors.
Jean Bryce.
7 Rockfield Street,
Dundee.
Give Scotland fiscal control
Sir, – I am often left bewildered at some of your correspondents' letters, the latest being Martin Redfern claiming the Government Expenditure and Revenue Scotland figures show staying in the UK makes common sense.
GERS show us how well Scotland does in the United Kingdom under Westminster control. Surely if Scotland is doing badly with Westminster running our economy, it makes common sense to rid our self of Westminster.
Wanting more of the same makes no sense to me.
Does Mr Redfern not want Scotland to have full control over income tax, VAT, national insurance contributions, North Sea oil and gas revenue, corporation tax, fuel duties, capital gains tax, inheritance tax, tobacco duties, interest and dividends and alcohol duties?
There are other taxes and royalties including vehicle excise duty and export duties.
Westminster controls many other taxes in addition.
Is Scotland the only country on the planet that is judged on our economic performance yet we have little control of the levers required to improve our position?
Rod Selbie.
45 Silver Birch Drive,
Dundee.
Britain can still stay in EU
Sir, – I trust that Prime Theresa May and the few adults in her Brexit team will take seriously the observation by Martin Selmayr, chief of staff to the European Commission President Jean-Claude Juncker, that it is still "legally" possible for the United Kingdom to reverse its decision to leave the European Union.
A fearsomely intelligent lawyer and diplomat, Selmayr comes from a distinguished Bavarian family which has produced generations of high-ranking administrators and army officers.
He is a graduate of both the University of Geneva, and King's College London with a PhD in law.
He has repeatedly warned that there were few economic positives to Britain leaving the European Union and the impact would range from "pretty bad to very, very bad".
While the only people who can reverse it are the British, he said the EU should be careful not to slam shut any doors.
Rev Dr John Cameron.
10 Howard Place,
St Andrews.