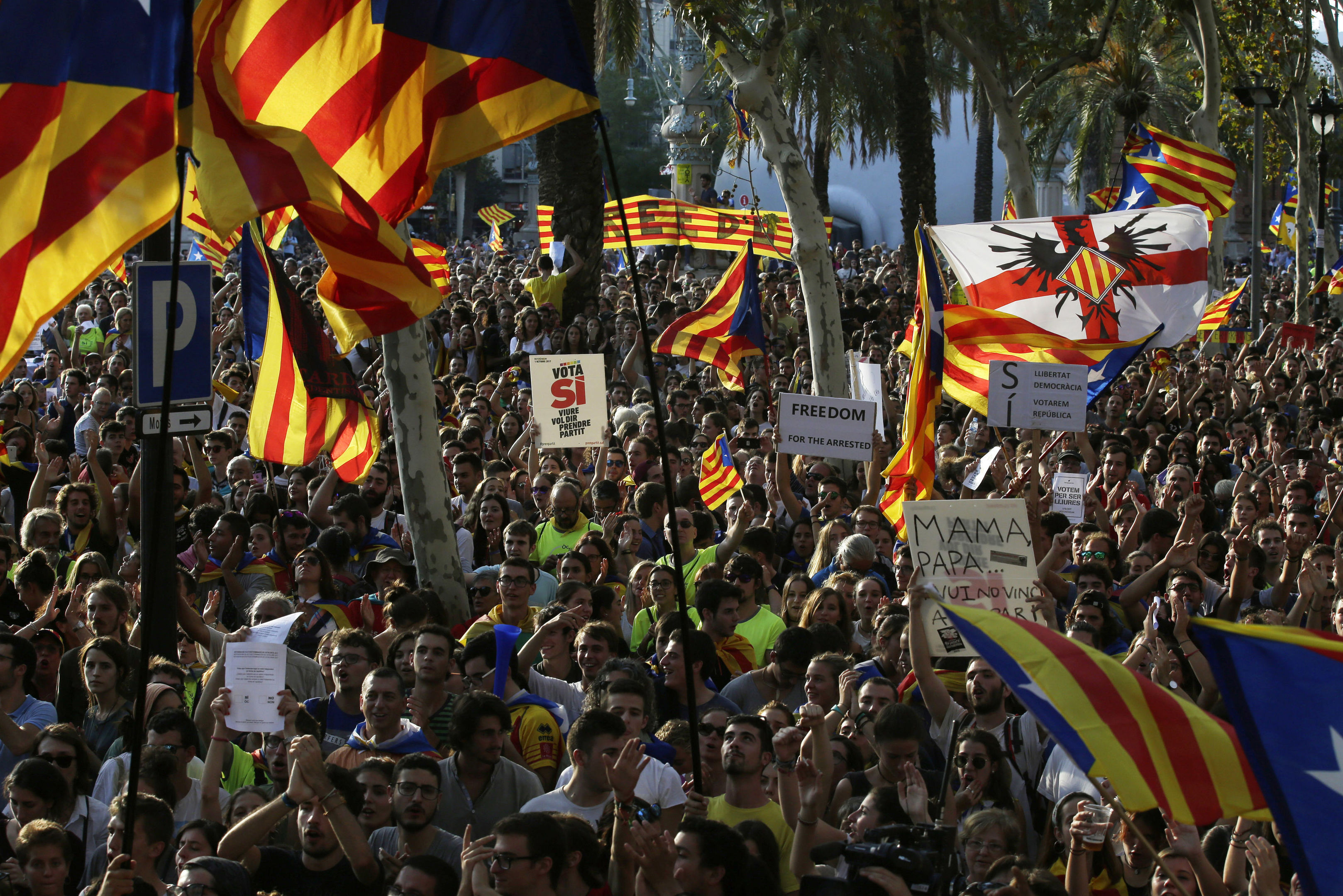 Sir, – The pictures on our TV screens and in our newspapers of what is happening in Catalonia in the run up to its independence ballot is deeply disturbing for all those who believe in democracy.
European values, civil rights, freedom of speech, freedom of information and freedom of assembly are being violated by the Spanish government, which has sent the police to search newspapers, printing companies and private mail services; ban political meetings; seize referendum material; and threaten to imprison democratically elected politicians.
Despite more than 70 per cent of Catalans supporting the holding of a referendum, Catalan home rule has effectively been suspended by the Spanish government.
It's a situation that harks back to the dark past of Spain and is not taking place in some tin-pot dictatorship, but within the European Union.
This issue is now not just solely about independence, it is about fundamental civil rights and the universal right of self-determination.
Instead of engaging in discourse, the Spanish Government has opted for police and judges, taking it beyond the limits of a respectable democracy and thereby violating the European Charter of Fundamental Rights.
The EU itself is built on these values and is committed to guarantee the rights proclaimed in the charter and in the EU treaties.
As an EU member state, Spain should respect that.
If not, it is the European Commission's duty to intervene.
The international community must stand with Catalonia in its defence of democracy and true European values.
Alex Orr.
Leamington Terrace,
Edinburgh.
App will have dubious worth
Sir, – I read with great interest the article (dated September 21) about the new tourism app being trialled in Highland Perthshire.
I am always keen to promote local business and crafts as some are in hard to access and remote areas.
This new initiative is being backed by Keith Brown, cabinet secretary for the economy, jobs and fair work.
The article indicates the A9 dualling will be a benefit to those businesses listed within the app, some of which are more than 20 miles away.
Sorry, but I don't see the connection.
Who is funding this and what has this to do with the dualling of the A9?
Is this a tactic to deviate from the up and coming issues that will affect the local communities being severely affected by the A9 dualling programme?
Local businesses and local communities will be severely affected by the loss of land, noise, pollution, vibration, loss of historical sites and some of the most beautiful countryside.
It is about time we got the support we urgently require.
Transport Scotland, the Scottish Government and Keith Brown are not supporting the local communities directly involved.
It is about time they concentrated on the real job in hand, making sure all areas are fairly and honestly investigated in order to support all concerned, while building a road to be proud off.
Brenda Bissett.
Reviresco,
Dowally.
New crossing a white elephant
Sir, – Could it possibly be that the shiny new Queensferry Crossing represents the most expensive white elephant ever produced by man?
Recently I travelled from London Heathrow to Edinburgh with a total flying time of 55 minutes.
The time taken from entry into the access roads to the crossing and to the road exit, meanwhile, involved a driving time of some 70 minutes.
A Bullions.
Leven,
Fife.
Journalist's death is horrific
Sir, – I am appalled by the death of journalist Paul McClean in Sri Lanka.
There is great danger of attacks by man-eating saltwater crocodiles on the island.
Warning signs should be posted everywhere.
The Indo-Pacific crocodile is the largest of all living reptiles and the most dangerous extant crocodilian to humans.
It is usually to be found in the coastal region including areas of mangroves, marshes and swamps.
But they can also travel far up rivers and visitors should be aware that the Department of Wildlife Conservation has released large saltwater crocodiles from zoos into the Bundala and Yala National Parks.
Rev Dr John Cameron.
10 Howard Place,
St Andrews.
Time for change of government
Sir, – The fact that the SNP has lost around 500,00 votes since the referendum and is now propped up in government by six Green MSP's who between them got 13,172 first preference votes in the last Holyrood elections suggests that independence is not imminent.
In other words, one could fairly conclude that they have been found out.
Add to this their vapid stewardship over a decline in Scotland's social, education and economic health and you could be excused for thinking that, after 10 years and with four still to go, it is time for a change of government.
However, the obstacles to this are great.
There would have to be a vote of no confidence and available alternatives ready to take over.
The first could be achieved if the Greens accepted the moral unfairness of their position as kingmakers with hardly any popular support, and if other parties followed the Tories in beginning to develop policies to wrench this country back to reality and prosperity.
All I see is Labour in disarray and some of their number cuddling up to nationalists, possibly eyeing some coalition to see them both through to 2021.
It is an extremely disappointing situation.
Scotland needs and deserves better than this.
Allan Sutherland.
1 Willow Row,
Stonehaven.