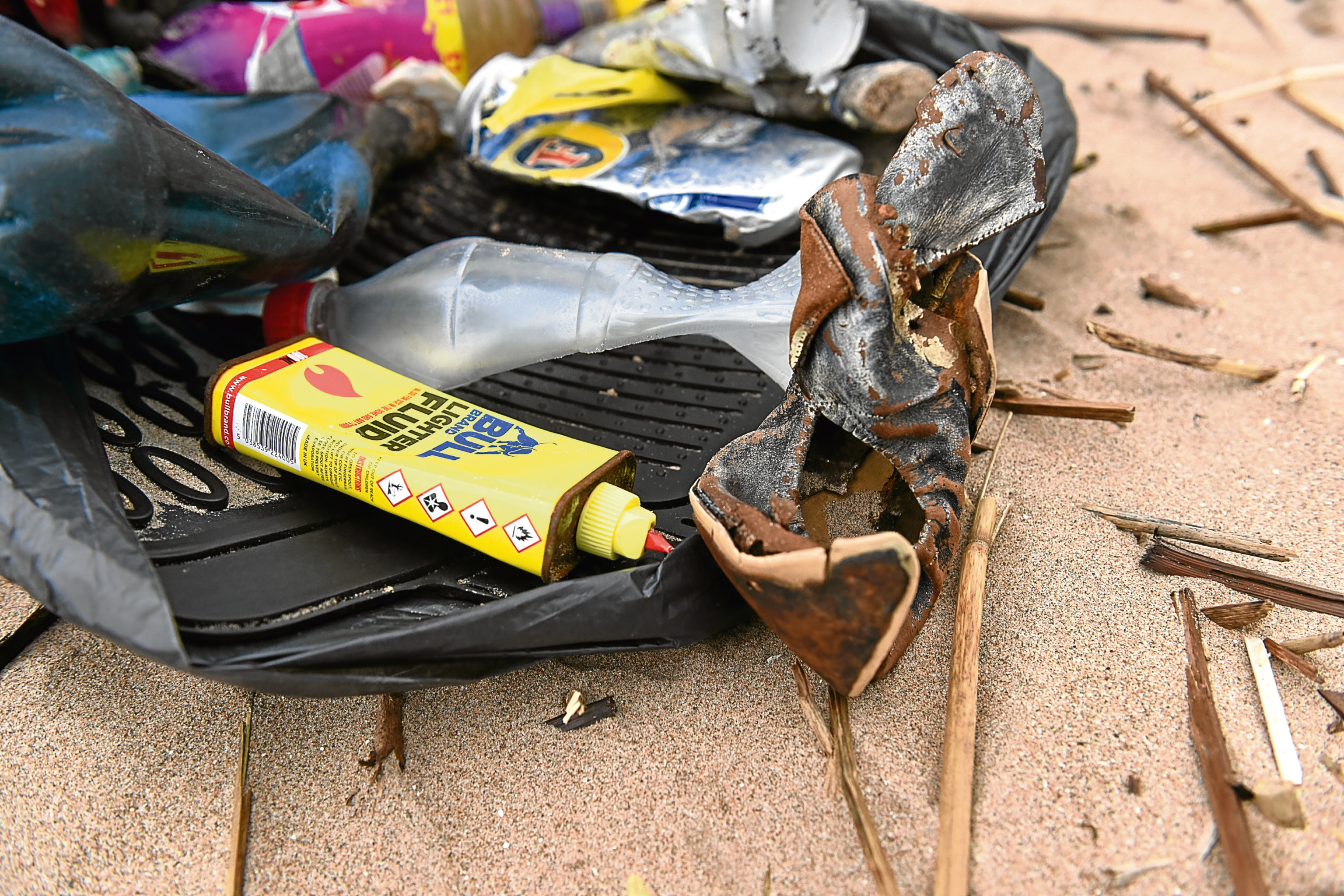 Sir, – Recently I listened to a report on Radio Scotland about litter cleaning on Crammond Beach.
Congratulations to the people who took part but I would like to make a point or two.
Firstly, an annual clear-up is grossly inadequate given the dirty, lazy habits of a significant proportion of our population which treats the environment as an extension of the cowp.
Instead of sacking litter pickers, councils should be employing many more of them.
Yes, taxes will have to go up, so the authorities need to have the guts to put them up.
The inequalities in our society are a disgrace, with far too many people having much too much while many struggle to get by.
Another point – why don't we bring in a Litter Tax on all fast food outlets?
When I pick up litter, not once a year but regularly, I more often than not find the same packaging.
If we taxed the companies whose litter is most frequently found then the money could be spent on litter picking.
A far greater effort needs to be put into educating and chastising litter droppers.
Offenders should be fined, preferably heavily.
Finally, why are ordinary people so reluctant to pick up litter?
I do it all the time but 99% of people turn a blind eye and walk past.
It is good to walk more and bend down – look how obese and unfit so many people have become.
Jack Greenway.
98 The Esplanade,
Broughty Ferry.
Consultation concerns
Sir, – Anger about consultations on health provision in Angus (letters, September 25)will have struck a chord with many readers who have sought to be, as the Curriculum for Excellence puts it, 'responsible citizens' and 'effective contributors'.
Consultations, whether by the NHS, the Scottish Government or councils, have often proved to be no more than sops for public engagement in decisions which have already been made, or are inevitable.
Such fake consultation exercises are irresistible for politicians needing to dodge responsibility for 'difficult' decisions.
The latest last week in Fife came courtesy of the announcement by the convener of Cowdenbeath Area Committee Councillor Linda Erskine that negotiations to give St Andrews University a 40-year lease at Lochore Meadows Country Park were on hold 'until we hear the findings of a public consultation exercise'.
The 'exercise' was a very thin and poorly attended presentation at Benarty Centre on August 22, run by St Andrews University – hardly a neutral party in a deal which appears to observers to be done and dusted.
The key question of who decides on whether St Andrews gets an exclusive 40-year lease on a chunk of the loch – Fife Council officers via delegated authority or elected members of Fife Council in full and open consultation with the communities they represent – was left unanswered.
Linda Holt.
Dreel House,
Pittenweem.
Counting cost of scientific error
Sir, – The Met Office have confirmed that the 'slowdown' in global warming is over.
The analysis of rolling 15-year trends shows that that the rate of warming slowed between 1999 and 2014 whereas government sponsored climate researchers have consistently denied that there was any 'pause'.
A new study published in the prestigious journal Nature Geoscience shows that the numerous climate computer models used by the UN Intergovernmental Panel on Climate Change and other climate scientists forecast far too much warming.
These models said temperatures should now be at least 1.3C above the mid-19th Century average but it is only 0.9 to 1C.
Michael Grubb, international energy and climate change professor at University College London and one of the study's authors, admitted that his previous predictions had been wrong.
Myles Allen, professor of geosystem science at Oxford University and another author of the paper said the world can emit another 240 billion tonnes over 20 years and still keep the temperature increase below the Paris Accord 1.5C.
A significant and costly scientific error.
Time to slash punitive green taxes.
Clark Cross.
138 Springfield Road,
Linlithgow.
Constitutional change at a price
Sir, – Once again we see your correspondent Alex Orr fulminating about the situation of the Catalan independence movement in Spain and demanding that the Spanish Government falls into line with his opinions on what constitutes social betterment in a country in which he does not reside.
Quite apart from the fact that the Spanish Government will pay no attention whatever to his opinion, and that of the SNP on matters reserved for its own primacy, it is yet another example of Mr Orr's apparent thoughtless disregard for the potential downsides inherent in the fragmentation of sovereign states.
We have already seen the chaos and bloodshed in Syria, Iraq and Egypt after western efforts to 'democratise' these countries.
There is already a further movement under way, resisted by both Turkey and Iraq, to grant independence to the Kurdish population that straddles both countries.
In this increasingly unstable world it is a thoroughly bad idea to continue the promotion of instability by recommending very significant constitutional change instead of more simply addressing and improving issues of grievance within a minority of the population whose ethnic background may be markedly dissimilar from the majority population in the country of residence.
Derek Farmer.
Knightsward Farm,
Anstruther.
NHS staff were majestic
Sir, – The NHS has had an awful amount of bad press recently in nearly all forms of media.
However, contrary to some of the reports one may read, it is far from all bad.
Recently my wife tripped at home and it was obvious immediately that she had broken a bone in her wrist/arm.
We drove straight to Ninewells A&E and my wife was seen by a nurse within 15 minutes.
She was X-rayed and unfortunately our initial thoughts were confirmed.
All the staff were excellent, kind, caring and took on board all her medical history.
A doctor explained clearly all the options and, due to it being 8.30pm by now, a supporting cast was used until the consultants could examine things in the morning.
So a night in Ward 18 followed.
At this point I do not wish to use individual names, as again everyone senior or junior was simply excellent.
They listened to us both, and took notes of everything including what dietary problems there were plus the numerous drugs and pain killers that my wife is allergic to.
A special mention to the junior doctor that spent quite some considerable time with her in the early hours making numerous notes of her medical history and consultants she has been seeing at Ninewells for some 10 years.
Again, her treatment through pre theatre the following morning was wonderful.
The NHS may be woefully short of funding but the professional and ancillary staff are nothing short of majestic.
R W H Hudson,
North Mains of Ballindarg,
Forfar.
Buyer beware when door goes
Sir, – One should heed alarm bells ringing in one's head before signing up with double glazing salesman on one's doorstep.
The lure of a special discount for an immediate signature can prove extremely hard to resist.
But it is worth one pausing for thought before being pressured into signing up without due consideration.
Reassured by the seven day cancellation clause and refundable deposit, one rather unfortunately failed to spot the £149 'administration fee' tucked away in the small print, that the salesman conveniently omitted to mention.
On 'phoning to cancel the following morning one was assured that no money would be taken out of one's account.
A fortnight later one was poorer by £149. Another mug…
Caveat Danaos et dona ferentes!
James Stevenson.
Drummond Avenue,
Auchterarder.