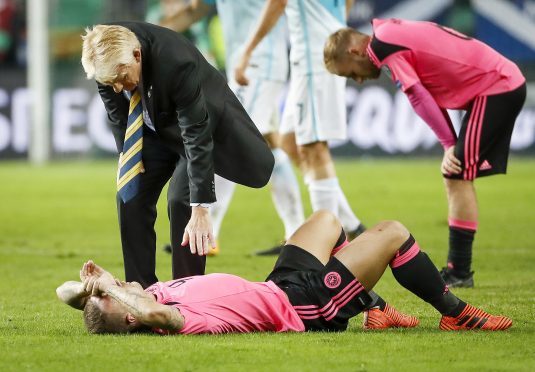 Sir,– Where there was guile there's denial.
Now that our attempts to qualify for yet another major football tournament lie cold on the slab, may I suggest the post-mortem should examine our short-comings as a nation in order to make sense of yet another national football fatality.
We once had a resourceful NHS, a robust police force and an education system fit for purpose. Our football team regularly qualified for the World Cup due to their guile and style.
Now we have an NHS chronically underfunded, a school curriculum well short of excellence, a police service whose morale has never been lower, and a football team whose latest failure is "down to genetics", according to Gordon Strachan.
Strachan claims we are too small as a nation to compete with the big hitters on the international stage.
"Big boys and big girls should get together", suggests Strachan, though he didn't consider their offspring might well turn out to be basketball players.
While Strachan is no leading authority on genetics, he is expert on small players – which makes his comments all the more surprising.
Messi, Maradona, Beckham and Bremner were not giants but all had a huge heart to succeed. Strachan also had this will to win at Dundee, Aberdeen, Leeds and Manchester United.
So, what does this tell us? To cut to the quick, our football failure is more pathetic than genetic. As a team, we switch off when we should be concentrating.
Our forward line lack the supply from midfield, and our defence, who are not giants and don't have to be, fail to track opposing forwards.
Our goalkeeper, a tall lad, is among the best in the business at shot-stopping but lacks the courage and confidence to command his area and marshal his defence.
Had Craig Gordon come off his goal-line to claim routine cross balls, Slovenia's opening goal on Sunday night and Harry Kane's equaliser for England at Hampden might have been prevented.
So, as a nation, in order to move forward we must face the home truths that we are currently not up to the task.
How can the NHS and the police cope with increased demands with reduced frontline personnel?
How can we retain teachers if their work-load is massive and pay modest.
And how can we field a better international team when we are not a land of giants?
Brazil and Italy are not countries renowned for big boys and big girls getting it together to produce tall, strapping footballers but they do have the heart and hunger to succeed.
Perhaps it's now time Gordon Strachan shows the same desire to examine his own coaching and motivational skills and ask himself why all the hard work on the training ground and all the dressing room motivation of his players can lead to such a flat performance in such a must-win match as Sunday's.
Jamie Buchan.
Grove Road,
Broughty Ferry.
Why should we watch England?
Sir,– As Scotland crash out of yet another World Cup qualifying campaign, it is noteworthy to reflect that viewers of our national team are not able to watch their country play crucial qualifying matches on terrestrial TV.
There can be few other countries in the world where fans are left watching their neighbouring nation, England in Scotland's case, play on terrestrial TV, while they are forced to watch their own country play on subscription-based TV.
While Scotland managed a last gasp win over Slovakia, Scots viewers were left sampling England v Slovenia on STV.
More and more sport is sadly moving to subscription-based TV channels. The BBC lost rights to show the Open golf to Sky and fans wanting to watch European football have to tune in to BT Sport for the Champions League and the Europa League.
It's understandable the SFA will want to do a deal with the highest bidder, but considering England qualifiers are shown for free on ITV, there's no reason why Scotland games can't be shown on one or more terrestrial channel.
We want children in Scotland to be inspired by the athletes they see on TV and a deal for future qualification matches on terrestrial could help us to produce the next stars of the future. At very least, it'll encourage more children to go outside, kick a ball and play with friends, maybe leading to us qualifying for a tournament in future.
Alex Orr.
Leamington Terrace,
Edinburgh.
Disgraceful acts against Catalans
Sir, – Not content with denying the Catalans the right to hold even an "unofficial referendum" then suppressing their peaceful voting process with brute force, we are now hearing the powers-that-be in Madrid discussing possible punishments to be meted out to that unfortunate part of Spain.
Those seven and a half million people may soon lose their right to have their own form of local government but worse still, plans are being discussed by the Spanish government which would not only enable the headquarters of national companies and banks to move to other parts of Spain but are also seemingly designed to actively encourage them to do just that.
That any government anywhere in the 21st Century should punish their own citizens in this manner is beyond despicable, but to see the EU politicians looking purposely the other way while it happens is reprehensible beyond words.
Archibald A Lawrie.
5 Church Wynd,
Kingskettle.
Does Sturgeon have mandate?
Sir,– Interviewed at the SNP conference, Nicola Sturgeon says the case for independence has "never been greater", yet she appears reluctant to allow any public scrutiny of what that case might be or how it might be enacted, preferring instead to stir ill-feeling over Brexit.
The First Minister wants to delay giving a specific date for a second independence referendum, hoping to regain momentum off the back of exaggerated or imagined grievance against the UK Government and the Brexit process.
She repeats that she has a mandate for a second independence referendum but knows there is every prospect that she would lose that mandate in the 2021 Holyrood elections, suggesting she wants to maintain the option to go before then.
Meanwhile, the SNP conference will not properly address the three biggest questions raised by the First Minister taking that option.
First, does she contemplate an illegal referendum like the one just held in Catalonia, given the UK Government has made clear it will not approve one before 2021?
Second, how can an economic case be made for Scotland separating from the UK when the 2014 proposition has since been so thoroughly discredited?
And thirdly, what possible rationale is there for those who long for Scottish "self-determination" to justify an independent Scotland signing up to Jean-Claude Juncker's recently expressed vision of an ever closer union across the EU with pan-European control of finance, defence, and other matters, including compulsory membership of the euro?
Keith Howell.
White Moss,
West Linton.
No magic money tree
Sir,– A YouGov poll reports 48% of Scots thought the SNP's economic forecasts in 2014 were "a misrepresentation to increase support for independence", 28% disagreed and 24% didn't know.
After all the evidence about the Scottish economy that has been presented, not least by the respected Fraser of Allander Institute, it is still the case that around half of Scots cannot tell sober fact from the fiction ruthlessly propagated by the SNP.
No doubt there are those who are desperate to believe in magic money trees and the potential for exponential growth in a small country released – allegedly – from the bonds imposed by the UK.
But it really does not say much that is good about the general level of education in Scotland if 52% can't tell when they are being offered a pig in a poke.
Jill Stephenson.
Glenlockhart Valley,
Edinburgh.
Case made, apparently
Sir,– John Swinney tells us the case has been made for a second referendum… regrettably not by Antler or Samsonite!
AA Bullions.
6 Glencairn Crescent,
Leven.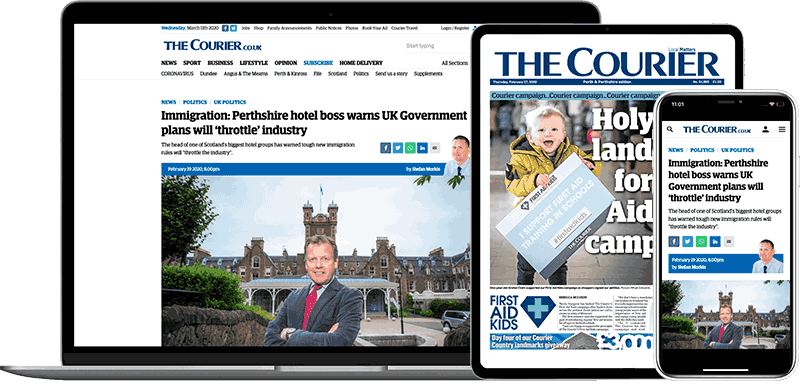 Help support quality local journalism … become a digital subscriber to The Courier
For as little as £5.99 a month you can access all of our content, including Premium articles.
Subscribe