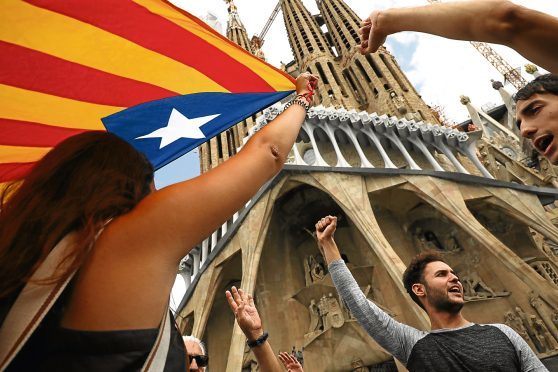 Sir,– That France has stated it will not recognise an independent Catalonia, meaning the breakaway region would be forced out of the EU, has profound implications for Nicola Sturgeon.
At the SNP conference Ms Sturgeon upped her rhetoric, claiming she has a mandate to hold Indyref2 before 2021.
She's conveniently overlooking Downing Street and Scottish Secretary David Mundell having repeatedly told her "now is not the time".
With the likely prospect of a Brexit transition period extending until 2021, it would seem it won't be "the time" before the next Holyrood election.
Those elections may be four years away but every indicator right now suggests the nationalists will lose their majority in the Scottish Parliament.
This means Ms Sturgeon must either cross every finger and toe in favour of a separatist majority in 2021 and hold Indyref2 in, say, 2023. Or she's forced to bide her time until after the subsequent Holyrood election in 2025 and pray a separatist majority is restored – or she holds an illegal Catalan-style referendum before 2021.
An illegal referendum and a declaration of independence here would mean, as France has made clear, that Scotland would be ostracised by both the UK and the EU – and would fast become an economic basket case.
So, whatever the nationalist leader may choose to say to her conference activists, it looks like no Indyref2 before 2026 or 2027 – and that's if Ms Sturgeon is very lucky.
Martin Redfern.
Woodcroft Road,
Edinburgh.
Just think what they could do
Sir,– All single issue parties have the same defect, which is that they have no interest in anything other than that single issue.
It is unfortunate that such a party has to deal with the execution of devolved matters in Scotland.
The mess they have made so far is a chilling glimpse of what they could do to an independent country.
Malcolm Parkin.
Kinnesswood,
Kinross.
Education and health need help
Sir,– Nicola Sturgeon is to tell us she will double the amount of childcare available in Scotland, because she has "found" an extra £420 million to pay for it.
Perhaps if she searched even further down the back of her sofa, Ms Sturgeon could come up with a few more hundred millions for education and health.
Employees in these sectors will wonder why childcare is being privileged over their sectors.
Jill Stephenson.
Glenlockhart Valley,
Edinburgh.
MP criticism unfounded
Sir,– With reference to Pete Wishart's criticism of Kirsteen Hair (October 6); it must be difficult for a politician of a bygone age to see new MPs starting their careers.
Mr Wishart, with all his experience of politics, found his constituency margin reduced to a majority of 21.
This may imply his constituents think there was rather less point to Mr Wishart at this election than previously.
Clearly the voters were not so impressed with him or his party.
Ms Hair, with a majority of 2,645 votes and 45% of the vote in Angus at the general election, would appear to have far greater relevance to her constituents than those of Mr Wishart.
Ms Hair has been excellent in helping us with local broadband problems, and she may be younger and less experienced than Mr Wishart but has an energy and commitment which should be respected, not criticised by a failing marginal politician.
Mr Wishart would be wise to keep quiet, if he wishes to retain his majority of 21 in the next general election.
Elizabeth Young.
Kinpurnie Gardens,
Newtyle.
Recycling move makes no sense
Sir,– I have just returned from one of my many trips on foot to the Carnoustie recycling centre to be told from November this year I will no longer be able to gain foot access to the centre.
It was explained to me that the reason for this was a health and safety issue to do with mixing foot traffic with vehicular traffic.
Apparently, councillors "witnessed people dropping bins into skips and then hanging over the edge of the skips to try to get the bins back, cars and pedestrians in close proximity and in some of the sites some dangerous situations where pedestrians were clearly at risk of injury from vehicles".
Do these councillors never get out into the real world and attempt to cross a busy road at rush hour?
One councillor said: "I can see this is not one everyone agrees with but if, heaven forbid, there were an accident the council would be in a very difficult position."
There we have it. Fear of litigation from a small chance of an awkward "incident" is the reason for the policy.
I must protest at this ridiculous policy and would ask the council how many adverse "incidents" have been logged at the Carnoustie site which would justify such an unpopular and draconian measure.
Besides, when I go to the centre in my car with several different types of recyclable items, as I do several times a year, I must of necessity get out of my car, at which point I become a foot passenger, and walk to several different parts of the recycling centre to discard my various items.
As I walk to different areas, I must also negotiate my safe passage around incoming traffic and this, of course, I am quite able to do.
How is this different to walking in from the road outside while carrying my items? Also, why is it preferable for me to increase my carbon footprint by being forced to use my car to go to the centre when I can easily walk?
So often, when the centre is busy, there is a queue of cars with engines idling and this has been proven to cause the most serious levels of emissions pollution.
I would prefer not to be part of this. Recycling centres were introduced many years ago because of environmental "green" concerns and this suggested new policy of banning foot traffic flies in the face of these concerns.
I think the council should have a serious re-think of this policy, which will not only inconvenience many recycling site users but will offend their environmental beliefs.
Dr Kenneth C Welham.
Balmachie Road,
Carnoustie.
Insulting to the Scottish people
Sir, – Your regular unionist correspondent Jill Stephenson is always critical of the Scottish Government and the SNP.
But she has taken things a bit far in her letter where she states that the reason a recent YouGov poll result showed only "48% of Scots thought the SNP's economic forecasts in 2014 were a misrepresentation to increase support for Scottish independence" was that the rest "cannot tell sober fact from fiction", and that the reason for this was the, presumably poor, "general level of education in Scotland if 52% can't tell when they are being offered a pig in a poke".
While being extremely insulting to half the population of Scotland, this assertion would also call into question the intelligence, and level of education, of the 52% of the UK population (only 38% in Scotland) who voted to leave in the Brexit referendum, who bought a poke which clearly did not even contain a pig.
Les Mackay.
Carmichael Gardens,
Dundee.
Selective view of "democracy"
Sir,– Nicola Sturgeon's comments on Catalonia once more revealed a rather selective view of "democracy".
She argued Spain cannot ignore the democratic will of the people of Catalonia, but knows full well the majority in Catalonia chose not to give legitimacy to the recent illegal referendum, and want to remain in Spain.
Just as in Scotland, our First Minister chooses to place the rights of those who agree with her above those who do not, regardless of who is actually in the majority.
Keith Howell.
White Moss,
West Linton.