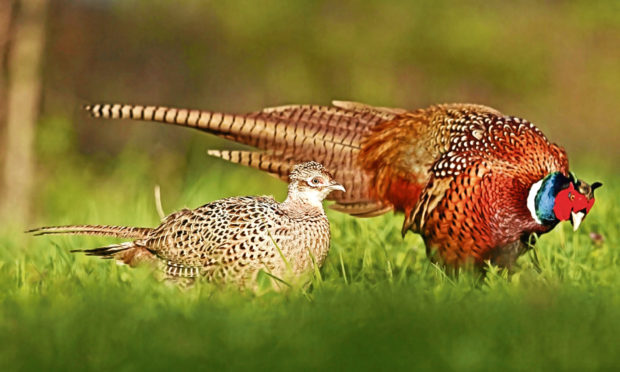 Sir, – I was surprised that your report (October 21) concerning the transfer of lyme disease from wildlife to people via ticks made no mention of the most likely candidate, the humble pheasant.
European research has claimed that though roe deer are the major host of the infective agent, borrelia burgdorferi bacteria, they are not a major source of transmission to humans, due to the fact that most ticks present on deer are adults.
This matters because most infections concerning humans are caused at the nymphal stage of the ticks' development. Because of their size they can feed off the host's blood for long periods while remaining undetected.
Though other small animals are effective vectors for lyme disease, the main culprit would appear to be the pheasant due to the huge number of them released into Scotland's landscape annually. They outnumber many times any other viable vectors in our environment.
A particular danger is from pet dogs who are often exercised in areas which host a number of these birds.
Research published by the Spectator in 2016 identified low-lying areas in the Highlands and all of Tayside as having a particularly high incidence of infected ticks. It is difficult not to link this with the predominance of pheasant farming and releases now endemic in these areas.
George Murdoch.
4 Auchcairnie Cottages,
Laurencekirk.
Council business not full-time job
Sir, – I note the claim of Kirriemuir councillor and provost of Angus, Ronnie Proctor, that being a councillor should be regarded as a full-time occupation and that meetings should continue to be held at an inconvenient time for the working public to attend.
Meetings should be accessible to the public, which means they should be held outside normal business hours.
The normal working day ends at 5pm which is far too early to start a council meeting.
As to requiring a full-time commitment, has the burden on councillors really increased so much they should abandon any hope of maintaining a career outside the role that will support them should they lose an election?
Perhaps Mr Proctor is retired, but the register of interests on the council website reveals a farmer, a retailer and a car salesman among the councillors.
How can they find time for productive work if council business is a full-time commitment? It isn't, so they can.
Hamish Hossick.
7 Ogilvie Court,
Broughty Ferry.
Drawbacks of electric cars
Sir, – Having pulled into Annandale Water services on the A74 (M) for a break on a journey south, I witnessed a breakdown recovery truck bearing a small Nissan electric car to the charging point.
Given the government's aspiration to compel the exclusive use of electric vehicles, I suppose it safe to assume this will become an increasingly common event.
Having exceeded my three score years and 10, I must admit that the implications of an electric motoring future have hitherto not been of great concern.
However, two thoughts occurred to me. It presently takes but a few minutes to refuel a vehicle at a filling station.
How long would it take to recharge an electric vehicle on a journey? The result would be queues and congestion.
Furthermore, the tax revenue from vehicle fuel equates, I would guess, to about three pence on income tax.
How would this lost tax revenue be recovered?
I suppose it would be from commercial charging facilities, but vehicles are charged overnight at drivers' domestic homes. Presumably then, this would require a separate electricity supply and meter, installed at motorists' expense.
Peter Dickinson.
Ceol na mara,
13 South Street,
Arbroath.
Parents should retain sanction
Sir, – The Scottish Government and its allies in the Green Party are endeavouring to make Scotland the first country in the United Kingdom to ban physical punishment, and this against the will of the people.
This comes at a time when parents and teachers are experiencing increasing difficulties in maintaining reasonable behavioural standards at home and in classrooms.
There are, of course, a number of ways to modify behaviour, but in the end, if there is complete refusal to accept discipline, what then is left to exercise reasonable controls in the best interests of the child?
It is natural for a child to seek to push the parameters required to guide a child towards understanding the need for behavioural control.
There is surely nothing wrong with a simple smack on the bottom to reinforce this.
I am sure many of us have experienced this without damage or resentment in later life.
I fear that, without such an ultimate sanction, parents will become largely impotent towards control of their children and society will be the losers.
David L Thomson.
24 Laurence Park,
Kinglassie.
Vision imposed on Scotland
Sir, – No one wants to see parents resorting to smacking their children.
It is a practice that purely on the basis of changing social attitudes has gone in a couple of generations from being commonplace, to being quite rare.
Yet that is not enough for some.
It seems the SNP are set to support the Green MSP John Finnie's members bill banning smacking in Scotland.
Those who believe they always know best will be happy to see this law added to the named person scheme's intrusion into Scottish family life.
Along with future plans to trial a universal citizens' income, and the existing range of universal benefits provided without regard to whether those receiving them are those most in need, it seems the SNP and Greens are determined to impose their particular vision of a nanny state on all of us.
As long as we do what we are told, believe the SNP perspective on everything from Brexit to its demonising of the United Kingdom Government, then it seems the independence alliance will be there to look after us.
Some political leaders are never more sure of themselves than when telling us what to do, and handing out "free" things, that, of course, we have all actually paid for.
It is a vision that comforts some, but will repel many.
Keith Howell.
White Moss,
West Linton.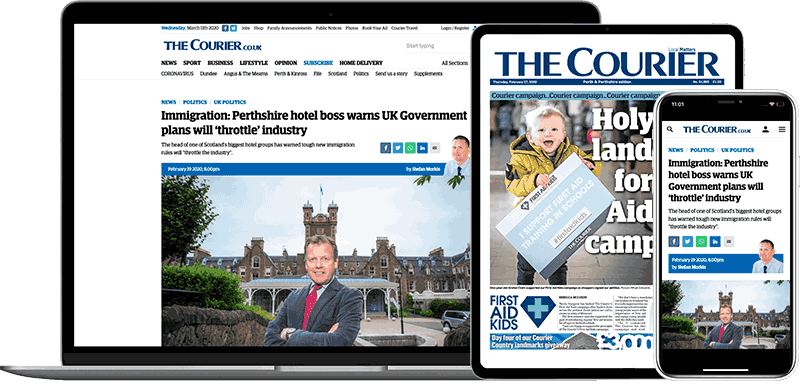 Help support quality local journalism … become a digital subscriber to The Courier
For as little as £5.99 a month you can access all of our content, including Premium articles.
Subscribe