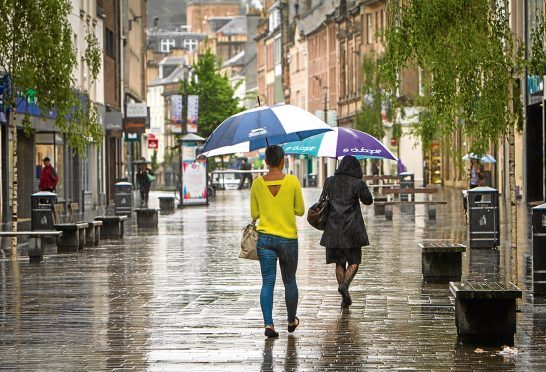 Sir, – Mr Roche of Perth wrote a very reasonable letter about the poor look of Perth during the day, while considerable monies are spent on lighting it up at night (October 28) and poor facades in the city centre is one of his expressed concerns.
Perth lauds its heritage and culture and the city centre is a conservation area but, despite this, shop fronts in lurid colour schemes and cheap signage abound.
Obviously, and disappointingly, this is not an issue for Perth and Kinross Council.
The planning service has a conservation section and a conservation officer but with no overall vision for gracing shop facades with a palette of complementary heritage colours and quality signage.
Each planning application is considered on its own merits, resulting in jarring and disharmonious effects inappropriate to a conservation area and allowing cheap and nasty frontages to sit cheek by jowl with shops which do invest in quality appearance.
If the council did have a policy of applying quality colour and signage frontages when processing planning applications, Perth city centre would be transformed and Perth would be well on its way to being a daylight city of culture.
Joan McEwen.
King James Hospital Building,
Hospital Street.
Perth.
Flora will make her mark
Sir, – I was pleased to read your report that local lady Flora Shedden has opened her bakery in Dunkeld. She will soon make an impact.
As a regular visitor to this little town with its cathedral in the shadow of tree-clad hills, which give it an almost alpine feel, I am always amazed at the number of people who are drawn there.
My wife and I live nearby and we enjoy its little restaurants and this new addition by a celebrated local girl will enhance the popularity and appeal of this Perthshire town.
Thomas Brown.
3 Church Place,
Bankfoot.
Apologise for Section 2a cash
Sir, – We learn that Nicola Sturgeon is to apologise on behalf of the Scottish administration to gay men convicted of now-abolished sex offences. And rightly so.
Would this also be a timely opportunity for Ms Sturgeon to express regret that her party and the independence movement has, in the past, accepted a number of significant donations from Brian Souter, chairman of Stagecoach?
Sir Brian funded a high-profile campaign to keep Section 28 (or 2a in Scotland) in law.
An apology for having formerly been bankrolled by Sir Brian may help the nationalist leader avoid accusations of double standards.
Martin Redfern.
Woodcroft Road,
Edinburgh.
Perth lights a vanity project
Sir, – It was with disbelief and incredulity that I read your article in about a design team striking a £12 million deal to light up Perth.
Like many streets in Perth over the last few years we have had our street lighting changed because we were told we had been overlit and that the council needed to save money on its street lighting.
We now have dismal, dull, dreary and disturbingly dangerous lights .
How galling that, as council tax payers, we have to put up with these pathetic lights yet the council has millions to spend on even more vanity projects.
Mike Rogalski.
82 Feus Road,
Perth.
Turbines will kill wildlife
Sir, – I am fed up with the advertisements in The Courier making out the RSPB is a bad organisation doing lots of people out of work.
It is only doing what is right regarding the gannets, guillemots, razor bills, fulmars and other seabirds, not forgetting migratory birds that will be devastated by these windfarms.
These companies do not seem to care about Scottish wildlife, only pound signs. This is being railroaded through by the Greens and the SNP.
The reason this area is so rich in wildlife is because of the shallow waters off Angus and Fife which are sought after by windfarm developers as they do not have the difficulties of deep water, so turbines are cheaper to install.
Only idiots would try to build these in an area so diverse with wildlife and with a total disregard for sea birds.
Fishermen in Fife and Angus are going to be forced off traditional fishing grounds, fished for hundreds of years.
John Cargill.
Twilight AH16,
6 Kaim's Hill,
Letham Grange,
By Arbroath.
Smacking ban bid a distraction
Sir, – Though it was the Green tail yet again wagging the nationalist dog, Nicola Sturgeon's tiresome virtue signalling over the smacking ban is just a smokescreen for the SNP's catastrophic record in key devolved areas like the police, health and education.
After a decade of its overweening centralism, the state-knows-best approach characteristic of all intrusive nationalist governments abounds but current laws already protect children from physical abuse, though smacking (with caveats) is permitted.
And it is absurd to suggest there's no difference between a smack administered by a mother whose three-year-old tears away from her grip and runs into the road and the drunken assault of a stranger passing by in the street outside some sleazy Scottish bar.
Rev Dr John Cameron.
10 Howard Place,
St Andrews.
Where are the refugees?
Sir, – Emergency repairs are being carried out at Bute House and First Minister Nicola Sturgeon has been moved into a hotel.
It is not Ms Sturgeon I am worried about.
What has happened to the Syrian refugee family she promised she would take into her home?
Clark Cross.
138 Springfield Road,
Linlithgow.