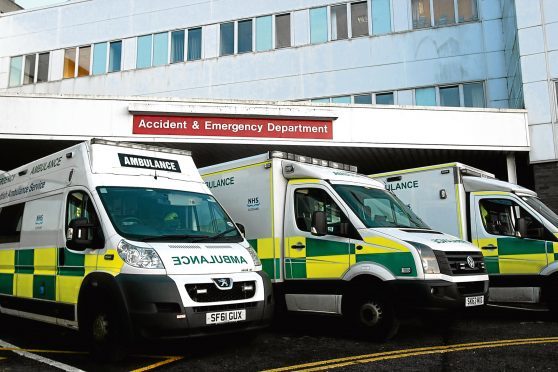 Sir, – The conclusions of the report from the Royal College of Emergency Medicine regarding NHS Scotland's A&E departments are deeply worrying.
The report makes clear that the squeeze on resources in the face of growing demands on our emergency services is impacting on "the safety and quality of the service" and is directly impacting on staff morale.
Any political party would find managing our health service generally and A&E specifically, very challenging, but the report includes a clue as to why the SNP are particularly struggling, when it speaks of a "pressure for only good news to be escalated" and an overriding sense that "fire fighting has become the new norm" in emergency departments.
These characteristics of living in denial when it comes to clear short-comings, along with a resulting reactive management approach, have become the signature tenets of the SNP's style of government.
Only when those at the top are willing to accept proper responsibility for what is being delivered in NHS Scotland and in turn contemplate radical change, can we hope for a reversal of our precious health service's fortunes.
Keith Howell.
White Moss,
West Linton.
China pulling the strings
Sir, – One little reported aspect of the coup d'etat in Zimbabwe is highly significant for Britain and the wider world; it has been reported that shortly before the coup the head of the army, General Constantino Chiwenga, visited China to obtain tacit Chinese government support for the move.
That is a stunning indication of the importance of China to Zimbabwe and especially to its elite, and of the complete eclipse of the influence of Britain as the former colonial power.
Similarly, despite the 2009 dollarisation of the Zimbabwean economy and the USA's status as supposedly the world's only superpower, American views carry little weight in Harare.
Zimbabwe is only one of many countries where China is acquiring an oversea's empire of investment and influence. For example, Chinese companies now have investments in mining in almost every Southern African country from Gabon, the DRC and Tanzania southwards.
Earlier this year China opened its first permanent overseas military base in Djibouti in the Horn of Africa. In Southern Asia, Chinese military advice and support were crucial to the Sri Lankan government's 2009 complete defeat of the Tamil Tigers in the long running civil war.
It is time the British Government and people woke up to our insignificance and vulnerability in the world and started to take the necessary measures to improve our economy, strengthen our armed forces and reduce our national debt.
Otto Inglis.
6 Inveralmond Grove,
Edinburgh.
A grave state of affairs
Sir,– I read in Friday's Courier (November 17) that a site has been earmarked for another burial ground to serve Perth as the city continues to expand and the exisiting Wellshill cemetery will eventually have served its purpose.
This situation does not just exist in Perth. The churchyard in Bankfoot is almost full.
A walk in the village kirkyard finds this, and the feeling is that a field close by may eventually be required.
Thomas Brown.
3 Church Place,
Bankfoot.
What benefits of Tory rule?
Sir, – Derek Farmer (November 18) accuses people like myself of seeking "to fragment and disrupt democratic sovereign states".
The imposition of Spanish "regional" status on Catalonia and the so-called Treaty of Union between Scotland and England were not the result of 18th Century democratic process. Quite the opposite.
His statement that the UK has, "provided a reasonable standard of living and life opportunity for many generations of our people", ignores the reality. Unless he refers to the mass migration of Scots, post-1707, who left these shores in search of better opportunities.
One of the first acts of the UK Westminster Parliament was to legislate in favour of the English wool trade, to the detriment of Scottish linen, by putting a heavy export duty on our produce.
Whereas recent history provides us with a morally and financially bankrupt London establishment hiding the McCrone Report. An act of criminal intent designed to defraud the entire Scottish nation of its North Sea assets, which continues to this day.
Plus ca change.
Mr Farmer puts the peaceful and democratic pursuit of Catalonian and Scottish independence in the same category as the Balkans and Ireland.
For a supporter of Westminster rule to use the consequences of the British establishment's baleful influence on the Emerald Isle in this shameless manner beggars belief.
His claim there is no case for "economic betterment, nor improved government" supporting Scottish independence falls with a glance at indexes relating to economic performance and quality of life, with those "secessionists" (as Mr Farmer would have it) Norway being one of many showing us the way.
As a Conservative voter, Mr Farmer believes the SNP doesn't properly represent Scotland. Perhaps he would care to put that opinion into context and list the benefits accrued by Scots under Tory Westminster rule?
Ken Clark.
335 King Street,
Broughty Ferry.
What about crime figures?
Sir, – Once again the many are punished for the sake of the few, with the introduction of minimum pricing on alcohol.
It's highly unlikely to alleviate problems in Scotland,despite the Government reckoning that it may save 120 lives, a paltry amount, per year.
I wonder though, has anybody given a thought to the fact that it may lead to an increase in the crime figures.
The neds hanging around the street corners and car parks where I live aren't binge drinking on Shiraz or Chardonnay, so where are they going to get the extra money when the price of their super strong cider and lagers goes through the roof?
Eric Travers.
38 Gellatly Road,
Dunfermline.
Time to 'ease' into Brexit
Sir, – The EU are now asking for £38 billion as our exit fee, without any agreements, trade or whatever, in our favour.
Just two years ago the UK Government printed £375 billion as quantitative easing, a sum that quietly disappeared without any effect. So why not do that again, and offer the EU say £250 billion, in exchange for which we leave on our terms entirely.
That way we own the EU.
Malcolm Parkin.
Kinnesswood,
Kinross.
Send cheques to rehab fund
Sir, – Before she was lured into a gang called the SLP, Kezia Dugdale was a bright, happy, well-intentioned girl.
She even got to be their leader for a while.
But surrounded by uninspiring mates who perpetually argued among themselves and lacked any real purpose, she became unhappy.
Kez desperately needs new friends who can give her sympathy and understanding, as well as respite care away from carping comrades.
If you have been affected by Kez's plight and would like to help, please send donations to "I'm in the Labour Party – Get me out of here!" at the address below.
(Cheques should be made payable to "Cayman Island Rehabilitations Inc.")
James Stevenson.
Drummond Avenue,
Auchterarder.