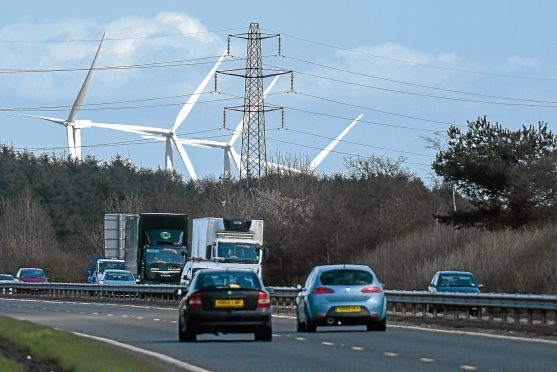 Sir, – I noticed certain basic things over the festive period concerning energy generation.
There were days without sunshine, and there were days without wind – sometimes these weather events coincided.
It was often chilly, if not cold, the days were at their shortest and the nights at their longest. The lights didn't go out, we still had the necessary electricity supply.
Could the relevent organisation, with access to the correct figures, tell us what the demand for electricity was, how much of this was met by 'green' energy, how much was imported via the grid, and how much was produced by our nuclear power stations?
How will we obtain the electricity we need in similar weather conditions when the nuclear power stations have been shut down?
If we cover the remaining hills and moors of Scotland with more, and larger, wind farms, how will they produce power when the wind doesn't blow?
One times zero equals zero, and one million times zero is still zero.
Perhaps, with the Curriculum for Excellence, these calculations have changed?
Jack Greenway.
9B The Esplanade,
Broughty Ferry.
Wind claims all hot air?
Sir, – Greenpeace and the renewables industry were behind a recent propaganda blitz claiming that windfarms have replaced coal as our "cheapest" source of electricity.
However official figures suggest that in the next four years, our offshore subsidy bill is due to double from £1.4 billion to £3.1 billion per annum.
After the Global Warming Policy Forum complained to the Advertising Standards Authority about misleading claims, Greenpeace agreed not to repeat them.
In fact, the price we pay for wind electricity can be up to £161 per megawatt hour, or three-and-a-half times the current wholesale market rate.
But the biggest problem remains wind power's unreliability and need for fossil fuel back-up.
On the coldest night of 2017, according to a media report, our few remaining coal plants contributed 20% of our power, 50% came from gas and most of the rest from nuclear plants.
On some windless days, the report claims, our entire fleet of 8,140 windmills, responsible for the transfer of billions in subsidies from our poorest to our wealthiest citizens, produced barely one per cent of what was required!
Rev Dr John Cameron.
10 Howard Place,
St Andrews.
Enough about Lorraine Kelly
Sir, – Regarding the article about Lorraine Kelly selling her Dundee home (The Courier, January 3).
How many times do we need to read, again and again, that the Kellys are selling their home to move to London.
The PR consultants they work with do not miss an opportunity, especially when it comes to marketing their home and advertising her new TV show .
Mr W Smith.
16 Comerton Place,
By Leuchars,
St Andrews.
Smorgasbord of suggestions
Sir, – The selection of letters printed on these pages on January 4 were very interesting.
"Stop appeasing the minority" makes a good point, and yet if we only focus on the larger numbers then all the money will be spent within the M25 circle around London.
Also there is a value in diversity which it would be wrong to ignore.
English is now the international language and, like other nations, it might just be a good thing to have our own national tongue in oor luvly wee land.
At times when the economy is all but bankrupt it does of course make sense to reduce all spending, but it now appears that there are very few people willing to make any sacrifice at all, so nationalising the banking system, as another correspondent suggests, might be an uphill struggle.
And, as a further correspondent has us hurtling toward the Brexit crisis – due to some 500,000 votes being "for it rather than against it", it does seem crazy that such a small majority is going to mean total disruption for a nation of 70 million.
This tiny majority is something like 2% of the population.
Given that there is a percentage of people that do things without really thinking it through, you would have thought the Government would have imposed at least a 10% majority be obtained before a major life alteration to the status quo could be triggered.
That said, it may turn out alright on the night, so I keep an open mind.
And as for a further opinion regarding bringing up boys to be men – I am all for it – it's just that some girls are trapped inside boy bodies. It is not a large percentage, but maybe we are now sufficiently aware to show compassion and to accommodate people, whatever their age, in what must be the really painful, lonely and difficult place of gender dysphoria.
Also, to improve the overall understanding between genders I am in favour of a national cross- dressing day – where everyone gets the chance to view it from the other side. In fact I think I am going to campaign for it.
And finally, like your correspondent, I have no idea why Nick Clegg was knighted either, but perhaps ne needs it to help him get another job!
Daniel Ogilvy.
4 Queens Court,
Perth.
Farming without food?
Sir, – As reported recently on a TV news bulletin, in his address to the Oxford Farming Conference, environmental secretary Michael Gove listed a new set of measurements which would be used to assess farming subsidies.
Unfortunately his list did not include any reference to food production which, to my mind, should take preference over environmental issues.
A A Bullions.
6 Glencairn Cres,
Leven.