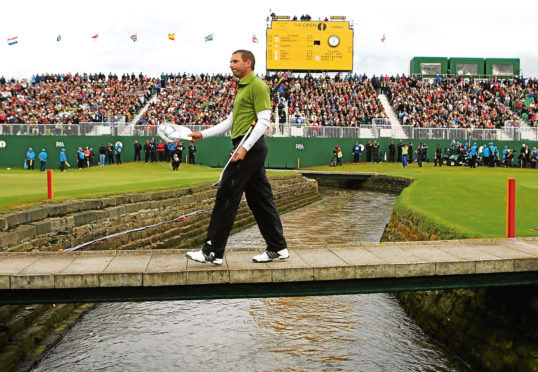 Sir, – I was extremely surprised to read in The Courier ("Negativity risks loss of Open, warns councillor", January 23) that the Carnoustie Golf Links Management Committee chairman, Pat Sawers, described the no readmission policy of the R&A as being a "minor change in policy". If this is minor I would hate to see what she calls major.
This, to me, shows a complete lack of knowledge on her part regarding the feelings of the people of Carnoustie towards this policy, or a total disregard for their feelings if she is aware of them.
The R&A has stated that its reason for bringing in this policy is "to protect fans from the mis-selling of tickets and hospitality products by unofficial operators".
The mis-selling of tickets by bogus operators will still exist even with this new policy, due to ticket touts, and I think the real reason for introducing the no readmissions measure is that hospitality companies are finding the R&A's prices too extortionate and are looking at sites outwith the "Open Area" to offer to their clients.
Perhaps the R&A could provide a list of times and venues when supposed complaints regarding mis-selling of tickets and hospitality products by bogus operators have been made in the past.
This would add credence to their claim.
H. Ritchie.
18 Burnside St,
Carnoustie.
Give Carnoustie an Open break
Sir, – I refer to the 'row' reported in The Courier over the last few days about the impact the no readmissions policy will have on Carnoustie businesses, and how criticism may lead to the R&A choosing to go elsewhere, to the detriment of the town and to Angus ("Negativity risks loss of Open, warns councillor", January 23).
I am confident the policy will be relaxed in time for the Open – in St Andrews in three years time! There is no way the conglomerates who own the Old Course, the Fairmont and other establishments will allow themselves to be bullied by the R&A.
Carnoustie's place on the rota has recently depended on the antediluvian attitudes of the members of Muirfield, and now they have done the minimum best to save face for the R&A in accepting public money to support golf, the Open is unlikely to come back, anyway.
But there is another issue here, too, for Angus Council and the links trust.
Given the disruption to access caused by the traffic management which will be in place, compounded by the no readmissions policy, why are both bodies not offering a pavilion on-site for local businesses to offer their goods and services free of charge?
It would be an appropriate gesture, given the huge loan of public money the trust has already received to build the Carnoustie Carbuncle.
Or, if that's not possible, at least offer local businesses a business rate rebate for the two-week duration.
It would be an Open tournament that's not all about a greedy corporate circus coming to town and keeping all the goodies to itself.
John Davidson.
98 Caesar Ave,
Carnoustie.
Obesity footage: what a cheek!
Sir, – I get really angry when, every time the subject of obesity crops up on any TV news programme, unsolicited close-up film of people's supposedly substantial midriffs and backsides is shown to illustrate the problem, as they innocently, unwittingly go about their own business.
Were any of these "samples" asked for their consent? I doubt it.
What implicit criteria were the cameramen/women using to select these individuals as qualifying examples?
Put yourself in the mind of one of these victims. They and many others will have no problem recognising them.
This is an abusive, bullying practice and should be stopped immediately before it precipitates any tragic response from a sensitive individual.
Robert Ferguson.
19 New Gilston,
Leven,
Fife.
Calm down, the flag will still fly
Sir, – The British nationalist obsession with the Union flag has always amused me and seems to have recently come more to the fore, probably due to Brexit.
In several media outlets it has been falsely claimed that the Scottish Government will now no longer fly the Union flag on certain occasions.
However, there has been no recent change whatsoever to the policy or practice relating to the flags that are flown from Scottish Government buildings.
The Royal Banner (Lion Rampant) has been flown on royal occasions, such as royal birthdays and anniversaries, since 2010. All that has happened recently is that the public guidance has simply been updated by officials in response to queries to match longstanding practice. Those wailing at a potential reduction in the flying of the Union flag can rest assured that it will be flown on the same number of days in 2018 as in previous years.
One wishes British nationalists would get on with the day job of assisting in delivering on health, education and the economy, rather than this tedious obsession with flags.
Alex Orr.
Flat 2,
77 Leamington Tce,
Edinburgh.
Why two costly NHS bosses?
Sir, – The Courier story "Concerns over delayed hospital parking meeting" (January 22) outlined concerns over the time taken to arrange a meeting between politicians and parking chiefs at Ninewells Hospital.
It mentioned that a meeting was to be arranged with the NHS chief operating officer.
As the NHS also has a chief executive, why do we need two people at the top with what would appear to be very similar jobs?
There would appear to be a potential six-figure saving to be made overnight if Ms Robison rose to the challenge.
D S Stewart.
8L Tulloch Rd,
Perth.
Why not a D&A Museum?
Sir, – So the magnificent Dryburgh Primary School building in Dundee is to be demolished.
Possibly costing less than £80 million and probably designed by the mentors of Japanese architect and V&A Museum designer Kengo Kuma, this iconic structure should have become the new D&A Museum.
Yes, The Dryburgh & Ardler Museum, with some creativity and forward thinking from Dundee City Council, would surely have become the cultural centre of Dundee and an attraction envied by cities across the UK!
Graham Haddow.
23 Church Road,
Liff.
Is the club harshly judged?
Sir, – Has the Presidents Club been unfairly singled out for criticism amid the widespread controversy about sexual harassment?
What happened at its charity fundraising gathering in London's Dorchester Hotel appears to be indefensible. But is the behaviour and language used exceptional?
Gatherings confined to men or women are not unusual and sometimes what goes on can be embarrassing and even intimidating.
Has anyone ever witnessed the antics on a particularly vigorous 'hen night' in the centre of Dundee or Kirkcaldy or what is said in football stadiums packed mainly with men? It is not always females who bear the brunt of exuberant, sexist behaviour.
Closing down the Presidents Club altogether is counter-productive when we look at the funds it can raise for many worthy causes.
Bob Taylor.
24 Shiel Court,
Glenrothes.